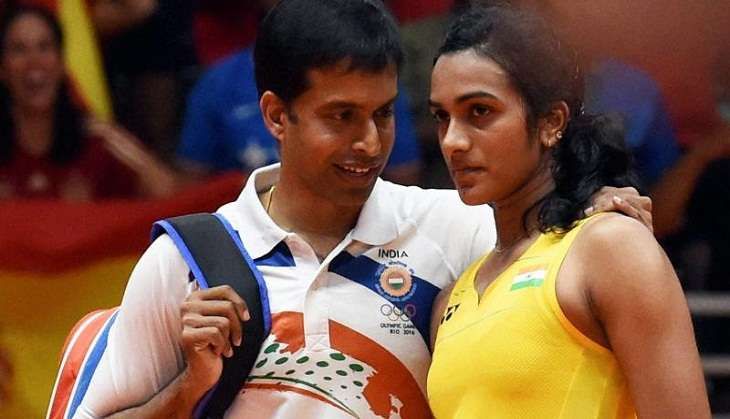 Not all great players make great coaches. But Pullela Gopichand is an exception to this rule
. As a child, cricket greatly attracted Pullela Gopichand. But, little did he know that when his elder brother, Rajasekhar, encouraged him to play badminton, it would not just change his life but would also go on to change the dimension of the sport in India.
It was at the age of 11 that Gopichand's affair with badminton commenced. Completing his education at St. Paul's High School, Hyderabad, and earning a degree in public administration from A. V. College, Gopichand was an emerging badminton player; he captained Indian combined universities badminton team in 1990 and 1991.
Gopichand's parents wanted him to become an engineer, but it was the soft-spoken sportsman's perseverance that cemented his ties with the sport and go on to receive training from the likes of Prakash Padukone and Ganguly Prasad.
Here are few facts about the man who helped Rio 2016 silver medallist Pusarla V Sindhu to achieve this great feat:
1. Pullela Gopichand won his first ever junior national championship at the age of 18. However, in the mid-1990s, a series of knee injuries put his career in jeopardy. Determined to return to the sport so near to his heart, he took up yoga and a disciplined training regime to repossess his form.
2. Coming back from the injury, he managed to win the National Badminton Championship title back to back five times - 1996 to 2000. Adding more laurels to his kitty, he won a gold medal in the 1996 SAARC badminton tournament and successfully defended the title the following year.
3. It was in the year 2001 that he won the most prestigious and celebrated championship -- the All England Open Badminton Championships, at Birmingham. Gopichand, in this process, became the second Indian badminton player to win this after his mentor Prakash Padukone in 1980. Also, during the April of 2001, he achieved his career-best ranking of world number 5.
4. Enduring a series of injuries during his playing year, Gopichand decided to renounce his racket at the age 27. From thereon, he concentrated his energies into opening the Gopichand Badminton Academy to train young aspirants.
5. To fund his academy dreams, Gopichand had to mortgage his house. With the help of donors and well-wishers, the Gopichand Academy came into being in 2008 at the cost of US$ 2.5 million.
6. Gopichand played for a German league (WHEN) briefly and it was during this time that he would train under a Chinese coach - Wang Xuyan. This provided the ace shuttler a chance to understand and know how Chinese and Korean players achieve the level of fitness that they are so well known for. Gopichand started coaching in 2004 and was shortly named as the national coach in 2006.
7. The former All England Open Badminton Champion is a disciplined practioner of yoga. He is also a follower of Sri Sri Ravishankar and his Art of Living Foundation.
8. Despite being an employee of the Indian Oil Corporation, he is permitted to spend most of his time at the academy to churn out players who would put India on the map of global badminton.
9. It was under the tutelage of Gopichand that current world number 5, Saina Nehwal, became the first Indian to win a Superseries in 2009, Indonesia, at the age of 19. It is also to be remembered that Nehwal reached the world number 2 ranking under Gopichand. Saina later went on to win a bronze in the 2012 London Olympics.
India's current favourite athlete, PV Sindhu, started training with Gopichand when she was 10 years old.
10. Pullela Gopichand was awarded the Arjuna Award in 1999, the Rajiv Gandhi Khel Ratna Award in 2001, Padma Shri award in 2005, Dronacharya Award in 2009, and the Padma Bhushan award in 2014.
He is married to a fellow badminton player PVV Lakshmi. His wife jokes that he is married more to the sport than he is to her. His coaching career has seen Gopichand polish players like Saina Nehwal, P Kashyap, HS Prannoy, PV Sindhu, Srikant Kidambi into gems extraordinaire and we hope his academy and dedication provide more many talented youngsters the chance to shine in the sporting arena. And, the multitude of Arjunas in India need a Dronacharya like Pullela Gopichand.