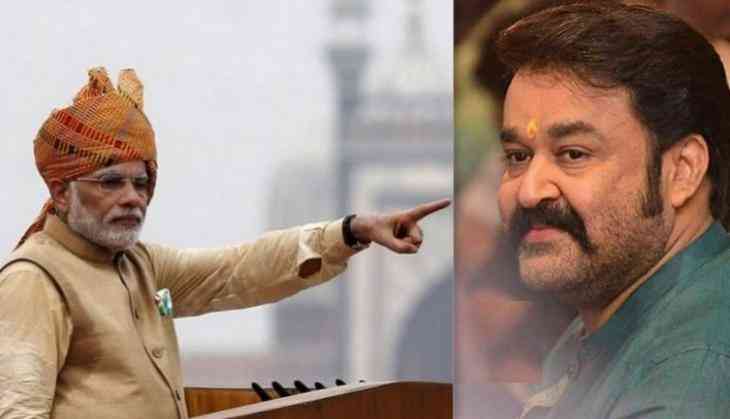 Pic: Narendra Modi and Mohanlal
Your presence will inspire millions: PM Narendra Modi invites legendary actor Mohanlal to be a part of Swachhata mission
Indian Prime Minister Narendra Modi has invited legendary Indian actor Mohanlal to be a part of the central government's 'Swachhata Hi Seva' moment on Saturday. In a personal letter to the Malayalam superstar, Modi said that Lalettan's presence can inspire millions to be part of this initiative. He also ranked cinema as one of the most effective media to bring about change on a large-scale.
Shri Mohanlal Ji,
"I am writing to you on a subject that is very close to Mahatma Gandhi's heart-Swachhata or cleanliness. In the coming days, we will commemorate Gandhi Jayanthi. An inspiration to billions across generations and borders, Mahatma Gandhi recognized that our attitude towards cleanliness also reflects our attitude towards society. Bapu believed in achieving cleanliness through community participation. Bapu also believed strongly that Swachhata is for each of us to practise. Inspired by his noble thoughts let us renew our pledge towards cleanliness. Let us ensure that the coming days are about living the mantra of 'Swachhata Hi Seva".
"A clean India is the noblest service we can do for the poor, downtrodden and the marginalised. Unclean surroundings have an adverse impact on the weaker sections of society even more. Cinema is one of the most effective medium to bring about change at a large scale. As a much adored film personality, you have the power to influence people's lives positively. Your participation in the Swachhata Mission would help connect millions to the noble initiative. Personally, I invite you to lend your support to the 'Swachhata Hi Seva' movement and dedicate some time for the cause of Swachh Bharat. Your participation will further inspire others to be part of the movement. You can share your experience with me on the Narendra Modi Mobile App".
"Let us all come together for cleanliness, pay a fitting tribute to Bapu and work towards building a New India," PM Modi said in his personal letter to the five-time-National award winning actor.