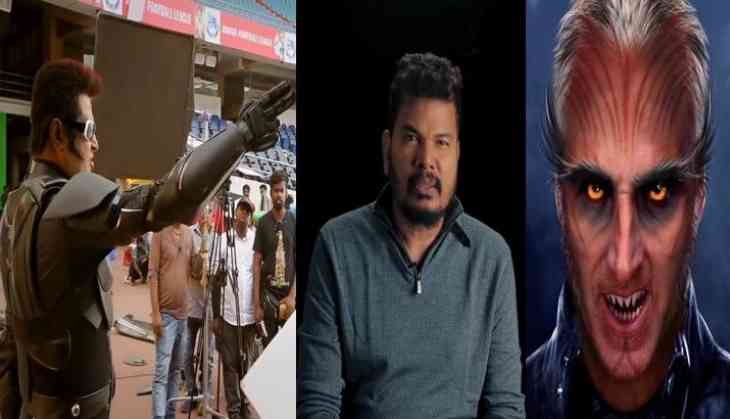 Pic: Rajinikanth, Shankar and Akshay Kumar in 2.0's VFX making video
The makers of 2.0 have released it's VFX making video on Sunday. The video features director Shankar, superstar Akshay Kumar, cinematographer Nirav Shah and other crew members from the VFX team giving their respective inputs on how the magnum-opus was made and how Shankar's vision was brought to cinema.
The video, titled as Making of 2.0 VFX Featurette tells us how Shankar always sticks to his script and never changes it, come what may!
"We approached concept artists to draw all the characters of every object. I will see which is close to my imagination and then select concept arts. And then we convert it into rough 3D model. Whatever you write in script and whatever you have in mind it is very difficult to communicate to others. Shankar said.
Shankar, who is known as the Steven Spielberg of Indian cinema, also added that audience should not feel the VFX and that is the best VFX.
Produced by Lyca Productions, 2.0 is reportedly being made for a massive budget of Rs. 450 crore. Tipped to be the costliest Indian film made till date, 2.0 stars legendary actor and superstar Rajinikanth in dual roles, as scientist Vaseegara and Chitti: The Robot. The film also stars Amy Jackson, Adil Hussain, Kalabhavan Shajon and Sudhanshu Pandey.