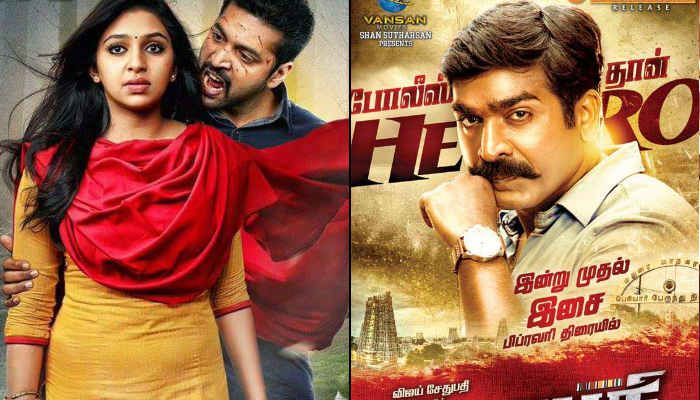 Tamil movie buffs were spoilt for choice this week, with three films of different genres clashing at the Chennai Box Office on 19 February.
However, the Jayam Ravi-Lakshmy Menon starrer Miruthan came out on top, collecting an impressive Rs 10.75 crore on its opening weekend.
Touted to be Tamil cinema's first ever zombie horror film, the Shakthi Sounder Rajan directed film Miruthan marks the best opening weekend ever for actor Jayam Ravi - beating the previous record of Rs 10.5 crore set by his last hit film, Thani Oruvan.
Also read: Tamil movie producer Aascar V Ravichandran's property to be auctioned off
Close on the heels of Miruthan is the Vijay Sethupathi-Remya Nambeeshan-starrer Sethupathi which held on its own and registered collections of Rs 6 crore on its opening weekend.
The Vijay Sethupathi-starrer Sethupathi also did great business on the first weekend. Despite facing competition from Miruthan, the opening of Sethupathi was decent on the first day.
The film - which was aimed at a family audience - benefited from positive word of mouth and picked up well from the second day on.
Also read: Vidya Balan returns to Mollywood as Kamala Surayya
While Miruthan and Sethupathi scored big, Navarasa Thilagam had a disastrous weekend at the ticket window. The Ma Ka Pa Anand-Srushti Dange starrer collected around Rs 1 crore on the opening weekend. From Monday on, most of the screens were replaced with Miruthan and Sethupathi - ending the film's Box Office run.
For more updates on South Indian Cinema, check out this.
-- Sree Prasad Nair