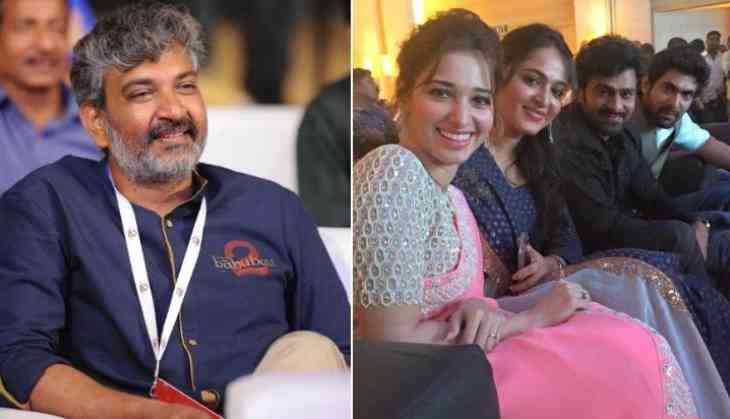 Pic: SS Rajamouli and Baahubali cast
SS Rajamouli finally revealed his favorite film of 2017. However, much to the disappointment of Baahubali 2 fans, the hit director preferred another film over his own film to be named as his favorite film of the year.
In a recent interview, when SS Rajamouli was asked, he replied that 'Arjun Reddy' is his favorite film of 2017. He also added that the film was pure and intense.
In fact, upon Arjun Reddy's theatrical release also, Rajamouli had praised the film on Twitter.
"Just saw Arjun Reddy. Though love stories are not my cup of tea, can't but appreciate the film. Top notch performance by Vijay Deverakonda. He just lived it. Not just him, Shalini, the friends, everyone were so good and natural. Very good background score and fine photography", the Baahubali director had tweeted then.
Arjun Reddy, the Telugu film is touted as one of the path breaking films released in 2017. Though the run time of Arjun Reddy is 187-minutes long, yet it has been praised heavily for its bold theme and the brilliant performances of its lead cast especially Vijay Deverakonda, whose performance is touted to be a strong contender for next years' best actor category at national films. The content of Arjun Reddy was so strong that top Malayalam film production house, E4 Entertainment has bagged the Tamil remake rights of the film within one month of its theatrical release.