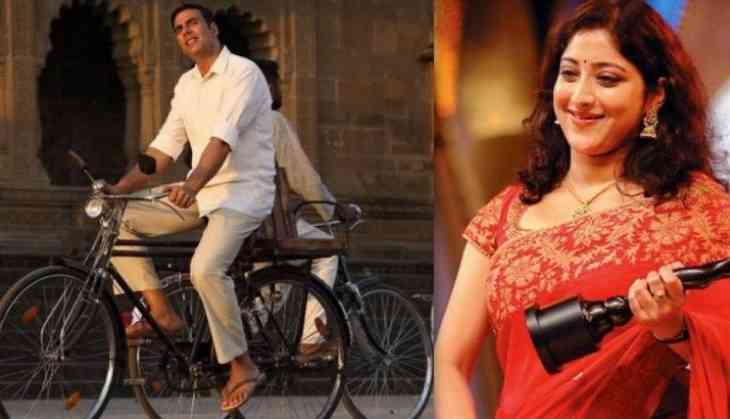 Pic: Akshay Kumar in Pad Man, Lakshmy Gopalaswamy
Bollywood superstar Akshay Kumar's Pad Man is nearing one week of its theatrical release at the Box Office. The film, produced by Akshay Kumar's wife and actress-turned-writer Twinkle Khanna and directed by R Balki is based on the life of Arunachalam Murugunathan, a social entrepreneur from Coimbatore, Tamil Nadu. Pad Man has been praised for its inspiring story and the performance of Akshay Kumar as sanitary pad inventor Lakshmikant Chauhan.
Catch has previously reported that Malayalam actor and national award winner Jayasurya expressed his happiness after watching Pad Man.
And now, the Akshay Kumar starrer has caught the attention of South Indian actress and Bharatanatyam dancer Lakshmi Gopalaswamy.
The Keerthichakra actress took to her Facebook page to share her experience after watching Pad Man.
"Celebrated Shivarathri, after first celebrating Prakriti. Watched Padman the Hindi film based on the unique success story of Arunachalam Muruganantham, really a heart man .Inspiring !! Esp the second half of the film. This film is a landmark of sorts. Congratulations to the producers and the lead actor for having taken this on. Akshay Kumar, has broken the stereotype of a superhero in Indian cinema. He for me,is the modern alpha male. What better example than Padman to illustrate the power of cinema as a catalyst for gender sensitization and social progress. Definitely worth watching !! Thanks to WoW for their good work on spreading awareness on menstrual hygiene and inviting me as their special guest along with Ruby Chakravarthy".
Padman has so far minted nearly Rs. 60 crore in 6 theatrical days at the Box Office. The film starred Radhika Apte and Sonam Kapoor in the female lead roles.