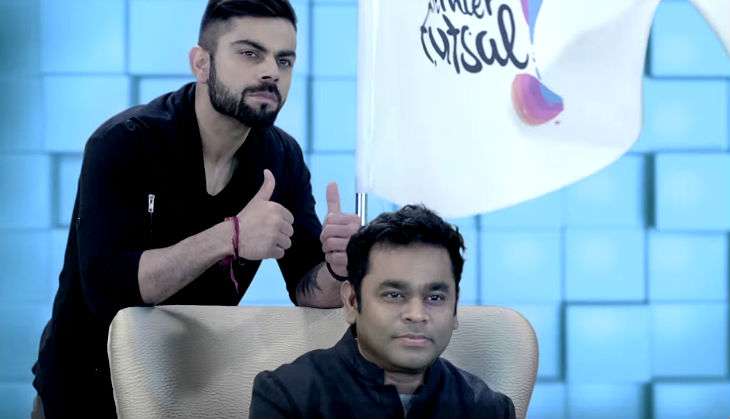 ​The much-awaited anthem​ for ​​Futsal​ ​​Premier​ League​ is out.​ The anthem,Naam Hai Futsal,​ has been composed by Oscar-winning composer AR Rahman, who features in the song too, along with the ambassador of the the league and Team India Test cricket captain, Virat Kohli. This is the first time ​the musical maestro​ ​​is​ composing music for a franchise-based sports league in ​India.​
Both AR Rahman and Virat Kohli were seen praising each other during the anthem's launch.
The music maestro stated:
​"​I'm proud to associate with Premier Futsal for the league's official anthem. It makes me happy to see such young entrepreneurs being passionate about ​football and I wish them all the success in this venture. I'm ​also excited to ​collaborate with Virat Kohli on this, let's hope he is as good with his melody as he is with his bat​.​"​
Meanwhile, the run-machine of team India stated:
"I have been a fan of Rahman ​Sir ​for years. It ​is​ a personal achievement and also a privilege to share the screen with him and lend my voice to the anthem of Premier Futsal​."
Watch the video here:
​The league is scheduled to start on 15 July, 2016.