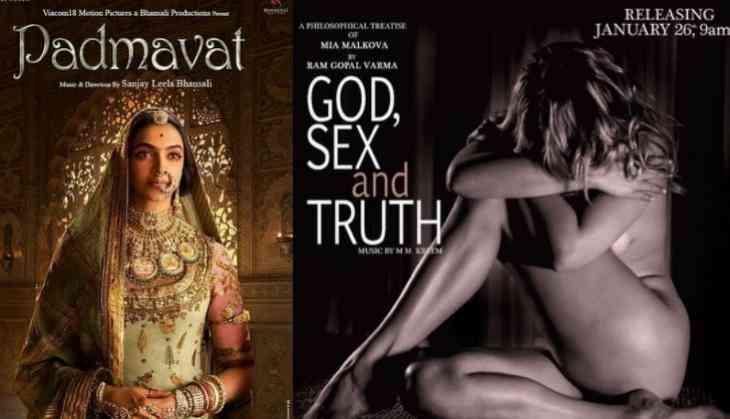 Pic: Padmavat poster, God, Sex and Truth poster
Deepika Padukone's much awaited film, Padmavat is slated to hit the screens on Thursday, January 26th. Directed by Sanjay Leela Bhansali, the film stars Shahid Kapoor and Ranveer Singh in male lead roles.
While Padmavat is few hours away for its theatrical release, the film will witness a clash as far as morning shows are concerned.
Interestingly, Ram Gopal Varma's adult web film God, Sex and Truth is scheduled to hit the internet on Thursday at 9 AM. The film is already hot on social media thanks to the film's lead actress porn star Mia Malkova's named pics from the film.
However, RGV reacts to the clash and expressed his opinion on his Twitter page. He also added 'may the best woman win' in the battle between Deepika Padukone starrer Padmavat and Mia Malkova film God Sex and Truth.
RGV tweeted:
"My film God,Sex and Truth is releasing on jan 26th at 9 Am along with Padmaavat on http://www.GodSexTruth.Online ...Between @MiaMalkova and @deepikapadukone may the best woman win #GodSexTruth"