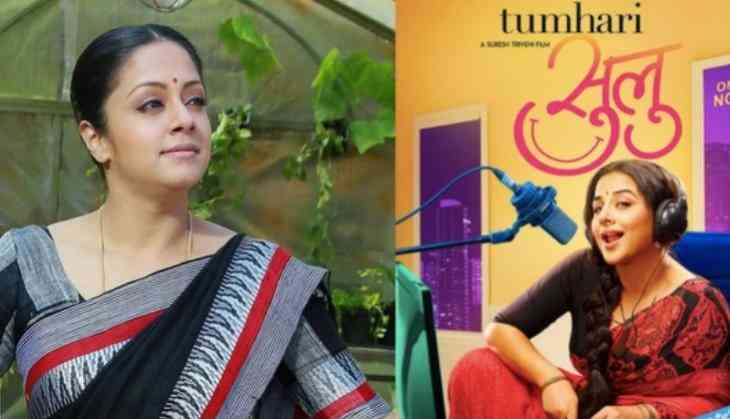 Pic: Jyothika (file pic), Vidya Balan in Tumhari Sulu poster
It's known that popular Tamil actress Jyothika and director Radha Mohan have teamed up for the official Tamil remake of the 2017 Bollywood hit film Tumhari Sulu. Directed by Suresh Triveni, Tumhari Sulu tells the story of an ambitious housewife who becomes an RJ for a late-night relationship advice program. Tumhari Sulu featured Vidya Balan in the titular role of Sulu/Sulochana and turned out to be the surprise hit of 2017. The film has been praised for the stellar performance of Vidya Balan as well.
In a recent interview, Vidya Balan has expressed her happiness about Jyothika portraying the lead role in the Tamil remake of Tumhari Sulu.
"Jyothika is a wonderful actress. I never thought someone as big as her would act in a remake of my film. Bhool Bhulaiyaa was a remake of Chandramukhi, where she essayed the lead role. I am sure she will do a great job with the remake of Tumhari Sulu as well", Vidya Balan said.
Produced by two-time national award winning filmmaker Dhanjayan Govind, the untitled film will see Lakshmi Manchu reprising the role played by Neha Dhupia in its original. The makers have already roped in Mahesh Muthuswami and Praveen KL as the cinematographer and editor of the film. The film also marks the second association between Jyothika and Radha Mohan after the 2017 hit Mozhi.
The title and the remaining cast and crew details of the film are expected to be announced soon.