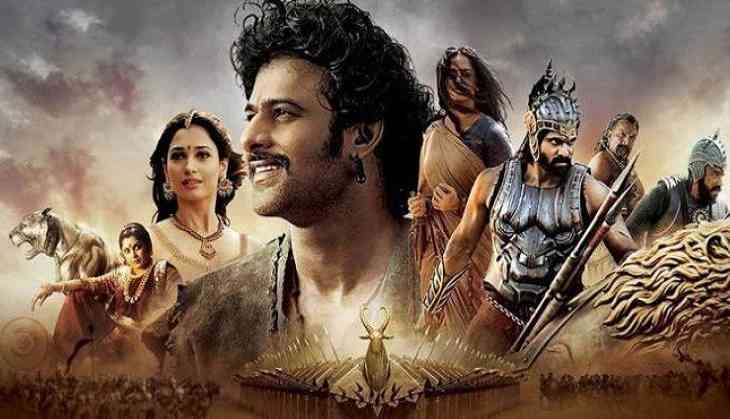 'In Kerala, 'Baahubali' widened market for non-Malayalam films'
Well-known producer Prem Menon, who successfully distributed Vikram-starrer 'I' and 'Baahubali: The Beginning' among other films in Kerala, believes the phenomenal success of these movies has widened the market for non-Malayalam films in the state. Both 'I' and 'Baahubali' were high earners in Kerala, with a combined gross of over Rs. 20 crores.
'The success of 'Baahubali' and 'I' opened the eyes of distributors and theater owners. It even widened the market for non-Malayalam films in Kerala. While 'Baahubali' grossed over Rs. 11 crores in its entire run, 'I' grossed around Rs. 10 crores,' Menon, Managing Director, Global United Media (GUM), told IANS.
It's with Shankar-directed Tamil revenge drama 'I', the company began its distribution journey. Since then, there's been no looking back for GUM which is gearing up for the release of 'Baahubali 2: The Conclusion' on April 28. Asked about the secret formula behind the successful distribution model, he said 'carpet bombing of screens'
'When we bought 'I' and were planning to release in 225 screens, a lot of people thought we were doing a mistake. One needs to understand that a shelf life of a film today is the first three days. Then, the content and word-of-mouth decide the fate of a film,' he said.
'But if you could draw maximum audiences in the first three days, you're at least guaranteed very good opening. We give prime importance to marketing,' Menon, whose company is credited with creating the world's largest poster of 'Baahubali' first part during its release, said. Does the success of a film solely rely on wide release?
'There's no thumb rule. Sometimes you go by your gut feeling. I saw bits and pieces of 'Baahubali 1' and I knew deep down it will work. It has mostly worked but for some rare cases. Tamil film 'Devi', for instance, when we released, opened well but lost steam as it had to compete with 'Pulimurugan',' he explained. 'Baahubali 2: The Conclusion' is releasing in Tamil and Malayalam in around 300 screens in Kerala next week.
'Baahubali 2' will have an even bigger release. This is the kind of film which doesn't get made every day. Since the release of 'Baahubali 1', the total number of theaters in Kerala has increased which has an automatically paved way for a wider release for the second part,' he said.
Menon is proud to have bankrolled award-winning Malayalam film 'Kammatipaadam', which was helmed by cinematographer-filmmaker Rajeev Ravi. 'This was one film I wanted to bet on irrespective of the returns. When I heard the story, it immediately struck a chord within. It reminded me of my childhood in Kerala. I have family roots in agriculture and when Rajeev was narrating some scenes, I could visualize it,' he said.
The film, set in a slum in Ernakulum, shined the spotlight on how Dalit communities were forced to give up their lands for real estate mafias. 'Kammatipaadam' bagged four Kerala state awards, including best actor for Dulquer Salmaan.
-IANS