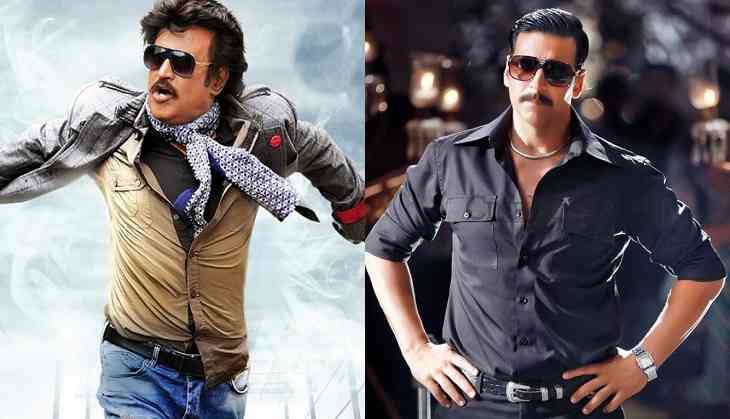 Pic : Rajinikanth in Lingaa, Aksha Kumar in Once Upon A Time In Mumbaai Dobara
The audio launch of Neruppu Da was held in Chennai. Written - directed by B. Ashok Kumar and jointly produced by Tamil actor Vikram Prabhu, Esakki Durai and R. K. Ajaykumar, the film has Vikram Prabhu and Nikki Galrani in the lead. The star studded audio was launched by legendary Tamil actor Rajinikanth.
Speaking at the event, Rajinikanth warned the film distributors to be alert before buying a film for huge price to avoid losses.
He said, "A producer is bound to market his product with innovative gimmicks and quirky selling techniques. But distributors and exhibitors should not fall prey to it. Don't buy a film for exorbitant price and crib about losses post the film's release. Before acquiring a project, take the advice of experienced trade pundits in the industry and analyse the risks and business propositions thoroughly".
Who else but Thalaivar to give this piece of advice as he's been ethical in his dealings with the distributors. Rajinikanth is known for paying back for the losses incurred by his distributors whenever his film doesn't do well at the box office.
Neruppu Da also marks the directorial debut of Ashok Kumar, a former associate of Romeo And Juliet fame Lakshman. Vikram Prabhu will be seen as a fire fighter and a die-hard Thalaiva fan in Neruppu Da.