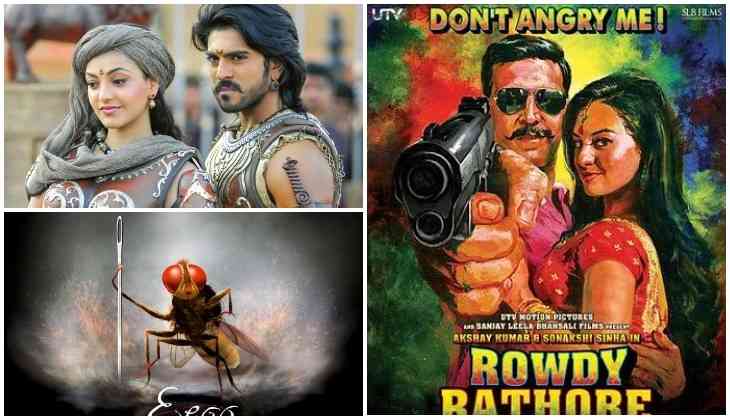 Birthday Special: Not just Baahubali, Rajamouli made these blockbuster films also
In the year 2015, the Indian cinema watched the biggest motion picture ever in Indian history called Baahubali. The film was a great hit at the box office in Hindi despite that it was a dubbed film. The film had been directed by filmmaker SS Rajamouli and with Baahubali, SS Rajamouli became a famous name in film industry. Maybe this has happened for the very first time that a filmmaker gained immense popularity with just one of his projects.
Filmmaker SS Rajamouli is celebrating his 44th birthday today on 10 October and most of the people in India know him for Baahubali series. Rajamouli, who is a big name in Telugu film industry, has made many films there and most of them were great hits at the box office.
Although, Rajamouli is the son of famous writer Vijyendra Prasad, but he chose a different career for himself. However, this is interesting that most of his films have been written by his father. Now we are going to tell you about the films that were made by Rajamouli before Baahubali and those were also a masterpiece at the box office and in Indian cinema.
1. Student No. 1 (2001)
Rajamouli made his directorial debut with Student No. 1. Rajamouli's debur film was also the first film of leading actor Jr NTR. The film was a hit and both leading hero and director got fame with this film. Later, the film came on television in Hindi as Aaj Ka Mujrim.
2. Simhadri (2003)
This film was the second collaboration of actor and director Jr NTR and Rajamouli, the film was a blockbuster at the box office and it also established both the director and the actor as stars in their respective profession. The film was dubbed in Hindi later for television as Yamraaj Ek Faulad.
3. Sye (2004)
It was Rajamouli's third film and it starred Nithin and Genelia D'Souza in lead roles. This film was the highest budget film of Rajamouli till 2004 and it was a great hit. Later, the film was dubbed in Hindi for television as Aar Paar-The Judgement Day.
4. Chhatrapati (2005)
Chhatrapati was the first collaboration of Prabhas and Rajamouli, and it was also a blockbuster in 2005. This film was also dubbed in Hindi as Hukumat Ki Jung.
5. Vikramarkudu (2006)
This film Vikramarkudu was directed by Rajamouli and starred Ravi Teja in leading role. Many don't know about this film but let me tell you that Akshay Kumar starring film Rowdy Rathore was a Hindi remake of Vikramarakdu. However, not only in Hindi the film was remade in Tamil, Kannada and three times in Bengali.
6. Yamadonga (2007)
Yamadonga was Rajamouli's first action-comedy film and it was also the third collaboration of Jr NTR and Rajamouli. This film was also hit and later dubbed in Hindi as Lok Parlok.
7. Magadheera (2009)
Magadheera is a known name for Hindi audience as most of the people have already seen it on television. Rajamouli's film was the biggest blockbuster of his career at the time of his release. It was remade in Bengali as Yoddha - The Warrior. There were allegations on filmmaker Dinesh Vijan that he stole the concept of Magadheera for his Raabta.
8. Maryada Ramanna (2010)
Ajay Devgn starring Son of Sardaar was the remake of Rajamouli directorial Maryada Ramanna starring Sunil. This film was the first for Rajamouli which was dubbed in Japanese also.
9. Eega (2012)
Do you remember that one film called Makkhi was released in Hindi in 2012 and Bollywood actor Ajay Devgn promoted that film? Actually, that film was a Hindi dubbed version of Rajamouli's film Eega. That film was also a great hit at the box office.