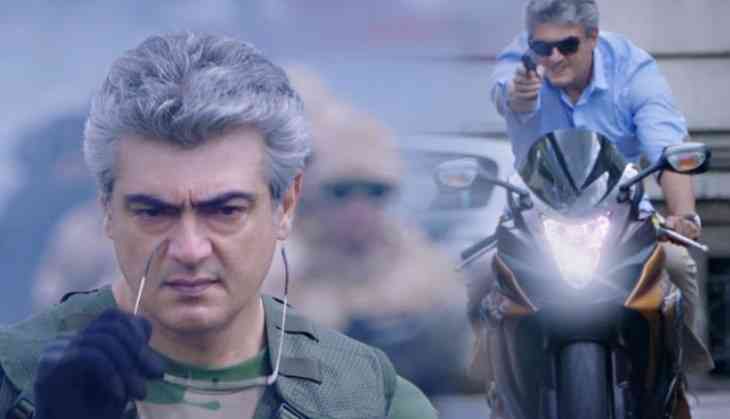 Pic : Thala Ajith in Vivegam
Thala Ajith's Vivegam is looked forward to, as the actor is returning back after a two-year-break. The film has been produced by Satya Jyothi Films.
According to Siva, the bike stunts performed by Thala Ajith are going to be the major highlight of Vivegam.
"Like always, Ajith didn't use any body double and performed all the stunts by himself. The bike stunts were choreographed by Hollywood stunt director Kaloyan Vodenicharov, who was taken by Ajith's amazing ability to pull off the stunt sequences. After shooting for a scene, Kaloyan asked Ajith whether he could go for a ride. Ajith zoomed past a distance, performed wheeling, did a doughnut before getting back to the spot doing a drifting. He used to be a bike racer but bike stunts are totally different from racing. We were shooting at subzero temperature with dim lights for getting the night effects. Due to snowfall the road was slippery and hence dangerous. It was a breath-taking moment for the team including Kaloyan."
Vivegam also stars Vivek Oberoi, Kajal Agarwal and Akshara Haasan and will hit the screens worldwide on August 10.