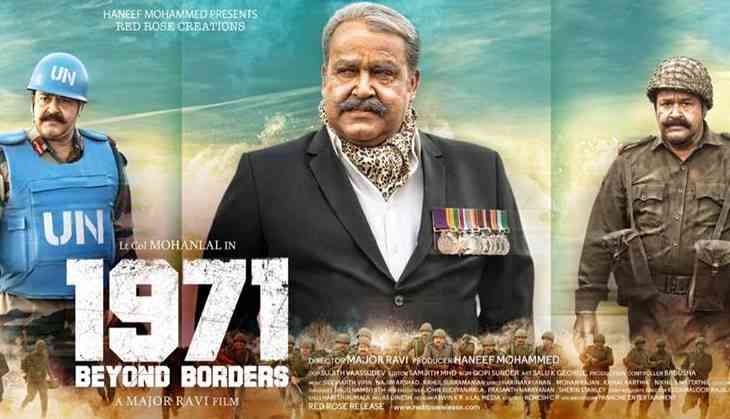 Pic : Mohanlal's triple look in 1971 Beyond Borders
Mohanlal's upcoming film 1971 Beyond Borders is slated to be released soon. Directed by Major Ravi and produced by Haneef Mohammed, the war drama marks the fifth collaboration of Mohanlal and director Major Ravi. The film also marks the fourth installment of Major Mahadevan series after Keerthi Chakra, Kurukshetra and Kandahar.
1971 beyond Borders stars Mohanlal in dual roles as the father-son duo - Major Sahadevan and Major Mahadevan. The war thriller depicts the story of India – Pakistan war of 1971.
While 1971 beyond Borders is just 3 days away for its theatrical release, Mohanlal has released a new poster on his Facebook page. The poster features Mohanlal in three different get ups - one look as Major Mahadevan and two separate looks of Major Sahadevan.
1971 Beyond Borders stars Asha Sharath and also marks the Malayalam debut of Telugu actor Allu Sirish and Bollywood actor Arunodhay Singh.
1971 Beyond Borders will be releasing simultaneously in Telugu version as well, as 1971 Bharatha Sarihaddu on April 7.