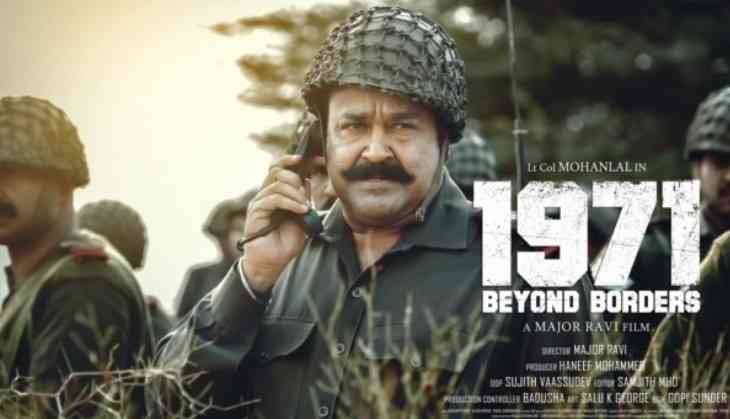 Pic : Mohanlal in 1971 Beyond Borders
Mohanlal's second Malayalam release of the year, 1971 Beyond Borders is slated to be released soon. Directed by Major Ravi and produced by Haneef Mohammed, the war-thriller is set in two time periods and depicts the story of India – Pakistan war of 1971. Mohanlal will be portraying dual roles in the film as the father-son duo — Major Sahadevan and son Major Mahadevan.
The Malayalam actor was recently in news for fighting with a real tiger in his 2016 release Pulimurugan.
Lalettan has now done yet another stunt for his upcoming film as the actor drives a real armoured tank for one of the major sequence of 1971 Beyond Borders.
Speaking to media, the Malayalam actor said;
"I have been shown driving a lot of vehicles and even piloting an aircraft in my films, but for 1971 Beyond Borders, I drove the tank for real in one of the scenes. And I don't think there's anyone in Malayalam cinema who has done that. But that's where the thrill is, when you are the first one doing it".
However, Mohanlal added that the film required him to do the scene in real as well.
1971 Beyond Borders stars Asha Sharath in female role and also marks the Malayalam debut of Telugu actor Allu Sirish and Bollywood actor Arunodhay Singh.
1971 Beyond Borders will be releasing simultaneously in Telugu version as well, as 1971 Bharatha Sarihaddu on April 7.