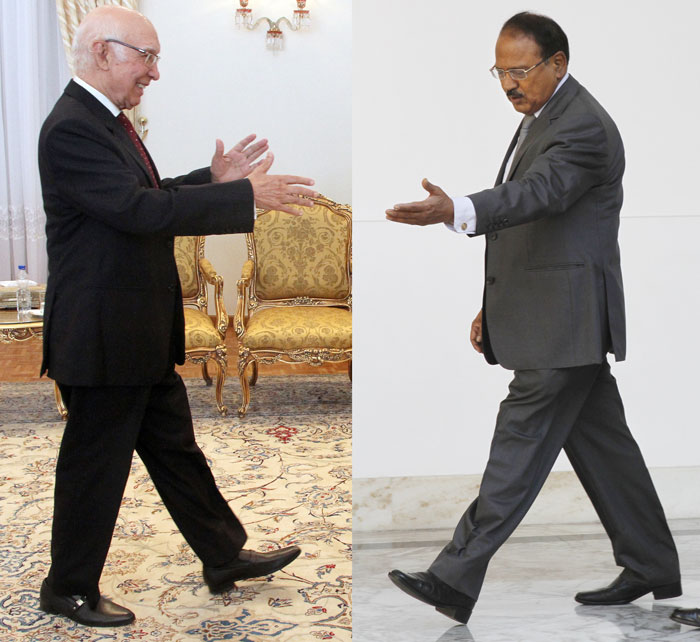 The talks
NSAs of India and Pakistan will be meeting in Delhi on 23 and 24 August
These talks were mandated by the Joint Statement by the two PMs in Ufa Russia in July
The talks are supposed to focus on all aspects of terrorism
Pakistan sees this is a step towards resuming full dialogue with India. India\'s aims aren\'t clear
India is bound to raise the Udhampur and Gurdaspur attacks. Pakistan will point out the bail given to Aseemanand
Caveats
The need to play to the international gallery can\'t be the basis of our Pakistan policy
Main focus should be to pressure Pakistan into abandoning its policy of using terrorism against India
More than three weeks after receiving the invitation from his Indian counterpart Ajit Doval, the National Security Advisor of Pakistan Sartaj Aziz confirmed on August 13 that he would visit Delhi on the 23r and 24 August for talks on all aspects of terrorism.
As these talks were mandated by the prime ministers of the two countries during their meeting at Ufa, Russia on July 10, the delay in accepting the Indian invitation is indicative of the difficulties the Ufa Joint Statement has caused Pakistan on account of omitting any reference to the Kashmir issue.
Besides, the terrorist incidents in Gurdaspur and Udhampur have raised the bilateral temperature that may make constructive discussions problematic.
What is at stake for both
While acknowledging that his talks with Doval do not constitute a revival of the Composite Dialogue, Sartaj Aziz has said that the "ice breaking" meeting will enable discussions on some "important issues".
It is unlikely that these would not include a reference to Kashmir even if it is done tangentially. More importantly Pakistan looks to the beginning of the engagement as a precursor to the resumption of the full dialogue process with India.
Thus the Pakistani long term objective while going in to these talks is clear. The same cannot be said for the Indian position.
Are these talks a part of Prime Minister Narendra Modi's long term plan of reviving the full dialogue to build up to his visit to Pakistan for the SAARC summit to be held in Islamabad next year? There is no such indication on his part.
Certainly his advisors and the BJP spokespersons are doing the opposite. They are taking credit for making Pakistan to come to the table for a terrorism focussed discussion at the NSA level.
India will have to fight terror on its own
When confronted with the obvious question of what will such talks achieve they are asserting that it would enable India to once more bring Pakistan's involvement in cross border terrorism before the international community.
Little purpose would be served by re-engaging Pakistan even exclusively on terrorism for the purposes of assuaging the fears of the international community or profiling Pakistan's continuing perfidy on terrorism.
The sad fact is that Pakistan's sponsorship of cross border terrorism is well known across the world. However, notwithstanding all the sympathy and support that India may get and all the "shabash" for its patience the international community does not really care about Indians dying and suffering because of Pakistani actions.
Perversely because India has been so "reasonable" the pressure is on it not to respond strongly to Pakistani provocations. This has been so ever since Pakistan fomented terrorism in Kashmir from 1989.
India needs to hold Pakistan responsible for refuting the distinction between state and non-state actors
Hence, the calculation of playing to the international gallery should never form the basis of Indian actions with Pakistan. The battle against terrorism has to be fought by India alone and it cannot be done through PR exercises to influence opinion in Western countries.
The quality of the evidence that India gives to Pakistan during the forthcoming talks on its involvement in terrorism matters little. Pakistan will deny that its agencies are in any way responsible for these acts.
It may concede that non-state actors may be responsible and that it would take action against them but we know the quality of its actions from the 26/11 case.
It is certain that this approach will be taken by Sartaj Aziz on the Udhampur and the Gurdaspur cases. What is particularly required is to hold Pakistan responsible for refuting the distinction between state and non-state actors.
Pakistan is responsible for all that takes place on its soil and harms India. It must be held up to this universally recognised doctrine.
Pakistan's counter charges
It seems clear that Pakistan is likely to take an assertive if not aggressive approach by pointing to India's so called instigation of terrorism in Balochistan, Karachi and in FATA.
It is set the stage to counter its lack of seriousness in pursuing the 26/11 case by complaining about the lack of progress in the Samjhauta Express case.
The Indian Deputy High Commissioner was summoned to the Pakistan Foreign Office and a protest against the decision not to appeal against the bail given to Swami Aseemanand who is an accused in the case. This is an obvious if inapt tit for tat against Indian anger at the Lashkar-e-Tayyeba terrorist Zaki-ur-Rehman Lakhvi being given bail.
It is likely that Doval and Aziz would wish to give an impression, despite the hard talk that may take place between them, immediately after the talks, that the discussions were positive. This would be to ensure that that the two prime ministers' initiative does not run into sand so quickly.
However, how would both sides convey to their domestic constituencies that they strongly took up the issues of concern to them? It would not be easy to manage the media. The reports that come from Pakistan after Aziz returns home would need to be closely monitored.
Modi has staked political capital in engaging Pakistan. This is especially as he has ignored the red lines that he drew for the neighbouring country.
Instead of paying heed to foreign powers urging him to engage Pakistan, the focus of Indian policy has to be to make it abandon terrorism. This will require a completely different approach and new ways of thinking.
It will need India to reassess its premise that a stable Pakistan is in its interest. This does not mean a policy of terror for terror but of making it clear to Pakistan that India will safeguard the lives and property of its citizens and take steps to ensure that.
Pakistan has many vulnerabilities; this should be made obvious to it.