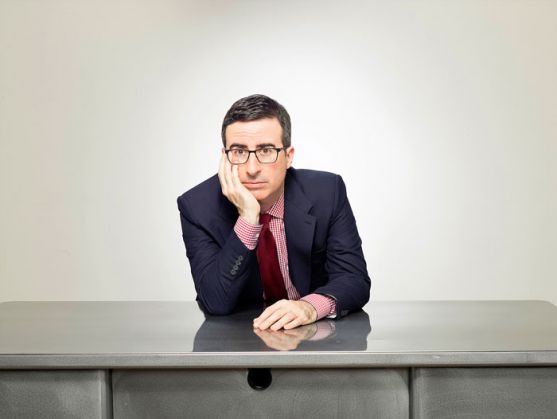 If you've managed to make it onto Last Week Tonight, John Oliver's weekly skewering of all that's stupid in the world, you've probably made a host of really poor life choices. Some of his targets may fight him - like Thailand which blacklisted him and former FIFA executive Jack Warner who feuded with him - but no one comes out a winner.
The best one can do after being called out by John Oliver is stand silently in a corner and marinate in the knowledge that of all the stupidity going on in the world, you've made, at least, the top 10. So, with that in mind, I'd like to congratulate India's ruling dispensation. You may not have managed to bring back black money, you may not have managed swaraj from corruption, but, by god, you've put India's backward prudishness on the global map.
That's right. John Oliver, the venerable curator of the world's ridiculousness, just flagged the Indian porn ban. It's expectedly hilarious. And the best part is that he doesn't even try. If you spent the past week trying to quantify just how ridiculous India's porn ban was, let me help you out.
John Oliver didn't even have to make fun of it, he just called out the facts of the case. Yes, India's porn ban doesn't need to be made fun of, because it is inherently one terrible joke.
His research team probably didn't have to look too hard either, because they found Subramanian Swamy talking about the ban, which he believes will protect Indians from becoming "sex maniacs".
India's porn ban doesn't need to be made fun of, because it is inherently one terrible joke
For once though, even with that statement, Subramanian Swamy wasn't the entire joke, nor even the punchline, he was relegated to the set up. Yes, our porn ban was so ridiculous even Subramanian Swamy couldn't eclipse it. Heck, our porn ban was so ridiculous, it even inspired what, to the best of my knowledge, is the first ever instance of a porn website trying to influence the Indian vote:
Porn ban in India / XVideos blocked http://t.co/9enwlSBpKk Vote better next time!

- XVIDEOS.COM (@xvideoscom) August 3, 2015
But back to John Oliver.
Oliver doesn't even bother with how daftly unenforceable a porn ban is. Just the list of banned websites was material enough for one of his trademark shallow dives.
And now, Thanks to Oliver, or rather, the Indian government, the global perspective on India's preferred porn has been irrevocably altered. We once gave the world intimate knowledge of sexual artistry through the Kamasutra.
Now, thanks to our ban list, we've not only announced to the world the existence of randyhags.com, but, by explicitly banning it, we've elevated it to a level of importance that creates the impression that it's popular in the country.
I'm sure there are a lot of terrible things we Indians do, but, if all-free-nude-old-granny-mature-women-xxx-porn-pics.com is one of our 857 most popular porn websites, then I might take the right wing up on their offer to relocate me to Pakistan. Not just because of the site's content, but because it would mean there are people so into granny porn that they're willing to spend half an hour just typing out the website's URL.
Still, even though we just became a global laughing stock for a few minutes, it's a good thing. Because, if there's one thing we Indian's care about, it's the opinion of the first world. When we're upset at ourselves, almost nothing ever happens, but when our phoren brothers laugh at us, we actually introspect.
So, here's to John Oliver, may he continue shaming us into introspection, and thereby, hopefully, progress.