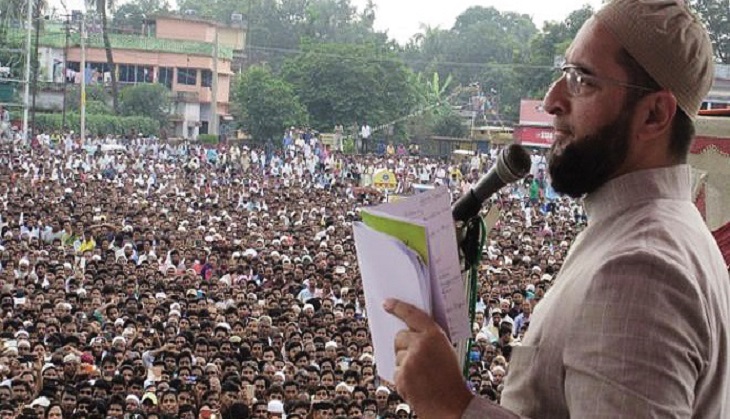 The BJP in Telangana has launched a signature campaign seeking the arrest of All India Majlis-e-Ittehadul Muslimeen president Asaduddin Owaisi. This is the initiative of Telangana BJP president K Laxman. Last Friday, Owaisi was booked for sedition in Hyderabad for saying that he would provide legal aid to the IS suspects from Hyderabad picked up by the NIA.
A case under section 124A that deals with sedition, was registered against him at the Saroor Nagar police station, following a court order.
The complainant is a BJP lawyer
Even the sedition case against Owaisi seems to be the BJP's initiative. The case is based on a private complaint filed by a lawyer named K Karunasagar, who happens to be the convenor of the BJP's Legal and Legislative Cell in Greater Hyderabad. He is known to be close to K Laxman.
In Karunasagar's opinion, Owaisi is guilty of treason and that he is "promoting terrorism" and "boosting the morale of anti-nationals" by talking of providing legal aid to the IS suspects arrested by the NIA.
Also read:"ISIS are dogs from hell. We'll chop Baghdadi into 100 pieces": Owaisi
A known attention seeker, Karunasagar had filed a complaint against Delhi Chief Minister Arvind Kejriwal earlier this year for tweeting a cartoon which, in his opinion, insulted Lord Hanuman.
After the suicide of Rohith Vemula, he had worked overtime to try and show that the Dalit scholar was actually an OBC.
Karunasagar is an RSS man and a confessed admirer of radical Hindutva ideologue VD Savarkar.
Unfortunately, his actions can't be dismissed as the antics of a maverick as the BJP is solidly backing his complaint against Owaisi. Perhaps he even has the direct blessings of the party leadership.
Surprisingly, even the Congress has taken a similar stand with its spokesperson Tom Vadakkan calling for Owaisi's activities to be "monitored" by law enforcement agencies.
So this begs the question, is the AIMIM chief helping the IS by speaking of providing legal aid to the suspects?
Is Owaisi helping IS?
The answer is yes, Owaisi is helping the IS. Not the Islamic State, but the Indian State.
We all have seen how Muslims are kept in jail under trumped up terror charges, the Malegaon blast case being a case in point. Therefore it is of paramount importance that the alleged IS radicals get a fair trial. But the legal aspect is less significant compared to the political function Owaisi is performing.
The strength of a democracy lies in its ability to make even the most dissatisfied sections feel represented. Despite a strong sentiment towards Azadi since the accession, Kashmiris took up militancy only after democracy had failed them in the heavily rigged election of 1987.
Also read: NIA busts another ISIS module. Here's why we should be concerned
Owaisi's efforts are aimed at ensuring that even the most dissatisfied Indian Muslims feel that they have a voice within the system, thereby preventing a move towards radicalisation.
While people joining a deviant outfit like IS cannot be justified, let us not forget that at present, Muslims have enough reasons to feel angry and threatened in Narendra Modi's India.
Take these incidents that have taken place in the past two years - the lynching of Mohammad Akhlaq in Dadri, the hanging of Majloom Ansari and 12-year-old Imtiyaz in Latehar and the killing of techie Mohsin Shaikh in Pune. Sanjay Raut's call for the disenfranchisement of Muslims, Sadhvi Prachi's demand that India be made "Muslim-free" and Yogi Adityanath's supporters shouting that Muslim women should be dug out of their graves and raped.
Some Muslims were sprinkled with cow urine and forcibly made to undergo gharvapsi, while others were beaten up and made to eat cow-dung. Aligarh Muslim University and Jamia Millia Islamia are under threat of losing their minority status and a Uniform Civil Code is also on the cards.
On top of this ever increasing list of inequities is the fact that a man under whose watch the pogrom of Muslims took place in 2002, is now the Prime Minister of the country.
Given all this, Muslims are absolutely justified in feeling angry. This is no different from the 1990s when the community felt a sense of collective rage and fear following the demolition of the Babri Masjid in Ayodhya. What added to the anger was the betrayal by the Congress, a party which Muslims had faithfully supported for decades. Badgered by the BJP on one side and betrayed by the Congress on the other, Muslims felt alienated from the system.
Some youngsters joined radical outfits like the Students' Islamic Movement of India, particularly in states where the discredited Congress was the only secular alternative. But this process of alienation was checked by the Janata Dal and its offshoots like the Rashtriya Janata Dal and Samajwadi Party, which gave Muslims a sense of security and representation.
Owaisi, therefore, is performing a very important function for the Indian State, by trying to prevent the most disaffected among Indian Muslims from feeling alienated.
From a purely cynical, statist point of view, he is functioning as a safety valve against radicalisation But this is beyond the BJP's comprehension.
Ideological battle
Earlier this month, the AIMIM organised an anti-IS rally in Hyderabad, in which Owaisi tore into the deviant outfit calling them "dogs from hell" who should be "cut to pieces". The Hindutva brigade accused him of double standards for criticising IS on one hand and talking of providing legal aid to alleged IS members on the other.
In reality, both are part of the same ideological battle against IS. It is as important to expose IS' anti-Islamic and satanic nature as it is to reach out to the youngsters who have been misled by IS propaganda.
This was evident in Owaisi's speech as he invited these youngsters to fight their Jihad within the framework of Indian democracy. If at all Owaisi can be faulted for something, it is for articulating his anti-IS rhetoric in the same provocative vocabulary as the Hindu right wing he opposes, using phrases like "dogs of hell" and "cut to pieces".
He may be guilty of hypernationalism, but not treason.
Also read: Muslims' dilemma: how to find voice in Modi's India