Zafar Islam wants Muslims to give BJP a chance. Here's a reality check for him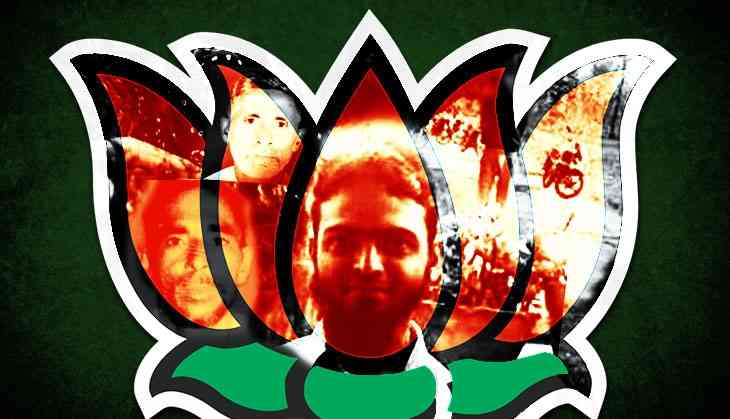 It is tough being a Muslim in the Bharatiya Janata Party for it involves inculcating three habits: denial, hypocrisy and self-loathing.
Mukhtar Abbas Naqvi, presently the Union Minority Affairs minister, has perfected this state of being after years of conditioning. So when dairy farmer Pehlu Khan was murdered by Gau Rakshaks in Alwar last month, Naqvi didn't bat an eyelid before asserting that "the incident never happened". Naqvi's classical conditioning as a BJP Muslim would put the subjects of Pavlovian experiments to shame. That was the BJP Muslim in denial mode.
For the self-loathing mode – attacking fellow Muslims – consider Naqvi's response when erstwhile JD(U) leader Sabir Ali tried to join the BJP in 2014. Naqvi promptly accused Sabir Ali of being Dawood Ibrahim's agent and scuttled his induction. The RSS patted Naqvi on the back for being a good BJP Muslim. Naturally, classical conditioning does require some positive reinforcement.
Following in Naqvi's footsteps is BJP spokesperson Syed Zafar Islam who, on May 4, wrote an opinion piece in Indian Express titled "Why Muslims must give BJP a fair chance". The article is recommended reading for BJP Muslims as it represents the denial, hypocrisy and self-loathing they need to absorb. Here's what he wrote:
The arguments
"They (Muslims) fear that the BJP will now create a Hindu Rashtra, starting with UP."

Zafar Islam is right, such fears do exist among Muslims across India. But this isn't a result of "fear-mongering by Mullahs and secular parties" as he presents. In his very first interview after becoming the chief minister of Uttar Pradesh, Yogi Adityanath said "I see nothing wrong in the idea of a Hindu Rashtra".
In 2005, the Adityanath had reportedly said in Etah, "I will not stop till I turn Uttar Pradesh and India into a Hindu Rashtra".
Despite such utterances, or may be because of them, the Gorakhpur MP was made the CM of Uttar Pradesh. He continues to propagate such views. So should the Muslims believe in Adityanath's public statements or Zafar Islam's delusions?
"There are sounds of helpless whispering that they (Muslims) should be bracing themselves for a bleak future in which they would be reduced to the status of Mohammedia Hindu, which they fear is a long-term project of the RSS."
At a rally in 2015, Rashtriya Swayamsewak Sangh chief Mohan Bhagwat had said that India was already a Hindu Rashtra and all those living in Hindustan are Hindus. Indian Muslims, therefore, are "Hindu Muslims".
Mind you, these aren't the words of a fringe Hindutva loony but the Sarsanghchalak of the RSS.
Indian Muslims didn't invent the term Mohammedia Hindu or Hindu Muslims. Sikhs didn't invent the term Keshdhari Hindu. These are long term projects of the Hindu Right and this is proved by the Sarsanghchalak's comment.
"Some others, with more fertile imaginations, have been alluding to the forced exodus of Muslims by Catholic Spain from Granada in 1492 or talking of a possible repeat of the 1857 situation."
Please, Mr Zafar Islam, do not insult the intelligence of Indian Muslims. They don't need to go back to events that happened 500 years ago in another continent.
If your state of denial hasn't reached MA Naqvi proportions, these cases may ring a bell: Mohsin Shaikh (Pune, June 2014), Mohammad Akhlaq (Dadri, September 2015), Zahid Ahmad (Udhampur, October 2015), Noman (Saharan, October 2015), Majloom Ansari and 12 year old Imtiyaz Khan (Latehar, March 2016), Mustain Abbas (Kurukshetra, April 2016) Mewat gang-rape (September 2016), Pehlu Khan (Alwar, April 2017).
All these victims were Indian citizens who were targetted mainly because they were Muslims.
" Muslims are being made to believe that the BJP is communal and a confirmed anti-Muslim party though in reality it's the opposite."
That the above attacks happened, is itself tragic. But what is even more shameful is that the BJP ended up justifying many of these atrocities.
Akhlaq's alleged killer Ravi Sisodia was draped in a tricolour when he died of illness and Union Minister Mahesh Sharma came and paid his respects to him.
Incidentally, the son of a local BJP leader is also named in the chargesheet in the murder of Mohammad Akhlaq
BJP MLA in Rajasthan Gyan Dev Ahuja, justified the murder of Pehlu Khan saying "He was a cow smuggler...sinners like him will meet this fate."
If BJP isn't anti-Muslim, why has no action been taken against Sharma and Ahuja? Why are leaders accused of rioting and hate speeches consistently rewarded in the party?
"They (Muslims) are being warned that they would become second class citizens."
Sanjay Raut, an ideologue of the BJP's ally Shiv Sena, in 2015 openly called for disenfranchising Muslims. He wrote in the Sena mouthpiece Saamna that the community's "voting rights should be withdrawn in order to end vote bank politics".
Leave alone taking action against him, Raut wasn't even chastised for making a statement that goes against India's Constitution.
BJP and the right wing brigade as a whole have made it a point to target prominent Indian Muslims. Telangana BJP leader K Laxman questioned Sania Mirza's patriotism despite the accolades she has won for India. Shah Rukh Khan and Aamir Khan are routinely branded as traitors by right wing outfits. The Hindutva brigade didn't even spare the Vice-President of India Hamid Ansari and targetted him for not saluting the Republic Day parade in 2015, even though he was merely following protocol.
Even when BJP's Mahesh Sharma praised former president APJ Abdul Kalam, he said "he was a nationalist, despite being Muslim". It is clear that for the BJP, Muslims aren't Indian enough or nationalist enough.
The Gujarat Model
Zafar Islam cites the "prosperity" and well being of Muslims in Gujarat as proof of the BJP's magnanimity towards the community. He gives cases of businessmen and local self-government leaders who have an optimistic view of the state.
To set the record straight, Gujarat's Muslims have been better off than their counterparts in rest of India since much before Modi. If they remained in Gujarat despite the 2002 pogrom, it is a testimony to their resilience. If they have done well, it is due to their own hard work and the grace of God, not the BJP government in the state.
The Modi government in Gujarat consistently blocked the centrally sponsored scholarships meant for minorities. Civic infrastructure in Muslim-dominated areas is still poorer than in Hindu areas in the state.
Muslims have benefitted from schemes and services that were meant for all Gujaratis. So does that mean the community should be grateful that they weren't actively discriminated against? Or that they are more fortunate than their brethren who were killed in the 2002 pogrom? What exactly should the Muslims be grateful to the BJP for?
Zafar Islam's assertions are no different from Union Minister Ravi Shankar Prasad's statement that "BJP gave sanctity to Muslims even though they don't vote for us". There seems to be a deep-seated belief in the BJP that Muslims need to be thankful to the party that it isn't actively denying them benefits from government schemes or services like power, roads, health and so on. This is another way of saying that Muslims are indeed second class citizens in India, who should be grateful for every little crumb they get.
"The Muslim community's concerns, however, are not based on reality."
Slow clap for this line. Perhaps, Zafar Islam should go and tell the families of Mohammad Akhlaq, Pehlu Khan, Zahid Ahmad, Mohsin Shaikh, Majloom Ansari etc that what happened to them isn't "based on reality".
The reality, that Zafar Islam and MA Naqvi continue to deny, is that people have been killed just because of being Muslim. The reality is that if you are Muslim, even being the Vice-President of India doesn't give you immunity against communal hatred. The reality is that the BJP is leading a dispensation that is unabashedly majoritarian.
But then one can't expect someone like Zafar Islam to understand this. After all he is someone who jumped the Congress ship to join the BJP in April 2014, when the Modi wave had become evident.
To modify a Mirza Ghalib couplet: "Kaaba kis munh sey jaogey Zafar Islam, sharm tumko magar aati nahi".
The views expressed here are personal and do not necessarily reflect those of the organisation.