Why Mayawati will never let BJP appropriate BR Ambedkar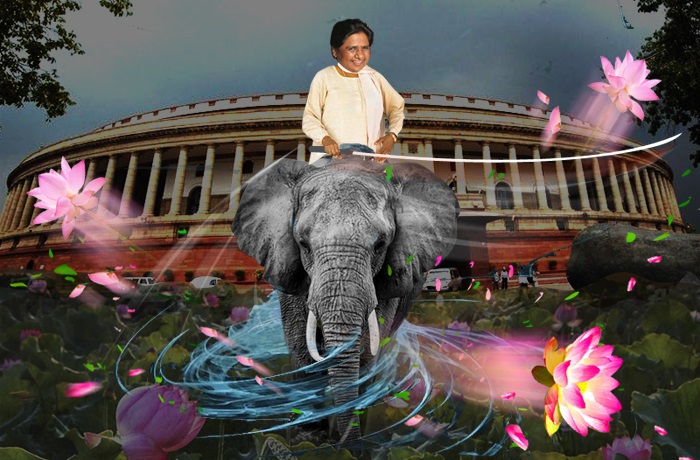 The icon
BJP is trying to appropriate BR Ambedkar in its attempt to woo Dalits
Mayawati wants to prevent this at any cost
She attacked the BJP while speaking on Ambedkar in Parliament
The politics
Mayawati says Hindu Rashtra is the opposite of what Ambedkar stood for
Her aim is to prevent Dalits from gravitating towards BJP and RSS
More in the story
What is Mayawati\'s strategy?
Is BJP her enemy number 1?
With the BJP and Congress sparing no effort to appropriate BR Ambedkar, few have noticed what Mayawati has been up to.
On 30 November, Mayawati made an important speech in Parliament, that not only countered Ambedkar's new claimants, but also provided glimpses of her strategy for the 2017 Uttar Pradesh elections.
In Parliament, the show began with BJP leaders claiming to be the real followers of Ambedkar and his ideas. They spoke about the government's policies that have been inspired by the constitutional values and by Ambedkar. They used the same arguments to attack the Congress on the Emergency.
The BJP received its fair share of flak as well, with Opposition parties accusing it of opportunism and citing that the RSS played no role in the freedom struggle. They stated that Hindutva politics was the complete antithesis of constitutional values.
Mayawati, who claims to be the true heir of Ambedkar's politics, attacked both BJP and the Congress.
She accused both the parties of betraying Ambedkar and undermining the Constitution. She targeted the government for failing to protect minorities and crushing freedom of expression. She referred to the Dadri lynching and the fear among the writers, artists and filmmakers.
She said that irrespective of whether the Congress or the BJP is in power, central governments have always undermined the rights of Dalits and marginalised sections of society, even after 68 years of independence.
Specifically attacking the BJP, she cited 2 incidents in BJP ruled Haryana: the killing of two Dalit children and BJP minister's insult of a Dalit woman police officer.
Mayawati attacked the Modi government for taking away reservation from the deserving communities. She said, "without addressing the issue of reservation in the private sector, this government has given all big contracts and works of their ministries to the private sector. This is a blatant way to reduce the opportunities of reservation as well."
Also watch: Km. Mayawati's comments on the discussion on commitment to India's constitution
She didn't even spare RSS chief Mohan Bhagwat, criticising his comment that the reservation policy needed to be reviewed.
"I am challenging them. If they tried to do this again, I will not keep quiet. I will fight it on the roads along with my supporters," she said.
She also said that Union minister General (retd.) VK Singh's "intemperate comments regarding Faridabad Dalit burning case were inexcusable and unbearable".
"If this government is really committed to the Constitution, they must suspend VK Singh and send him behind the bars, which is where he belongs," she added.
She blamed the mainstream parties and governments for targeting her through false cases.
The game on ground
Mayawati is the biggest Dalit leader of our time. It is but natural that she would resist any attempt by the BJP to appropriate Ambedkar.
It does appear that in the run-up to the UP elections, Mayawati is pitching herself as a steadfast opponent of the BJP.
"I will not let them make this country a Hindu Rashtra," Mayawati said on 9 October while paying tribute to Kanshi Ram on his death anniversary.
On 30 November, she referred to BR Ambedkar's quote "I am born in a Hindu family and I can't change it but I will ensure that I will not die a Hindu".
Mayawati's political strategy is clear. Both the BJP and the Samajwadi Party are likely to play the politics of communal polarisation ahead of the Assembly elections. In such a situation, Mayawati will focus on her Dalit agenda and target Hindutva lobby's Hindu Rashtra agenda.
The message Mayawati is trying to convey is that the concept of a Hindu Rashtra is Upper Caste dominated. It includes 3,000 years of atrocities and subjugation of Dalits. These are very practices Ambedkar fought against. There is no space for Dalits in a Hindu Rashtra.
Resisting the Hindutva project would also bring Muslims towards Dalits and the BSP. Dalits and Muslims can form a potent combination in UP. If the BSP is successful in sealing this combination, other communities may also flock towards it.
Also read: Is a BSP-Congress-RLD Grand Alliance emerging in UP?
Mayawati's challenge is not just electoral. It is social as well. Her biggest challenge is to stop Dalits from moving towards the BJP and RSS.
She cannot afford to attack Hinduism, but she can attack the concept of Hindu Rashtra.
Her speech in Parliament showed that she plans to attack the BJP for being Manuvaadi and Upper Caste dominated and one which is persecuting her for being Dalit.
The BJP failed to break its pro-upper caste image in Bihar and paid the price. If Mayawati is able to convince the Dalits of UP, it is bad news for BJP.