Why AAP is likely to sweep the Delhi municipal elections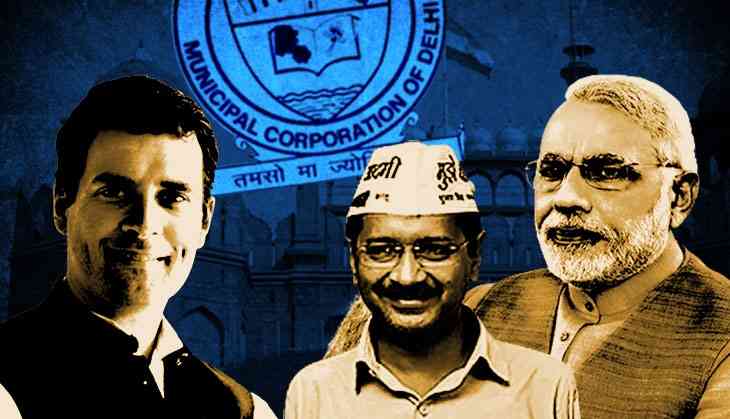 As the campaign for Uttar Pradesh Assembly election draws to a close, political parties are gearing up for a high pitched battle in Delhi for the upcoming municipal corporation elections. Trifurcated into three separate civic bodies in 2012, the MCD has 272 seats which are likely to witness a close contest between AAP, BJP and Congress.
Having been ruled by the BJP for the last 10 years, both Congress and AAP are planning to hold intensive campaigns across the city to ensure the saffron party does not get voted for a third consecutive term.
In fact, Delhi chief minister Arvind Kejriwal and his party members are already campaigning across the city to woo the voters, while reminding them about the various schemes that his government has launched to improve the basic infrastructure of the city. In a recently held campaign, Kejriwal promised the voters that he would turn Delhi into London within a year of winning the elections.
Even Congress is going all out to ensure its revival in a state that it ruled for 15 consecutive years. On Tuesday, party vice president Rahul Gandhi will address the party workers convention at the Ramlila Grounds in Delhi wherein he will target AAP and BJP and also take feedback on who should be allotted tickets from various wards. Sources have not ruled out the possibility of Prime Minister Narendra Modi joining BJP's campaign in the state.
Advantage AAP
However, AAP is likely to repeat its stellar performance of 2015 wherein it won 67 out of the 70 seats in the Delhi Assembly. Moreover, the development work carried out by the government across the city is likely to be the game changer in the upcoming polls.
The MCD was trifurcated into three civic bodies -- North Delhi Municipal Corporation, South Delhi Municipal Corporation and East Delhi Municipal Corporation – in 2012. These three bodies have a total of 272 seats with North and South accounting for 104 seats each while the east has the remaining 64 seats.
The civic body elections will be held in April and AAP has already kick-started its campaign in its bid to woo the electorate. Recently, AAP launched several schemes and projects, and is hoping that the hard work done by the government in improving the quality of life of ordinary Delhiites will pay political dividends. Earlier on Sunday, Delhi chief minister Arvind Kejriwal launched sewer and drainage projects while his deputy Manish Sisodia kicked off a 24-hour water project wherein clean drinking water would be provided straight from the tap.
Among other schemes, the AAP government also announced a scheme wherein radiology tests would be provided free at 21 diagnostic clinics to Delhi residents across all income groups. Moreover, the government has tied up with 41 private hospitals that would provide 30 surgeries free of charge for patients referred by government hospitals. These pro-people measures are likely to swing the mood in AAP's favour and the possibility of complete dominance of the party is not being ruled out.
On Monday, the five day Budget Session also commenced in the Delhi Assembly and Kejriwal will use this opportunity to showcase his government's work in the last two and half years. The government is likely to focus on the work it has done to improve the education, health and sanitation infrastructure in the city. The success of the mohalla clinics across Delhi that provide free treatment to patients will also be used to reap political gains.
Kejriwal, while campaigning for the MCD polls, didn't mince any words and said, "You gave us 67 seats during the Assembly elections, but this time do not leave any such gap. If we win the MCD polls, we will make Delhi look like London within a year." Even issues like sanitation, water and corruption in MCD are likely to be the prominent poll issues and Sisodia has already said that if voted to power, his party will cleanse the city and the corrupt civic administration.
Another factor likely to work in AAP's favour is the rearrangement of the 272 wards that was done in January earlier this year. After the new civic map was unveiled, it revealed that municipal wards increased in Assembly seats that have slums, unauthorised colonies and rural areas which are considered to be AAP strongholds. Consequently, this move led to a drop in the wards in areas widely perceived as BJP bastions.
BJP and Congress's prospects
Having ruled the MCD for the last 10 years, the BJP seems worried with this phenomenal rise of the AAP which reflected in the municipal by-polls held in May last year. Of the 13 seats that went to polls, AAP, while making its debut in the municipal polls, won five while Congress made a comeback winning four and BJP pushed to the third position. It is for this reason that BJP is planning to field its top leaders, including possibly the prime minister, to counter an upbeat AAP and a resurgent Congress.
The Congress is also planning to put its best foot forward and is holding a door to door campaign highlighting the collapse of development activities under AAP and BJP. The party has assigned a worker to cover at least 16 houses under every polling booth. Also, 15 dedicated workers have been asked to look after each booth to ensure party's revival in the MCD polls.
Even the misery caused to the common man as the result of demonetisation and how it failed to achieve its objectives, will feature prominently in Congress' campaign. There are near 13,000 polling booths across Delhi with one ward having 40 such booths and attempts are being made to reach out to each and every voter.
Moreover, on Monday, the Delhi Pradesh Congress Committee in presence of former Union finance minister P Chidambaram, Lok Sabha MP Jyotiraditya Scindhia and senior leader Ajay Maken, released a Draft Blue Print for Fiscally Self-Reliant Municipal Corporations which is yet again a step to charm the voters in its bid to revive its lost glory. But, it remains to be seen whether these issues alone would be enough for the Congress to combat both AAP and BJP.
Amid all these political developments, AAP certainly seems to have an edge over its rivals largely because of the development initiatives of the Kejriwal government which have become quite popular with Delhiites.