What is stopping Sidhu from spelling out his future plans?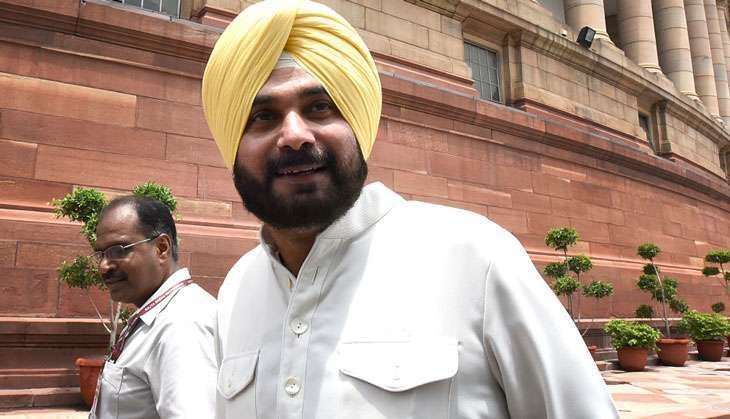 Story so far
Sidhu resigned from Rajya Sabha last week
But BJP Punjab leader Sampla says that Sidhu resigned from Rajya Sabha only, not from BJP
Sidhu, however, has not clarified his stance
The rumours More in the story
What about Sidhu\'s wife - will she quit BJP too?
What does this say about BJP?
With the cricketer-turned-politician Navjot Singh Sidhu not spelling out his future course of action yet, the political scenario in Punjab regarding his much-speculated entry into Aam Aadmi Party (AAP) remains fluid.
The question that has left observers perplexed is - what stopped Sidhu from making an announcement at the much-awaited press briefing that he had called in Delhi on Monday.
The only thing that he stressed upon was that he had been asked to keep away from Punjab and this led him to resign from the Rajya Sabha. But the fact that there was a conscious effort to keep him away from active politics in Punjab was well known to the people in the state.
Although his wife Navjot Kaur Sidhu had reportedly announced a few days ago that his resignation from Rajya Sabha also meant his parting ways with the BJP, a statement from Punjab BJP chief Vijay Sampla on the contrary have sent the tongues wagging.
"Sidhu has resigned from the Rajya Sabha, not from the BJP. He may have some personal reasons but he has no grudge against the BJP," Sampla reportedly said while adding that as far as Sidhu's future course of action is concerned he would take any decision with due diligence.
But at the same time Sampla said that although he had tried to contact Sidhu after the latter quit the Rajya Sabha last week, he has not responded. Sidhu also did not touch upon this point in his media brief.
But really, what's next?
Navjot Kaur, an MLA from Amritsar (East) constituency and a Chief Parliamentary Secretary (CPS) in Punjab government had categorically said that she continues to be a part of the BJP.
However, observers say that Sidhu will eventually join AAP and it is just a matter of time before a formal announcement is made.
"Given the reports about his having met AAP National Convener and Delhi Chief Minister Arvind Kejriwal before his scheduled press conference, one thing is sure that something is cooking. After all, he did not resign from the Rajya Sabha without any concrete plan at hand," said a senior political observer.
Ever since his resignation from Rajya Sabha and the speculations about his joining the AAP as its chief ministerial face for Punjab, reports of turmoil have also been coming from the AAP camp.
All's not okay with AAP?
The party leaders were quick to dispel the speculations about Navjot Singh being the chief ministerial candidate and even contesting the forthcoming assembly polls.
Also Read: Bold moves: Will BJP's Sidhu join AAP and become its Punjab CM candidate?
There were reports of AAP leaders saying that the Sidhu couple would have to adjust to the AAP style of politics if they join the party and also there are statements that the joining would be unconditional.
Also Read: Conditions apply: Has Sidhu made 3 demands to AAP for joining the party?
Meanwhile, there have also been reports from Delhi saying that Sidhu was ironing out his demands and conditions with the senior AAP leadership.
There have also been speculations that while Sidhu would remain the key-campaigner and crowd-puller for AAP, his wife might be promoted as the face of the party in the poll-bound state.
Also Read: Congress' doors open for former Amritsar MP Navjot Sidhu
"Nobody can block his entry into AAP at this point of time. Such attempts are often made by the existing leadership to block new powerful entrants whenever a party is moving towards gaining power. The same thing has been seen in Congress for years," said the senior political observer.
Critic speak
But apart from AAP elements, Sidhu's detractors elsewhere are also making various noises against him.
It is being said that despite being the Amritsar Lok Sabha MP thrice, Sidhu has never spoken on any of the key political issues that have governed Punjab. It is also being said that he was spending more time on television shows and elsewhere rather than in his own constituency.
There is a segment that firmly believes that while Sidhu is a crowd-puller and a good orator, he is yet to evolve as a refined politician who can debate and raise the issues of national and state interest.
Also with Sidhu resigning from the Rajya Sabha and his wife constantly attacking the BJP ally Shiromani Akali Dal (SAD) while demanding that her party part ways with the Akalis and go it alone in the forthcoming polls, the optimum damage has been done to the BJP and the party won't incur any additional loss if the couple now departs.
Sources disclosed that the BJP's central leadership was keen that the couple remain in the party fold till the elections at least and that is why it tried to placate Sidhu first as a member of the National Commission for Minorities (NCM) and later by nominating him as a Rajya Sabha MP.
It also took no action against his wife for her constant barbs against the Akalis.
Not with a bang, but a whimper
Observers say that Sidhu's press briefing was an anti-climax and proved to be a dampener. People in Punjab were disappointed to see him not spelling out his future course of action as they sat glued to television sets.
"I was asked to stay away from Punjab. How can I quit my roots? The first time can be a mistake. But this is the fourth time it is happening...it was hard to take in. After winning four elections, if I am told that stay away from Punjab... I ask why? Have I done anything wrong? How can I leave Amritsar?" Sidhu said.
Although he didn't mention the BJP specifically, he quipped, "The Modi wave not just wiped out the Opposition but drowned Sidhu as well."
There is also a point of view that Sidhu was disappointed at not being made a part of the union cabinet that was expanded by the Prime Minister Narendra Modi recently. He was expecting to find a place there.
With the Congress also having thrown its doors open for him, observers say that there is a possibility, though remote, of the Congress leadership also trying to bring him into the fold.
As of now, Sidhu the politician has left everyone guessing. The news-hungry media has been left to decipher the couplets recited eloquently by him.
Edited by Jhinuk Sen
Also Read: History stands against Sidhu. These 6 leaders left BJP only to fail
Also Read: Navjot Singh Sidhu is part of AAP, according to his Wikipedia page
Also Read: Sidhu's resignation triggers seismic activity in Punjab, SAD sacks 2 MLAs