VK Sasikala continues to call the shots even as prison beckons her
S Murari
| Updated on: 14 February 2017, 10:16 IST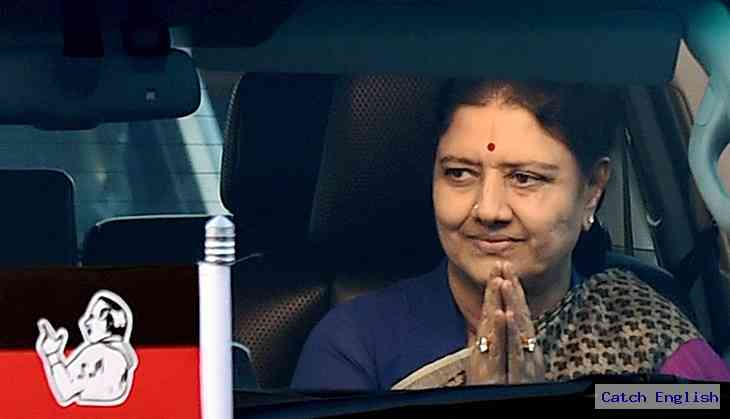 AIADMK general secretary VK Sasikala remains defiant despite being sentenced to four years imprisonment following her conviction in the disproportionate assets by the Supreme Court.
She is still calling the shots by holding the supporting MLAs in a beach resort and getting a proxy –- Edapadi Palanisamy – elected the legislature party leader in her place.
She knows that she has been barred from public life for ten years as the six-year ban on running for public office will come into force only after she serves her four year jail term.
Bengaluru special judge Ashok Narain, successor to Micheal D'Cunha who delivered the judgment in the trial court in September 2014, has directed all of them to surrender before his court. D'Cunha's judgment has been upheld by the Apex Court now holding Jayalalithaa, Sasikala and four others guilty of corrupt practices.
As Jaya is no more, the sentence part has become infructuous. Still the two-judge bench said held her guilty as she was the principal accused public servant and Sasikala, Ilavarasi and Sudhakaran were only convicted as co-conspirators and abettors in the offence.
Unmindful of jail beckoning her, Sasikala is staying on in Jaya's Poe's Garden residence and the police is continuing to give her protection.
After the DGP met the Governor on being summoned, 300 police personnel posted at the Golden Bay resort where the pro-Sasi loyalists have been staying, have been withdrawn.
But the MLAs' meeting was held there, first when they elected senior Minister Edapadi Palanisamy as their legislature party leader in the place of Sasikala, and later when Palanisamy briefed them about his meeting with the Governor.
The judgment
The judges in the 570-page judgment have emphasised the need for probity in public office. The Apex Court has upheld the value of the disproportionate assets of Jaya, Sasi and two others as Rs 53 crore, all acquired by unlawful means between 1991 and 1996, during Jayalalitha's first term as Chief Minister.
Since then, Sasikala's wealth has increased manifold. It is this money power which seems to have made her defiant.
As per court's finding, the Jaya-Sasi combine ran 32 businesses enterprises. And Jaya's assets zoomed from Rs 2 crore in 1991 to Rs 53 crore when she was voted out in 1996. Sasikala was a partner in crime in all these enterprises.
It is not surprising that Sasikala is unfazed by the conviction by the highest court of the country. She bought a multiplex in Chennai for a reported price of Rs 100 crore in 2015 after the Karnataka High Court acquitted all of them. At that time, Karnataka's appeal against this acquittal was pending before the Supreme Court.
Now the top court has given its judgment on this appeal. That is not going to stop Sasikala's political ambitions as is evident by her last-ditch attempt to rule by proxy through Edapadi Palanisamy. Never mind if she is going to be in a Bengaluru jail for the next four years. She reckons she can still dictate terms to the MLAs who owe their position to her.
Now that state police is divided in its loyalty between Sasikala and the Governor, Karnataka may send a special police team to take Sasikala to Bengaluru if she does not surrender on her own.
This kind of contempt for the court verdict is, in some ways, part of the Jaya legacy. After all when Jaya was put in jail following her conviction by the trial court, AIADMK put up posters warning that if she was not granted bail, she would grab power in Karnataka also.
The court's verdict has been hailed by the DMK whose president K Anbazhagan was responsible for the transfer of the case from Tamil Nadu to Bengaluru in 2003 following undue influence exerted by Jaya after she became Chief Minister in 2001
While DMK working president MK Stalin has said the Governor should take steps for the formation of a stable government in Tamil Nadu, party spokespersons are saying with glee that the court has dubbed the entire Jaya regime as corrupt. Its spokesman Kannadasan said, "Whether it is Palanisamy or Pannerselvam, they all inheritors of the Jaya legacy of corruption and maladministration".
As a follow-up to the verdict, the properties acquired by Sasikala and Jaya between 1991 and 1996 are expected to be attached.
Of course the Poes Garden house will not be touched as Jaya has inherited it from her mother Sandhya.
The atmosphere, vitiated by the power struggle, may get cleared only when the Assembly meets for a trial of strength.
It may well lead to a split in the AIADMK as it happened after the passing of party founder MG Ramachandran.