Vidarbha statehood: Will BJP bite the bullet?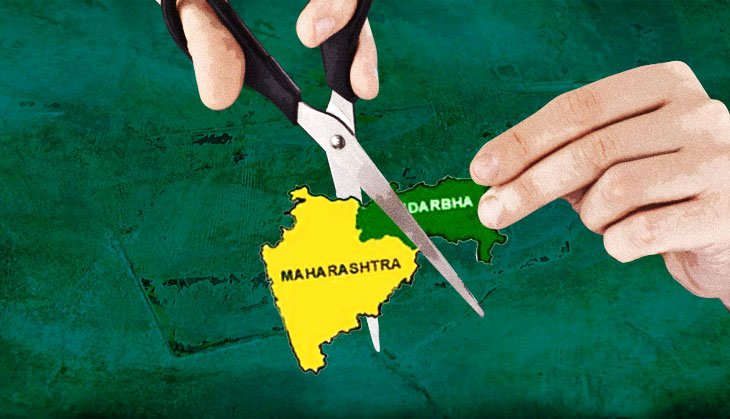 The demand
Shreehari Aney is raising the pitch for Vidarbha. This has embarrassed BJP
BJP is in favour of Vidarbha, but it can\'t afford to alienate rest of Maharashtra
More in the story
Is Vidarbha even viable?
Why is there little support for statehood?
It widely believed that small states are easy to administer. There are several committees which have supported division of large states for better administration. And the small states created in the country till now, bear testimony to this. A good example is Chhattisgarh, which has witnessed considerable development since its creation. Going by this logic, there is a strong justification for the creation of Vidarbha. The region has for long remained backward and neglected in the otherwise prosperous state of Maharashtra.
Read: Farmers threatening to quit the business completely. Is Vidarbha the tip of the iceberg?
But unlike the movement for Jharkhand and Telangana, the demand for Vidarbha neither had mass support nor strong leadership. Perhaps it is for this reason that statehood for Vidarbha never really took off.
Demand for Vidarbha
There is no emotional connect to the demand for Vidarbha. For the past 5 decades, the demand has been cropping up periodically only to die down after some time. Furthermore, there is strong opposition to the demand from Shiv Sena. In comparison, there was very little opposition to the creation of Chhattisgarh, Jharkhand or Uttarakhand in the parent states of Madhya Pradesh, Bihar and Uttar Pradesh. For Shiv Sena, maintaining the unity of Maharashtra is a emotional issue.
While Sena is firmly against statehood for Vidarbha, other political parties, including the ruling Bharatiya Janata Party (BJP), are in favour of small states. Leaders like Nationalist Congress Party (NCP) chief Sharad Pawar too, have been in favour of the creation of Vidarbha. With Shiv Sena ready to go to any extent to oppose creation of Vidarbha, all the other political parties are playing it safe.
Political analyst Deepak Pawar feels that BJP has gone on the backfoot on the issue and the movement led by Shreehari Aney has become a major embarrassment for the Fadnavis government.
"Those demanding a separate state are day dreaming that the BJP government will create Vidarbha before going to the polls in 2019. It is highly unlikely. The state government is trying to clear the backlog of development and irrigation projects in the region. With the help of Union Minister Nitin Gadkari, the state government has brought about many changes in policies to get financial assistance for irrigation projects in Vidarbha," Deepak Pawar said.
The government has taken up partially complete irrigation projects in Vidarbha. There are 28 incomplete irrigation projects in Maharashtra, out of which 13 are in Vidarbha alone.
"The state government is pushing for the Multimodal International Hub At Nagpur (MIHAN). A textile zone is being proposed in Vidarbha to help cotton growers to get compatible price for cotton. With many such initiatives being taken, creation of Vidarbha state in 2019 would be a sign of failure for BJP," Pawar said.
Also read- We have got a lot wrong on farm policies: Maha agri minister Khadse
It will be a suicidal move for BJP as it will permanently lose the rest of Maharashtra. "For that matter, any party that will create Vidarbha will permanently lose rest of Maharashtra," he said.
"Pushing development projects is the most viable approach the government can take. If the CM talks development of Vidarbha and seek more funds for it, Shiv Sena will never oppose, because it is exactly what it wants," he added.
However, veteran journalist and political analyst from Nagpur, Shyam Pandharipande is confident that BJP will create Vidarbha before 2019. He feels that the BJP wants to attract more investment in Vidarbha and complete as many pending projects as they can during their tenure in Maharashtra and then create the state of Vidarbha.
"There are several commissions which have recommended the creation of small states like Vidarbha. It is more than appropriate and practical to create the state as Nagpur is closer to Raipur, Hyderabad and Bhopal than it is to Mumbai," Pandharipande said.
He opined that when there are so many Hindi speaking states, two Marathi speaking states can coexist.
Response
Asked about the lukewarm response to the call to observe 1 May as Black Day and unfurl the flag of Vidarbha, Pandharipande said, "The programme was organised across Vidarbha. The low turnout to the event could be because of the people were only given 2 days notice. Low turnout does not mean low support for the movement. Not just the people, leaders in all parties including Shiv Sena are in support of Vidarbha. It is just a matter of time they will openly support it," he said.
Deepak Pawar says, "Those political leaders who have nothing else to do, who have lost elections and been sidelined by their parties, take up the issue of Vidarbha. And when their party leadership pulls them up, everything dies down." He cites several examples such as veteran Congress leader Ranjit Deshmukh, Banwarilal Purohit, Datta Meghe, Vasant Sathe and NKP Salve. Purohit even quit the BJP and formed his own political party called Vidarbha Rajya Party. But went back to BJP when people rejected his party.
Read more: Maharashtra A-G Shreehari Aney resigns over Marathwada state remarks
While the issue is being debated across Maharashtra, Shreehari Aney, who a cake shaped like Maharashtra on his birthday last week and carved Vidarbha out of it, has expressed regrets for the act. "I admit that such an act was committed. Now we regret it. It shouldn't have happened," he said.
Elaborating on his plans, Aney said, "We have a complete plan in place. Vidarbha's administration and policies will concentrate on farmers and tribals who form around 80% of the population. The state of Vidarbha will have its own priorities. Maharashtra is debt ridden and has no resources to overcome that. It will not be able to do anything for Vidarbha."
"Maharashtra is so poor that it is barely able to pay the salaries of its employees, leave alone doing anything for the development of Vidarbha," he added.
Economically, Vidarbha is viable proposition. With abundant forest and mineral resources, Vidarbha will be self-sufficient. Like Chhattisgarh, it can attain a power surplus on day one and earn huge revenue by selling it in the open market. There are many big cities in Vidarbha which can be the driving force of development. However, politically the demand for Vidarbha has minuscule support. Economic viability is of no use unless there is political traction for statehood.
Edited by Aditya Menon
More in Catch:
Shiva Ayyadurai versus Gawker: just who really did invent email?
Achhe Din for Malegaon accused: Clean chit to Pragya, MCOCA dropped against rest
Diplomatic row after Bangladesh hangs pro-Pak war criminal
If there is a drought, food security is a must: SC