UP polls just got messier: Demonetisation throws Mayawati's BSP into a tizzy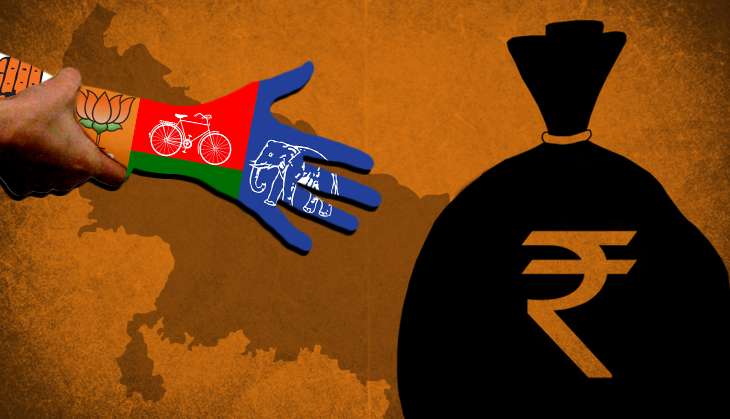 Prime Minister Narendra Modi's masterstroke of demonetising high denomination notes is likely to be causing nightmares to political parties in Uttar Pradesh where unaccounted money plays a significant role in electoral politics.
Mayawati's crisis
Mayawati, who built her castles from cash donated by fans, must be especially worried as one party leader after another deserted her alleging that she demanded Rs 3 crore to Rs 5 crore for an assembly constituency ticket from prospective candidates. Obviously, that money was never meant to be paid via cheques.
Based on this, the inference that one can draw is that many of those who have been allotted Bahujan Samaj Party (BSP) tickets for the forthcoming assembly elections must have paid in cash to the party supremo, who will now find it difficult to handle a large quantity of liquidity.
Also read - Currency ban: lack of cash makes traders and labourers suffer
To deal with the crisis situation, Mayawati was said to have convened an emergency meeting at her residence. The meeting, it was said, was attended by her close lieutenants - SC Misra and Naseemuddin Siddiqui. Some chartered accountants were also said to be present.
Another account said the meeting was of zonal heads and other leaders but it was unusual for vehicles to be allowed inside.
Taking a jibe at Mayawati, former senior leader of the Bahujan Samaj Party, Swami Prasad Maurya, said in Ballia on 9 November that Mayawati must have lost her sleep after the Prime Minister's announcement.
Not the only one losing sleep
Mayawati is certainly not the only one worrying about unaccounted cash. The state's former mining minister Gayatri Prasad Prajapati, against whose illegal wealth a complaint was lodged with the Lokayukt and against whose role in illegal mining the Allahabad High Court had ordered an inquiry, would be equally concerned about utilising his ill-gotten wealth.
A rags-to-riches story, Prajapati, according to the complaint with the Lokayukt, was estimated to be worth Rs 1,000 crore or more. Whether he was lining his own pocket or sharing the loot with the party was not mentioned in the complaint which wanted an inquiry into his disproportionate assets. With Mulayam's blessings, Prajapati is thriving.
After the surgical strike on black money, electoral spending by the Samajwadi Party and Congress candidates is likely to be impacted. While Chief Minister Akhilesh Yadav said that the issue should have been discussed in Parliament before its implementation, some Congress supporters staged protests in Allahabad on Wednesday.
During the panchayat elections in Uttar Pradesh in 2015 some of the candidates were offering Rs 25 lakh to Rs 35 lakh as allurement to voters for panchayat chairman's post. A newspaper report talked of a candidate offering Rs 25 lakh and a Scorpio to buy out panchayat a member. His rival out-matched him by offering Rs 35 lakh and a vehicle.
A journalist recalled how a senior politician of the state went around handing suitcases filled with currency notes to candidates in one of the assembly elections as he moved from one constituency to another on his helicopter.
With the Centre tightening the screws, coming elections should see less of ugly display of money and as Finance Minister Arun Jaitley said at a press conference "it would be good if elections could become cheaper" after this decision.
Ramesh Dixit, former spokesman of the Congress party in UP and former professor of political science at Lucknow University, said that it was common for political parties to splurge their ill-gotten wealth during elections but there were industrialists ready to fund them.
This funding, he said, would depend on the victory prospects of a party or the winnability of a candidate in case money was also to be given to an individual. While some industrial houses paid through cheques others were ready to give cash. Cash payment, Dixit said, would be drastically affected after this, making elections less cash-intensive.
More in Catch - Rs 500 & 1000 notes scrapped: how the move will impact you and the economy
Currency ban will aid the market & the economy feel stock brokers