UP Panchayat polls: why AIMIM's rise should worry the SP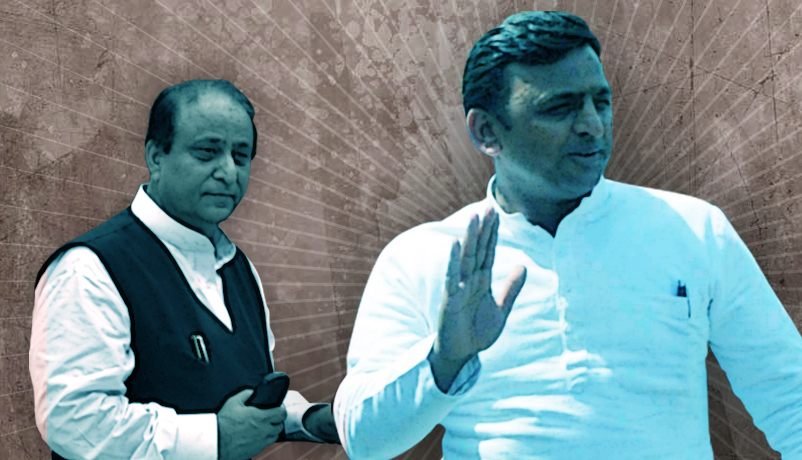 The results
AIMIM has opened its account in UP, winning 4 Zila Parishad seats in the recent Panchayat polls
2 of these 4 victorious candidates are Hindus
The impact
This should be a cause of worry for the SP
It has won in SP strongholds like Muzaffarnagar and Azamgarh
More in the story
Is SP\'s Muslim vote bank drifting towards the AIMIM?
Will the Bihar elections have an impact?
A few months back, anybody who asked Azam Khan about Asaduddin Owaisi would get the answer: "Don't go for Hyderabadi biryani. Lucknavi biryani is better". Today the Samajwadi Party's Muslim face might be eating his words, instead of biryani.
In the recently concluded Panchayat elections in Uttar Pradesh, Asaduddin Owaisi's AIMIM won 4 Zila Parishad seats.
AIMIM-backed Nitrapal Singh Baudh won in Muzaffarnagar while Kailash Kumar Gautam emerged victorious in Azamgarh. Naseema and Mohammed Tahir Khan won 2 council seats in Balrampur district.
AIMIM, no doubt, has made a noticeable debut in Uttar Pradesh.
AIMIM's victory in Azamgarh is significant as it happens to be Mulayam Singh Yadav's Lok Sabha constituency. It has also won in Muzaffarnagar, where over 60 people were killed in riots in 2013.
Read- It's the money: why UP ministers are lining up their kin for Panchayat polls
These two victories reflect a clear wane in the SP's popularity, especially in these crucial seats.
Another interesting thing is that even though the AIMIM is supposed to be a Muslim party, 2 out of its 4 victorious candidate are Hindus.
Dress rehearsal for 2017
Assembly elections are due in Uttar Pradesh in 2017. All the parties had taken the Panchayat polls seriously, considering it to the be a dress rehearsal before the final battle.
Even though it is too early to say anything, the elections are a cause of worry for the SP.
According to political analyst Manoj Tripathi, Panchayat and Assembly elections are vastly different.
"In Panchayat elections, the contest is between one candidate and another, rather than between parties. At the village level, everybody knows the candidate. Hence the personality of the candidate matters more rather than his or her party," Tripathi said.
He believes it is wrong to say that the AIMIM has made a big dent in the SP's vote bank.
"But alarm bells are ringing for the SP," he added.
According to Tripathi, we need to watch out for how AIMIM chooses its candidates for the 2017 elections.
Despite being a Muslim party, 2 of the AIMIM's 4 victorious candidates are Hindus
"Two of the victorious candidates are Scheduled Castes. If AIMIM chooses Yadavs, Muslims and Dalits as its candidates, the SP will be in trouble as Muslims and Yadavs are their core vote bank," said Tripathi.
He pointed out that the AIMIM had won in Muzaffarnagar and Azamgarh, both of which are SP strongholds and have a substantial number of Muslim voters.
"It is clear that the people have voted against the SP. As far as AIMIM is concerned, they have made a successful debut in UP," he said.
The significance of AIMIM's performance
The SP has been wary of the AIMIM ever since Owaisi started making efforts to make inroads into Uttar Pradesh.
Whenever Owaisi sought permission to hold rallies, he was refused by the state government. District administrative officials would say that Owaisi's "vitriolic" speeches could cause law and order problems.
Mohammed Irfan, a journalist with an Urdu daily, is also of the view that it is too early to say that Muslims are drifting away from the SP to the AIMIM.
AIMIM has won in Muzaffarnagar, where over 60 people had died in communal riots in 2013
"It depends on how well Owaisi's party does in the Bihar elections. If it does well, it can pose a serious challenge to the SP. However there is no denying that the AIMIM has made a mark in UP," he said.
"The AIMIM is more radical compared to the SP. This is why people voted for it. It has made the SP nervous," he said.
Naturally, the AIMIM is emphatic after its performance.
"We made our mark against major parties like the SP and BJP. We are accused of being a communal party. But 2 of our winners are Hindus," a state leader of the AIMIM told Catch.
The SP's response
The SP has downplayed the AIMIM' victories.
"AIMIM has neither the base nor the supporters in UP. How can they win? Their claims of a successful debut are bogus," SP spokesperson Rajendra Chaudhry told Catch. "The SP is growing stronger under a secular leader like Mulayam Singh Yadav," he added.
Chaudhry further explained that Assembly elections are completely different from Panchayat elections, as no symbols are used in the latter.
"The 4 winners had contested as independent candidates and the AIMIM is falsely claiming that it had backed them," he said.
Also read - #PanchayatPolls: boost for BSP, blow for BJP, headache for SP
Shade of saffron: to counter BJP in 2017, SP throws sops at Hindus
Bloody record: Is 'secular' SP more communal than the BJP?