Union Minister Nitin Gadkari clarified his statement on 'tall promises,' attacks Rahul Gandhi for not understanding Marathi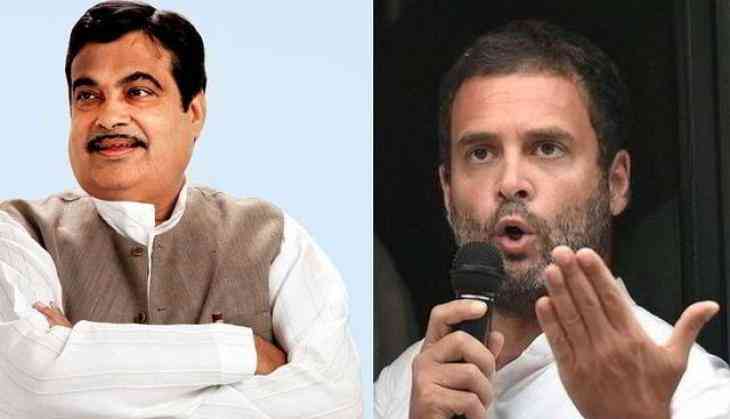 Union Minister Nitin Gadkari, who was targeted by Congress president for his statement on 'tall promises, has to come out with the clarification of his statement. He said the reports were 'false and baseless'.
At a press conference, Gadkari attacked Gandhi and said "I suggest to Rahul Gandhi that he must learn Marathi... Hire someone to learn the language".
Gandhi shared a video of Gadkari on his twitter account and alleged that Gadkari had proved that the BJP government was "built on jumlas and fake promises".
The video in which Gadkari is seen giving an interview with a Marathi TV channel said that the BJP never expected to come to power in 2014 that's why they started making tall promises. As now people demands to fulfill those promises, they are just ignoring.
On the basis of this reports made on the video, the opposition parties targeted Narendra Modi government for making false promises.
The Congress party tweeted "Good to see Union Minister Nitin Gadkari concurring with our view that the Modi government was built on jumlas and fake promises".
Taking a dig at the ruling party BJP, Gandhi said "You are right (Gadkari). Even the people think that the BJP used their dreams and faith for the party's gain to come to power."
However, Gadkari made clarification that he in the interview was referring to an example when senior BJP leaders of Maharashtra were talking the pros and cons of making electoral promise to do away with toll tax in the state.
Gadkari said "There was no mention of the Prime Minister, BJP, Union Government, or promise of giving Rs 15 lakh to each person".
Also read: Saudi journalist missing: 22 US senators want human rights probe over the disappearance of Jamal Khashoggi