Una victims' story: flogged by Gau Rakshaks, turned into exhibits by RSS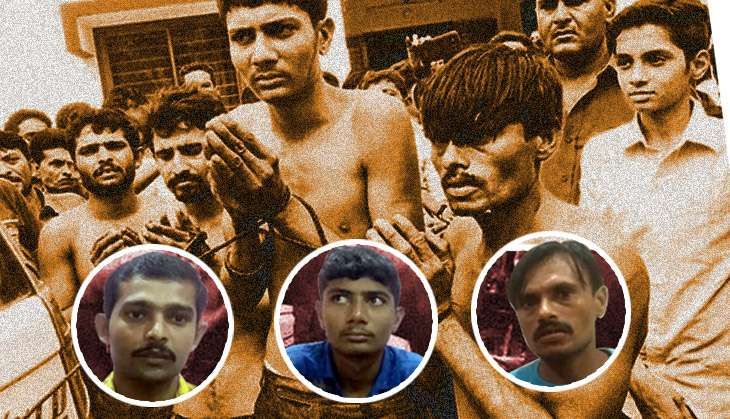 RSS, which has been repeatedly attacked for sheltering cow vigilante gangs, will from Friday parade the victims of Una, beaten and humiliated by cow vigilantes, throughout Uttar Pradesh to seek votes for BJP.
A Buddhist outfit affiliated to the RSS - Bharatiya Baudhh Sangh (BBS) - will exhibit three out of the four boys (one is still recuperating from chest and head injuries) through 75 districts of UP.
Three months have passed since they were stripped, handcuffed, beaten and video-graphed in full public view. And, as the victims themselves told Catch, neither have the injuries from that day healed nor have the nightmares stopped.
As Catchreported earlier, by bringing the victims to their Rath Yatra, RSS has managed a coup of sorts.
The yatra - Dalit Chetna Dhamma Vahan Yatra - is being directed by senior RSS leader Indresh Kumar, and will be being flagged-off from Delhi on Friday by Ram Vilas Paswan (Union Minister of Food and Public Distribution), another cabinet minister and BJP MP Krishna Raj, Minister for Social Justice and Empowerment Ramdas Athawale, BJP MP and MoS Finance and Corporate Affairs Arjun Meghwal, and senior BJP leader Satyanarayan Jatiya.
This yatra begins on the same day the Chetna Dhamma yatra ends - on 14 October when BR Ambedkar converted to Buddhism.
Dhamma Chetna Yatra, which hasn't really made any impact on ground, was a campaign tour by Buddhist monks launched in late May with the aim of attracting Dalits, OBCs and Buddhists to the BJP.
The Una flogging incident had caused massive public outrage and unrest in and beyond Gujarat. The phenomenon, unparalleled in the last two decades, put Dalit leader Jignesh Mevani, on the national stage. Mevani went through the state and made thousands of Dalits and OBCs promise never to trade in cow hides or undertake manual scavenging.
RSS and BJP have now, after this huge uprising against them, gotten hold of the three boys and are marching them through several districts of UP, beginning from Ghaziabad, Meerut, Baghpat, Saharanpur, Hapur. They're issuing a clear threat to the state's socially backward classes - "Don't even think of a revolt or of going anywhere else. These are your heroes and they are comfortable with us".
But how do the boys - Ashok Sarvaiya, Bechar Sarvaiya and Ramesh Sarvaiya - themselves feel about this? We asked them about this, the incident and about their plans for the future in this interview. The fact that on certain issues they had been tutored, possibly under duress, was not hard to tell.
Vashram Sarvaiya is still nursing his injuries and has trouble breathing. His brother Kanti Sarvaiya has come to join the rath yatra on behalf of his brother.
SM: One could argue that you are now working for the same organisation that encourages cow vigilantes, such as those that beat you up. Why did you agree to them?
KS: We are not rallying for any party or organisation. We are uniting against the incident and against our constant oppression. This is about the larger issue. Besides, we were not beaten up by BJP but by people from Shiv Sena.
SM: How can you tell the difference?
KS: Because the people who beat us had images of lions on their cars and motorcycles.
SM: But isn't Bharatiya Bauddh Sangh an RSS front?
KS: As I said, we're fighting for a bigger cause. We don't want to talk anymore about it.
SM: But what brought you to Delhi. How were you convinced?
KS: Our Guru [Rahul Sanghpriya, who runs Bharatiya Bauddh Sangh] asked us to come here. We will go wherever he asks us to go.
Victims of the Una flogging incident show their injuries (Suhas Munshi)
SM: Have any of you seen the flogging video?
AS: No. We haven't and we cannot dare to. We have seen some images. We cannot see more, it will break us down again. Some of our family members have seen the videos. They cry everyday.
SM: Have you recovered from the injuries physically?
AS: Not really. None of us is in a position to work. We have trouble sitting down and getting up or in picking up any kind of load. They beat us on the chest and head so badly that it still hurts. We cannot do any work. The injury marks from the beatings are still visible, three months since the incident.
SM: And mentally? Do the scenes from that day still haunt you?
KS: All of them still wake up every night shouting 'bachao bachao'.
AS: It's hard to get any sleep at all. As soon as you close your eyes, you begin to relive that day. We cannot sleep.
BS: Sleep only brings nightmares. We haven't slept peacefully in the last three months
SM: There was a movement recently in Gujarat. Activists like Jignesh Mevani mobilised all the Dalits and OBCs and made them take pledges against manual scavenging and skinning dead animals. What do you make of it?
RS: Yes, though we didn't get to meet Mevani, we know about his movement and agree with it. We have also decided not to skin dead animals and not to continue with this family profession.
SM: So what will you do? Have your friends from your caste also decided to abandon skinning and manual scavenging?
RS: We have no work at the moment. Many of our friends have also decided to stop this work. But there is no work. Government should help us find work. We don't want to do this anymore.
SM: Do you see an end to this humiliating profession, reserved only for Dalits, in your time or in time of generations following you?
BS: It is not so simple. The whole set up is placed against us. We are not allowed to possess land with other communities. Dalits always live on the fringes of every village. There are restrictions on food and on meeting people, which become major hurdles if any of us wants to pursue their own business. Over time we have also been pushed away from the farms and fields to wastelands.
And the types of racism are also different. Patidars don't bother seeing or touching us, but they don't want us to progress financially. The Rajputs, on the other hand, don't even want to see us. This is what we have to live with everyday. So, no. Maybe for us, but for a lot of people, this will remain perhaps their only source of income.
SM: So what happened on 11 July?
RS: We skin dead cows and bulls. People from villages around ours call or text us locations of dead animals. Often, lions in Gir forests, surrounding our village, hunt down the farm animals. Since the dead animals stink, people are more than happy to see them go. On that day we got a call from Bediya village about a dead cow, and following that about a bull and another cow.
Ashok and Vashram were skinning the cow, and I along with Bechar had gone to fetch the other cow. Suddenly around 10 - 12 people turned up on four to five motorcycles and asked us why had we killed the cow. They were Gau Rakshaks.
We pleaded that we hadn't killed the cow that it was our family profession to skin only dead animals. They said, "You people kill cows to feed Muslims". Then these people started sending messages asking for more people to come. And then they started beating us.
Two more cars and more motorcycles arrived. Then they started beating us. They asked us to take our clothes off. We pleaded with them to let our trousers be on, we didn't have any underpants on. Then the father and mother of Vashram also came and the Gau Rakshaks beat them up as well. They even taunted the parents saying, "You have given birth to Muslims".
Then the deputy sarpanch of Bediya village also turned up, he said "ye log zinda gai maarte hain. Inke haath paer kaat do." That, we thought, was the end of us.
But the Gau Rakshaks put us in trunk of their car and moved towards Una. On the way a police gypsy came and stopped right in front of us. They saw us and shook hands of the Gau Rakshaks. We were pleading to them for help. Then the police said, "you take them to Una, we'll go to the spot."
Then we were brought to Una, and right in front of the bus stand we were stripped and handcuffed behind the car and flogged again. We had also passed by Wadla police post while entering Una, and police ignored us there also and greeted the Gau Rakshaks.
By now Vashram had become senseless and stopped responding out of humiliation - because the whole crowd was watching and cheering while we were being beaten and videos were being taken. They would keep stopping at every chowk, beat us and drive on, while we, handcuffed, were dragged with ropes tied to the car.
Then they brought us right under a big statue of Babasaheb Ambedkar and beat us there again and more viciously. Then, as a show of strength, they took us to police station near the statue and beat us on their grounds.
Police beat several other Dalits back in Bediya village. A lady constable asked my mother, "Why are you creating a storm?"
SM: Do you know about any other people around you, who were also targeted similarly?
BS: Yes, similar things happened in Rajlauna village and Mandono village, near us. In Ahmedabad they killed a Muslim on these charges.
SM: Have you contacted the people who beat you, or any of their family members, after the incident.
RS: We didn't meet them but we see their family members almost everyday taking out pride rallies and are always armed with swords. We complained to the police also, but the police ignore us. We are living under constant threat from them. We don't take the same roads that we once used to.
Edited by Aditya Menon