Two incidents in a week show how Modi govt is riding roughshod over states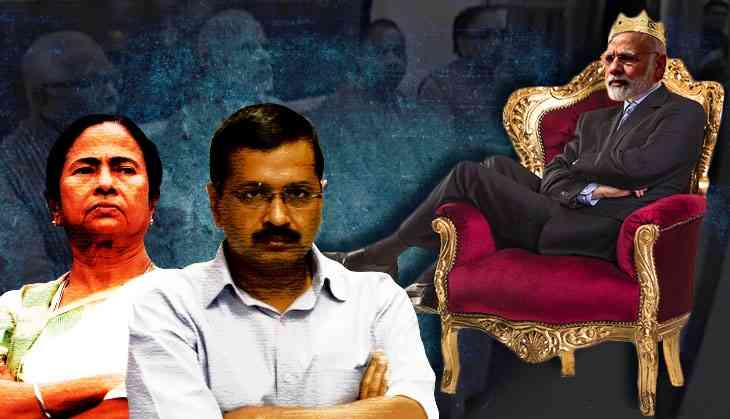 In the middle of the 2014 General Elections, Narendra Modi -- then the prime ministerial candidate of the Bharatiya Janata Party -- had talked about federalism in a media interview: "I feel the federal structure should be implemented in letter and spirit with lubricating attitude," he said, without elaborating whatever that "attitude" entails.
What he did elaborate was that "a chief minister and a prime minister should work in a team. State and centre are colleagues and not competitors. There should be cooperative politics and cooperative agenda".
That interview has come back to haunt Modi as the Aam Aadmi Party has revived it on its social media platforms. In a video message tweeted by AAP's official Twitter handle, a clipping of that interview has been superimposed against media coverage of a recent surprising development that signaled a new low in the country's electoral politics.
The Modi government did the unthinkable on 25 December, ignoring the Delhi government at the inauguration of the latest track of the Delhi metro. Both governments are equal equity partners in the Delhi Metro Rail Corporation and that arrangement demands that both be adequately represented at formal functions.
देश के प्रधानमंत्री की कथनी और करनी में बहुत फर्क है-
एक तरफ वे टीम इंडिया की बात करते हुए केंद्र और राज्य को साथ लेकर चलने की बात करते हैं,
वही दूसरी तरफ एक चुनी हुई सरकार के मुख्यमंत्री को उसी राज्य की मेट्रो के उद्घाटन के मौके पर नहीं बुलाते हैं ! pic.twitter.com/mlztfXKgFc

— AAP (@AamAadmiParty) December 26, 2017
However, the inauguration of a small stretch between Delhi and Noida on the Magenta line was attended by, apart from Modi, Delhi Metro Railway Chairman and Urban Development Secretary Durga Shankar Mishra, DMRC Managing Director Mangu Singh, Union Urban Development Minister Hardeep Puri, Union Culture Minister and Member of Parliament from Noida Mahesh Sharma, Uttar Pradesh Governor Ram Naik, UP Chief Minister Adityanath Yogi, UP Urban Development Minister Suresh Khanna, Noida's legislator Pankaj Singh and even UP BJP chief Mahendra Nath Pandey.
On this special day, delighted to inaugurate the new Magenta Line of the Delhi Metro. Had the opportunity of travelling in the Metro as well. Here are some glimpses. pic.twitter.com/bd3qAr2MMU

— Narendra Modi (@narendramodi) December 25, 2017
The Delhi government was, as they say, conspicuous in its absence.
As the elected head of 50% owner of the DMRC, either Delhi CM or the deputy CM should have been present. Given the privilege extended to BJP-governed UP, Okhla MLA, Delhi Urban Development minister and even Delhi AAP chief should have been present.
However, AAP leaders have claimed that they were not invited, alleging that Modi feared CM Arvind Kejriwal would have used the occasion to demand a roll-back of the recent hike in Metro's fares.
"दिल्ली के मुख्यमंत्री को दिल्ली मेट्रो के उद्घाटन में ना बुलाना दिल्ली का जनता का अपमान है!
ना बुलाने की केवल एक ही वजह है - इन्हें डर था कि कहीं केजरीवाल प्रधानमंत्री जी से जनता के लिए मेट्रो किराए कम करने की मांग ना कर दें" - @msisodia pic.twitter.com/kn58IMeQZn

— AAP (@AamAadmiParty) December 25, 2017
AAP leader Sanjay Singh flagged the absence of the invite a day ahead of the event, saying this had happened earlier too.
This has drawn much-deserved widespread criticism, with political leaders, journalists and political analysts calling it an assault on "ethics of politics", a "petty act" and "crude, crass political behaviour".
Despite Delhi Government having stake of more than 50% in Delhi Metro, not to invite Delhi CM on d function of inauguration of its Botanical garden-Kalka Temple section is against ethics of politics as all parties work for public of d State & d country & not for personal gains.

— SHARAD YADAV (@SharadYadavMP) December 25, 2017
Very wrong, this constant effort to make @ArvindKejriwal an outsider. https://t.co/3thNvAaP9Z

— Pritish Nandy (@PritishNandy) December 25, 2017
Disappointing to hear @ArvindKejriwal not invited to new metro line inauguration tomw. Line runs through Delhi, he is elected CM. In federal polity, Centre and State must work together: metro doesnt belong to any one party!

— Rajdeep Sardesai (@sardesairajdeep) December 24, 2017
Not inviting CM @ArvindKejriwal for Delhi Metro inauguration is such a petty act and reflects poorly on our politics.

FYI - Delhi govt is 50% partner in #DelhiMetro

Should we not even expect minimum courtesy or regard for democratic norms from Modi's BJP?

— Anupam (@AnupamConnects) December 25, 2017
Unfortunate to have not invited @ArvindKejriwal for Metro inauguration. No matter the politics, the people voted him to power, he's an elected Chief Minister. Ignoring him, is also ignoring the people's vote. And #DelhiMetro doesn't belong to one party!

— Arunoday Mukharji (@ArunodayM) December 25, 2017
Crude, crass political behaviour by a coarse #BJP in not inviting @ArvindKejriwal for the Delhi Metro event. This is pettiness with a capital P.

— Sanjay Jha (@JhaSanjay) December 25, 2017
मजेंटा मेट्रो लाइन के नौ स्टेशनों में सात दिल्ली में पड़ते हैं। मेट्रो में दिल्ली सरकार का भी पैसा लगा है। उत्तरप्रदेश के मुख्यमंत्री उद्घाटन यात्रा में होंगे, दिल्ली के नहीं। भाईचारे, प्रेम और सौहार्द के त्योहार के दिन प्रधानमंत्री ने घृणा, कुंठा व भेदभाव का कैसा संदेश दिया है!

— Om Thanvi (@omthanvi) December 25, 2017
Another state, another assault
The incident came close on the heels of another incident that exposed the arrogance and mischief that the Union government harbours towards state governments run by Opposition parties.
Last week, West Bengal CM Mamata Banerjee announced that the Union government had cancelled West Bengal's tableau for the Republic Day parade.
Banerjee accused the Centre of "deliberately" cancelling the state's tableau "due to political reasons". She elaborated that the tableau's theme was Harmony in Unity (Ekotai Sompriti) and the Centre cancelled it because it didn't go down well with the BJP's brand of politics.
The tableau reportedly depicted how people can stay together in spite of tension and how Bengal will demonstrate how to uphold unity against all odds.
"They (BJP) always try to create a division amongst people and so they did not select our tableau. We have received two awards from the Centre for displaying our tableau at previous Republic Day parades and we feel that the Centre is unnecessarily trying to discriminate against us as we have opposed many of the Centre's policies," Banerjee said.
Incidentally, this is not the first time that the Modi-government has cancelled West Bengal's submission for the Republic Day tableau. The incident had first happened in 2015 when the state's tableau depicting the state government's Kanyashree programme was cancelled.
That cancellation interrupted West Bengal's award-winning spree at the Republic Day parade. The state won the award for the best tableau at the parade in 2014 as well as in 2016.
The latest cancellation will once again deprive parade enthusiasts the opportunity to witness West Bengal's submission. However, more significant is the attitude that the Centre has displayed.
Both the Delhi Metro and the West Bengal tableau incidents show that even as the Modi-government's stated commitment is towards the ideal of "cooperative federalism", what it is actually doing is riding roughshod over the rights of state governments.
Edited by Jhinuk Sen