TMC means 'Total Mamata for Corruption': BJP demands Bengal CM quit over graft charges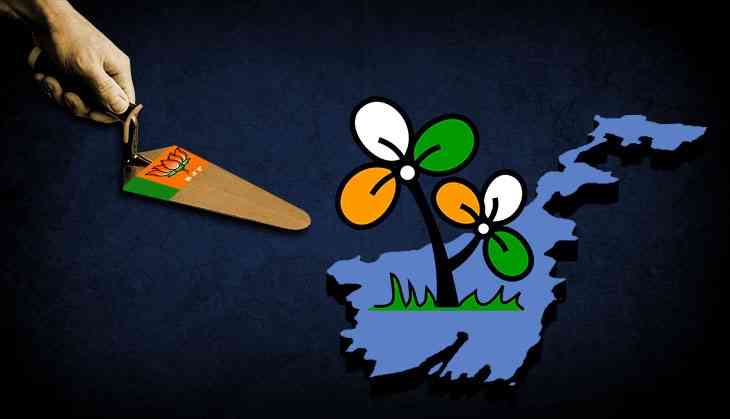 Upping the ante against West Bengal Chief Minister Mamata Banerjee over corruption, the BJP has demanded her resignation alleging her nephew and All India Trinamool Congress (AITC) MP Abhishek Banerjee was paid a bribe of Rs 1.15 crore by a tainted realtor.
The BJP, which has long been seeking the dismissal of the Mamata regime over the deteriorating law-and-order situation in the state and rising "Jihadi elements", said that TMC stood for "Total Mamata for Corruption".
The accusation
Union Human Resources Development Minister Prakash Javadekar said a company with links with Abhishek and his family received money from Raj Kishore Modi, a Kolkata-based realtor who was earlier arrested for alleged land grabbing and mafia links.
Javadekar said Raj Kishore's company Green Tech City Pvt Ltd had given Rs. 1.15 crore to Leaps & Bounds, a company of which Abhishek was a director.
"This amount, paid by Raj Kishore, is reflected in the books of the both the companies. The interesting fact is, when in opposition, Mamata had agitated against Raj Kishore and even demanded his arrest for forcible land grabbing," the senior BJP minister said in New Delhi.

BJP alleges that Ashok Tulsiyan, a director in Green Tech City Pvt Ltd had acted as the auditor of Leaps & Bounds.

Javadekar said that Abhishek, while functioning as director of Leaps & Bounds had given his address as 30-B, Harish Chatterjee Street, Kolkata - Mamata Banerjee's residence .
"While Abhishek subsequently resigned as a director of the company, three of his family members were later inducted as directors. As such, Mamata's family continued to hold the company. Moreover, after coming to power Mamata approved Raj Kishore's IT City project, which she had opposed earlier leading to the project being suspended," said Javadekar.
The IT City project was suspended in 2009 during the height of Mamata's anti-acquisition movement. She approved the project in 2013.
Scam after scam
"This is an open and shut case of corruption," said the minister equating the case with that of Congress President Sonia Gandhi's son-in-law Robert Vadra and RJD chief Lalu Prasad Yadav's son Tejaswi both of whom are accused of land grabbing.
"Mamata came to power in Bengal promising transparency, but it has been only scam after scam. From Saradha and Rose Valley chit funds to recruitment of teachers and even installation of street lights, the Trinamool has indulged only in scams. Mamata has lost the moral right to rule the state and she should resign," added Javadekar.
"Today TMC means 'Total Mamata for Corruption'. She stands for corruption and she loves corruption. Her slogan of 'Maa, Maati and Manush' has given way to 'ami, amar and amar parivar' (I, mine and my family)," said BJP spokesperson Sambit Patra.
While the Trinamool has rubbished the charges and dubbed it a political vendetta, the charges against Abhishek, deemed Mamata's heir apparent, have come at a time when the party is reeling under intense investigation by the CBI and Enforcement Directorate.

Besides arresting and interrogating several high profile Trinamool leaders in the Saradha Group and Rose Valley chit fund scams, both the agencies have summoned for questioning several top Trinamool MPs and MLAs in connection with the Narada sting operation.
The CBI has registered cases against a dozen Trinamool biggies including party vice president Mukul Roy who were caught in the sting taking cash in lieu of favouring a fictitious company.
The charges also come at time when some of Trinamool veterans are said to be getting disenchanted over Abhishek, a political green horn getting more say in the party's decision making.