The age of Stalin: Karuna's younger son elected DMK working president
S Murari
| Updated on: 4 January 2017, 21:01 IST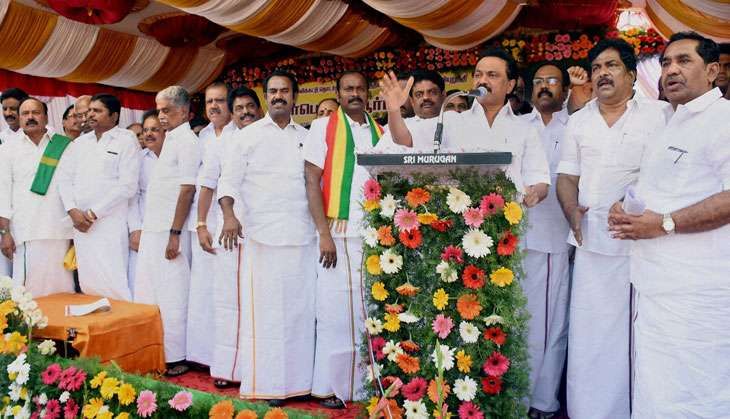 MK Stalin, DMK treasurer, was on Wednesday unanimously elected as working president by the party's general council. The decision has been taken in order to lift the burden off the shoulders of his ailing father, party president M Karunanidhi, who stayed away on doctor's advice.
Though Stalin had been the de facto leader since the turn of the century, his elevation to the newly-created post marks a generational shift and a formal recognition of his role as de facto leader.
Party rules were amended to create the new post as Karunanidhi, unlike veteran West Bengal communist Jyoti Basu who gracefully retired from public life once he entered the 90s, is still reluctant to let go, though he has been wheelchair bound, and of late, even his mental faculties have lost their sharpness.
In contrast to Karunanidhi, party general secretary K Anbazhagan, who is a year senior to him but still in fairly good health and has remained number two for years, quietly gave way to Stalin when he was made treasurer, acknowledging that it was time seniors to make way for the youth. In fact, it was Anbazhagan who proposed Stalin's name for the new post at the general council.
Stalin, 64, is anything but young. He has been waiting in the wings for a long time.
The transition has come at a time when the AIADMK has chosen Sasikala Natarajan, 62, as general secretary in the place of late Chief Minister J Jayalalithaa.
His rise through the ranks
Stalin's succession was anything but dynastic. He was forced into politics when he was put in jail and tortured during the Emergency, when the Karunanidhi ministry was dismissed in 1976.
Stalin was made head of the DMK youth wing when it was formed in 1980.
When Karunanidhi came to power in 1989, he did not make Stalin a minister, though he had already got elected as an MLA for the first time in 1980, and again in 1989.
Stalin was made minister for local administration, and later, the Deputy Chief Minister as late as 2009, during Karunanidhi's the last reign (2006-11), which was marked by allegations of family rule.
However, Stalin had proved his administrative abilities as mayor of Chennai twice in the 1990s.
Unlike Karunanidhi, who shielded his daughter Kanimozhi and the then Union communications minister A Raja in the 2G scam, Stalin distanced himself from them. He was untouched by corruption charges, though his name was linked to the suicide of Sadiq Pasha, a man allegedly complicit in the scam. But nothing was proven.
Stalin's politics
Stalin's first attempt at forging an alliance in 2001 proved to be a disaster, as he eased out Vaiko, seen as a rival to his rise in the party, and admitted untested caste parties into the front, forcing his uncle and Union Minister Murasoli Maran to distance himself from state politics.
However, he learnt from experience and launched a mass contact programme, reaching out to educated middle class, who were not necessarily DMK supporters, in a bid to expand the party's support base.
It helped when he spearheaded the campaign in the last Assembly election in 2016, when Karunanidhi confined himself to select constituencies. Stalin got 90 seats for the party, though he could not stop Jayalalithaa from returning to power. It was then said that if only Stalin had been projected as the chief ministerial candidate instead of Karunandhi, the result could have been different. This was because Karunanidhi has always been a polarising figure.
As Leader of the Opposition, Stalin had a cordial relationship with Jayalalithaa. This was in sharp contrast to the bitter rivalry between Karunanidhi and MG Ramachandran, and later between Karunanidhi and Jayalalithaa.
Reflecting Stalin's style of functioning, the general council condoled the death of Jayalalithaa.
A long way to go
Stalin, on assuming office, called on Karunanidhi at his residence and sought his blessings. He was accompanied by Anbazhagan.
He told reporters that he was assuming the new responsibility with a heavy heart, and would take counsel from Karunanidhi and Anbazhagan. He also said he would meet Chief Minister O Panneerselvam, and discuss ways to tackle the drought and alleviate farmers' distress.
Among those who greeted him on his elevation was his sister Kanimozhi. Absent was his elder brother Azhagiri.
Seen as a prodigal son, Azhagiri has already made it clear that he would not accept anyone but Karunanidhi as leader.
But over the years, Stalin has consolidated his hold over the party across the state, while Azhagiri's base is confined to southern Madurai and environs.
Stalin still has a long way to go. He can formally take over as party president only if and when Karunanidhi passes the mantle or passes on. And elections to the Tamil Nadu Assembly are due only in 2021, unless Sasikala rocks the boat and takes over from Panneerselvam.
Edited by Shreyas Sharma