Target Modi: Rahul Gandhi to go on nationwide notebandi yatra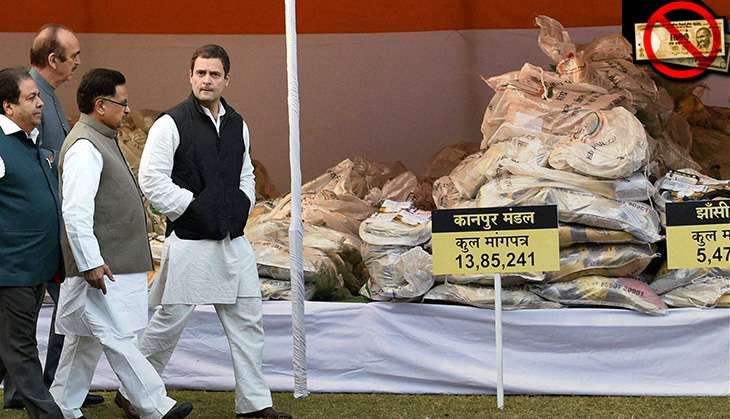 After having threatened to cause an 'earthquake' in Parliament with explosive revelations on demonetisation, Congress vice-president Rahul Gandhi on Wednesday accused Prime Minister Narendra Modi of 'personal corruption', and said would 'explode his balloon'.
Addressing a joint press conference of Opposition parties, the Gandhi scion said he was not allowed to speak in Parliament since the Prime Minister was 'terrified' of his revelations.
Rahul's comments on the PM's personal complicity in corruption created a furore, with the BJP terming them 'baseless' and asking him to substantiate his claims. Parliamentary Affairs Minister Ananth Kumar said: "If Rahul Gandhi had information, he could have revealed it 20 days ago, but till today, he wasn't ready to make any earth-shattering revelations."
But Rahul has no plans of stopping at this. In fact, he is planning to make this a nationwide movement against the note ban, and is set to hold public meetings across the country to spread the message about the ills of demonetisation, and how the scrapping of high value currency notes is a scam, an anti-poor move. He is also likely to raise Modi's 'personal corruption' in these rallies for political mileage.
Sensing that the anger against demonetisation is slowly building up, Rahul is trying to use the note ban plank to target the BJP and revive the Congress's fortunes, which have been on a constant decline ever since the results of 2014 elections were announced.
Rahul will hold public meetings in Goa and Karnataka (Belagavi) on 17 December, Uttar Pradesh (Jaunpur) on 19 December, Gujarat (Mehsana) on 21 December and again UP (Bharaich) on 22 December. He will also hold similar meetings in poll-bound states such as Uttarakhand and Manipur.
During these public meetings, Rahul would also highlight how the Prime Minister's promise of normalcy returning after 50 days has completely failed.
Vigour in Congress ranks
This is not the first time Rahul has made personal attacks on the Prime Minister. He had earlier, in a direct reference to Modi, called his government a 'suit-boot ki sarkaar', and even accused the BJP, particularly the Prime Minister, of 'khoon ki dalali', over the ruling party's attempts to politicise the surgical strikes across the Line of Control.
On both occasions, his strategy to target the PM backfired, and even his party men were left questioning the logic behind such statements.
However, that does not seem to be the case now. Congress workers believe things are different this time around, and they firmly stand behind their 'leader and future president'.
His allegations seems to have rejuvenated party leaders and workers, who see them as a masterstroke to counter an aggressive Modi, even if they are not true.
At the AICC headquarters, jokes are circulating about how Modi will have sleepless nights worrying what the Gandhi scion has in his possession.
They are of the opinion that politics is all about perception, and by accusing the Prime Minister of corruption, Rahul has put him in the dock and put a question mark on his integrity as an incorruptible politician.
"He can always say he wanted to raise the issue in Parliament, but was not allowed to. After all, the Prime Minister has been making all sorts of statements, and yet no one asks him for evidence," said a Congress functionary.
For Congress workers, these accusations could just be rhetoric, which have the potential to cause serious damage to the Prime Minister's image, especially since Modi is already under fire over the shoddy implementation of the demonetisation scheme. Moreover, some see it as a befitting reply to the BJP, which has been making wild allegations against top Congress leaders for their involvement in the AgustaWestland helicopter deal.
"They have no evidence against any of the senior Congress leaders, and yet, they keep raising the issue, even accusing party leadership of taking bribes. Similarly, if Rahul has made these claims, then it is a sharp political move. They wanted to intimidate us with AgustaWestland, Rahul could be intimidating them with these accusations," said a Congress functionary.
The opposing view
However, cynics continue to question why Rahul is not making proof of the PM's 'corruption' public, and expose the Prime Minister when Parliament is in session. They believe the Congress has had enough time during the entire Winter Session to provide evidence that could have put Modi in a tight spot.
Clearly, the Congress seems to be in no mood to get into a serious debate with the BJP over demonetisation. It was evident when its leaders raised allegations of corruption against Minister of State for Home Kiren Rijiju when the Lok Sabha convened on Wednesday.
As expected, the treasury benches went on the offensive, leading to the lower house being adjourned. When the house reconvened, the ruckus didn't end, forcing the Speaker to adjourn it for the rest of the day. Things are likely to remain the same in the remaining two days of the Winter Session.
Cynics also point out how Rahul's statement of not being allowed to speak in Parliament is contradictory, since it was his party members who created the ruckus which eventually led to the adjournment. The Congress has been holding press conferences on all sorts of issues related to demonetisation, but it has refrained from doing so in this case, which 'proves' how the party is not so serious about substantiating these allegations.
There is also the perception that Rahul did not make his allegations in public and is insisting on speaking in Parliament because being a member, he is immune to any defamation charges. He is already facing a defamation case for his comments on the RSS, and another such case would only add to his misery.
A turning point
Whether or not Rahul provides evidence to support his allegations, the move seems to have done him more good than harm. Moreover, with these accusations, Rahul has also emerged as the leader of a united Opposition, which was evident during the press conference in Parliament where he made such claims.
In the battle of perception, he has taken the mantle from West Bengal Chief Minister Mamata Banerjee, who seemed to have stolen the show from the Congress in leading the Opposition's charge against the note ban.
This also dispels Rahul's image of being a politician lacking leadership skills and aggression to take on the highly popular Prime Minister. Congress leaders believe this could well be the turning point for Rahul, who is finally asserting his position in national politics as a leader destined to take over the grand old party.
Edited by Shreyas Sharma