Swamy steps up heat on Chidambaram, reveals son Karti's secret account details
Catch Team
| Updated on: 20 February 2017, 20:54 IST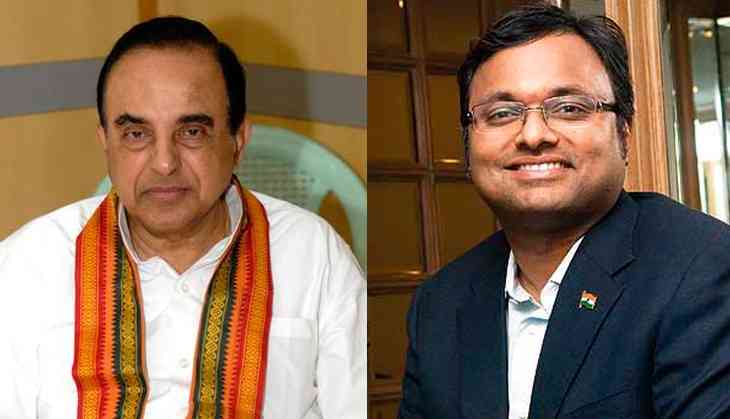 The political rivalry between BJP Rajya Sabha MP Subramanian Swamy and senior Congress leader P Chidambaram took a new turn after the former released details of 21 secret foreign bank accounts of Chidambaram's son Karti.
While releasing the details, Swamy accused the Finance Ministry and Income Tax Department of inaction, despite being aware of the illegality involved.
While producing the details before the media, Swamy alleged that the former Finance Minister's friends in the ministry pressurised Chennai's Income Tax Department not to investigate the matter. He went on to add that the details of these foreign bank accounts were not declared by Karti to the Income Tax authorities.
"The list was given to me by a whistle-blower officer from the Income Tax office in Chennai previous week, explaining the amount of pressure put on them by corrupt elements in Chennai and Delhi," said Swamy.
He went on to add that these details were unearthed during the probe by DG (Investigation) of Income Tax in Chennai a few months ago. "Yet, no action has been ordered by the Finance Ministry," Swamy alleged.
"These foreign bank accounts were not declared to Income Tax authorities by Karti or his parent Indian companies. These accounts are at various foreign banks like Barclays Bank in Monaco, Metro Bank in UK, Standard Chartered Bank in Singapore, OCBC in Singapore, HSBC in UK, Deutsche Bank in France, UBS in Switzerland, Wells Fargo Bank in California etc. The attached list shows all bank account numbers of Karti-controlled companies. For the past eight months, Income Tax office in Chennai has not taken any action due to the pressure exerted by Chidambaram's friends in the Finance Ministry."
He went on to add that despite being provided the details of 21 such accounts, the CBI and the ED had failed to proceed against Karti, and that he had even refused to obey three summon orders of the ED.
Details of the accounts
Swamy claimed that one account (No: 16714313) in Metro Bank in the United Kingdom is a personal account of Karti, and he has not declared this to Income Tax in his annual statements till date. "He is operating this account secretly for many years," said Swamy.
The Rajya Sabha MP also brought up the Aircel-Maxis deal and said Karti's company Advantage Strategic Consulting, which was allegedly involved in receiving kickbacks in the Aircel-Maxis scam, had four accounts in OCBC Singapore for many years. "Enforcement Directorate (ED) has already found that Karti's company Chess Management received two lakh dollars from three Maxis Group subsidiaries after father Chidambaram illegally approved FIPB clearance," said Swamy.
Swamy went on to claim that none of these accounts were mentioned in Karti's affidavit submitted to the Election Commission when he contested the Lok Sabha elections in 2014.
Swamy hits out at own party
In his attack, Swamy didn't even spare his own party, and accused it of diluting the case against the father-son duo.
"Moreover, Mr Karti Chidambaram has to be prosecuted under Section 13(1) (d) (iii) of the Prevention of Corruption Act along with his father Mr P Chidambaram who, as Finance Minister, has enabled his son in various illegal acts to amass huge amount of funds illegally abroad, and which were deposited in his own name or the companies that he controls. Instead, the BJP in Rajya Sabha has tried to push through an Amendment Bill to delete this very Section 13(1) (d) (iii) from the PCA, so that Mr Chidambaram and his son can go scot free," he claimed.
He said the amendment would completely water down and weaken the PCA, and threatened to move an amendment to the Bill in the Rajya Sabha to nullify this. He went on to add that the "excellent measure of demonetisation" has not yielded positive results because of the lack of support from the Finance Ministry.
Letter to PM
Moreover, Swamy also gave details of his correspondence with Prime Minister Narendra Modi on the Aircel-Maxis deal where he claimed that the Supreme Court has placed the entire burden on him to prove Chidambaram's guilt.
In a letter to the PM, Swamy accused the attendant law officers, representing the government in this case, of not presenting any of the necessary documents and, in effect, being complicit in the corruption of P Chidambaram.
"One wonders how long it will be before we will see a new Attorney General!" he added.
Accusing Chidambaram senior of "fraud and corruption" in the Aircel-Maxis deal, Swamy said Maxis buying 100 shares of Indian company Aircel violated the FDI rules laid down by the government, and was hence 'illegal'.
"It would be difficult to fight corruption if it appears that law officers of the government are themselves complicit in the corruption of Mr Chidambaram," Swamy wrote to the PM.