SP split all but complete as Akhilesh camp goes to EC for poll symbol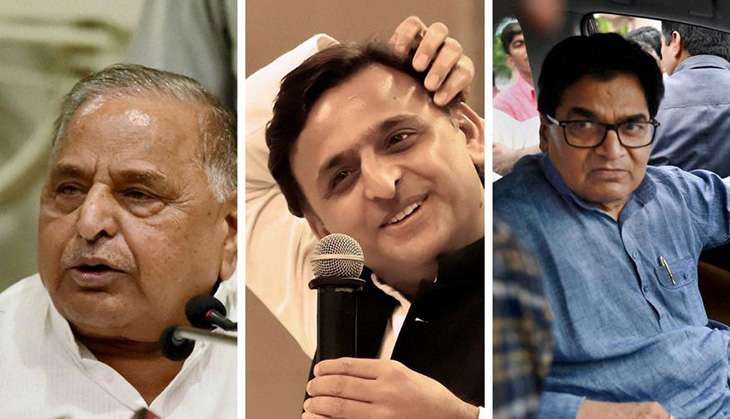 Formalising the split in the Samajwadi Party, the Akhilesh Yadav camp Saturday knocked at the Election Commission's door to claim that their faction was the "real" Samajwadi Party.
Ram Gopal Yadav claimed that the Uttar Pradesh chief minister enjoyed majority support in the SP, and dismissed talk of rapprochement with the Mulayam Singh Yadav camp as an attempt to "spread confusion", thus, all but sealing the fate of Amar Singh and Shivpal Yadav.
Mulayam, as per the resolution passed at the SP delegates' convention in Lucknow on 1 January, can only work as patron of the party he created 25 years ago.
Also Read: Akhilesh-Mulayam standoff continues. Is Amar Singh the sticking point?
Armed with 4,716 affidavits signed individually by party delegates, Ram Gopal, the chief minister's key adviser, met the Election Commission on Saturday evening. "There are 5,731 delegates comprising all the legislators, members of parliament and party office bearers. Of these 4,716, or over 90 per cent, have signed affidavits in support of Akhilesh," Ram Gopal said.
"Of the 229 MLAs, 212 signed affidavits in support of the chief minister, while 56 of 68 members of legislative council and 15 of 24 MPs are with Akhilesh, who, therefore, is the rightful claimant to the party symbol," he added.
Ram Gopal was accompanied by Akhilesh loyalist Sunil Sajan, an MLC who had been sacked by Shivpal, and Rajya Sabha MP Surendra Nagar.
Javed Ali Khan, another Rajya Sabha MP who was with him, claimed that the affidavits include those of 30 members of the 46-member National Executive of the party.
"If the other camp can muster support of even 100 delegates who are still members of the party, it would be a big surprise," a senior party functionary said, adding that not even all of the remaining delegates were on the other side. "There are some who are dead, then there are those who have left the party."
Interestingly, Ram Gopal has been dealing with the EC on behalf of the SP since its inception, according to a party insider. "Mulayam Singh would just send a letter to the EC before every election saying he authorised Ram Gopal to carry out the business of the party," the leader said, pointing out that even the letter allotting symbols to the party's candidates always bore Ram Gopal's signature.
Meanwhile, with neither side ready to either blink or shake hands, meetings were the order of the day. Mulayam met the assembly Speaker Mata Prasad Pandey, senior minister Azam Khan, who has been playing the peacemaker, and Shivpal. This was Pandey's first meeting with Mulayam on this critical issue.
At another meeting between Mulayam and Shivpal, Narad Rai and Om Prakash Singh were also present.
Also important was the meeting that the party's treasurer Sanjay Seth had with Akhilesh. The Rajya Sabha MP met the chief minister at his residence and, according to sources, told him that his loyalties lay with Mulayam.
"He may have said it but it doesn't make much of a difference. Now that an overwhelming majority of the party has chosen Akhilesh as the president, he can dismiss the treasurer and appoint a new one if he wishes," said an MLC loyal to the chief minister.
Also Read: Palace coup: Akhilesh dethrones father Mulayam, cuts uncle Shivpal down to size
There was no statement on the meeting that took place in the wake of the SP's bank accounts in Delhi, Lucknow and Etawah being put on hold. Neither side can operate the accounts until the EC decides on which faction gets to keep the party's poll symbol, or a compromise is reached between father and son.
A group of Muslims, meanwhile, staged a protest outside Mulayam's house, urging him to end the stalemate that has put the community in a dilemma. "If Mulayam and Akhilesh fight elections separately, we will be confused about which faction to vote for," said one of them.
On Friday, Shivpal had gone to the chief minister's official residence for a meeting, but it's not known what transpired there. Later that evening, he met with Mulayam, Narad Rai, CP Rai, Om Prakash Singh and other loyalists.
It had appeared on Friday that a compromise formula was being worked out after news emerged that Mulayam would address a press conference at 3 pm. The presser was, however, rescheduled for 4 pm and subsequently cancelled, putting paid to all hopes of reconciliation.
Another factor that fuelled hopes of peace was the presence of Ram Gopal in Delhi. He was expected to meet the Election Commission to stake claim over the party's bicycle symbol, with signed affidavits of legislators and members of parliament. But he did not meet the EC on Friday.
The breakdown of negotiations was blamed on the presence of Amar Singh in Lucknow, where he had meetings with Mulayam and Shivpal through the day.
Questioning Amar Singh's presence in Lucknow, Akhilesh loyalist and Rajya Sabha MP Naresh Agarwal had said the SP general secretary was a roadblock in the patch-up effort.
Speaking to the media, Amar defended himself and said he was not in Lucknow to put hurdles in the patch-up bid. He said playing backdoor politics was not in his nature.
Describing Mulayam as a lonely figure in the ongoing controversy, Amar Singh reminded Akhilesh that Shivpal, whom he has sacked as the SP state president, was like his foster father and that it was difficult to fight one's own.
"The kind of statements Amar Singh is making, mostly consisting of crass poetry, it does not look like he is one of those who wants a compromise," a party MP said.
With inputs from Sadiq Naqvi
Also Read: BJP's Parivartan Yatra ends on a lukewarm note in Lucknow. Note ban effect?