Soldier. Dalit. Martyr: How Ram Kishan Grewal became an anti-BJP icon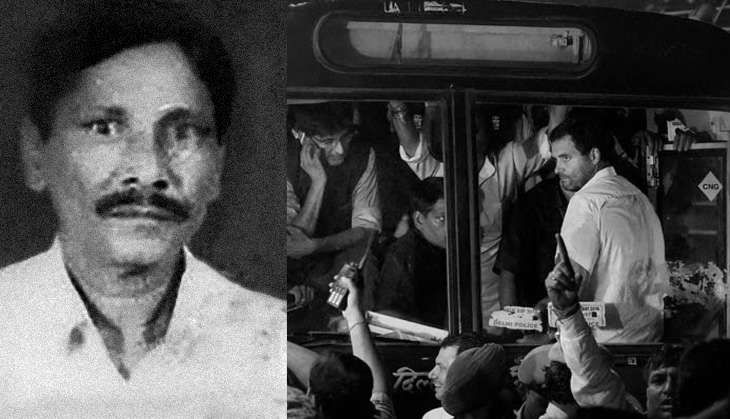 Congress vice president Rahul Gandhi has been detained thrice by Delhi Police in a span of two days after he decided to take up the cause of Ram Kishan Grewal, an ex-serviceman who committed suicide in protest against the non-implementation of One Rank One Pension (OROP) scheme.
Rahul was yet again detained on Thursday after he turned up at Jantar Mantar to take part in the candle light march organised by the Congress in solidarity with Grewal. It seems the beleaguered grand old party has found a martyr in Grewal, who also happens to be a Dalit.
While several Congress leaders have avoided to make any references on his caste, the National Commission for Scheduled Castes has taken suo-moto cognizance of Grewal's suicide and sent notice to the Delhi Police Commissioner. Vice chairman Dr Rajkumar Verka has asked the police commissioner to appear before the commission.
The commission has claimed that the detention of Grewal's son was illegal and sought an explanation why action should not be taken against the Delhi police. Apart from this, the commission would also record the statement of Grewal's son on the issue.
"The Commission believes grave injustice was done to Grewal and that he was forced to commit suicide. He and his family members were insulted and even their detention was illegal," said commission's chairman PL Punia. Training his guns at BJP, Punia said that they have nothing to do with soldiers or dalits or scheduled castes, they only know how to do politics of armed forces.
"They don't care for army veterans otherwise they could have implemented the OROP. They did politics over surgical strikes and even credited RSS for the same," Punia added.
The first dalit sarpanch of his panchayat in Haryana, Grewal had bagged the Nirmal Gram Puraskar in 2008 and had turned his village open defecation free eight years ago. But, his fight for OROP's implementation ended Wednesday when he committed suicide after consuming poison.
In the last call that he made to his son, Grewal can be heard referring to injustice being done to "SCs and OBCs". He is also heard saying that he is a man of principles who is sacrificing his life for the jawans, his country and his motherland.
A day after he committed suicide, Grewal was cremated at his village in Haryana drawing country's biggest politicians. Rahul and Delhi chief minister Arvind Kejriwal travelled to Bhiwani to pay respects to the veteran.
VK Singh insults Grewal
While his entire village was mourning his death, BJP leader General VK Singh called Grewal a Congress worker who he said fought elections on a Congress ticket. "He was a Congress worker who fought the Sarpanch election on party ticket. His suicide is unfortunate," he said.
The Minister of State for External Affairs even raised questions on who gave the poison to Grewal and went on to claim that the problem was with his bank and not OROP. His issue was with the bank and not with OROP. Also, how did he procure Sulpha tablets and who gave it to him?" His comments came a day after he questioned the "mental balance" of the veteran and said OROP should be above politics.
Responding to these comments, Congress leader Raj Babbar said that it is Singh whose mental status should be checked. "The way he has humiliating the family member of other army men the title General should be stripped from his name," Babbar added.
If Singh's controversial comments were not enough, Haryana chief minister Manohar Lal Khattar comment on how Grewal can't be called a martyr drew sharp criticism from all political parties. While speaking to the media, Khatter said, "No soldier would ever commit suicide. Shaheed are those who lay down their lives at the border, not who commit suicide. No one should politicise Grewal's suicide."
Meanwhile, Rahul Gandhi was eventually let off by the police after being in detention for almost two hours. Once released, Rahul spoke to the media and said he wanted to give in a complaint about his detention to the police which they didn't. "If they can't accept the complaint of a MP, how will they accept the complaint of a poor man. This is Modiji's new India," he added.
After the incident, Congress found support from strange quarters, including Shiv Sena, that called his detention as shameful and demanded action against Delhi Police officials. Sena spokesman Arvind Sawant said that Rahul and Delhi Deputy Chief Minister Manish Sisodia should not have been stopped from visiting the aggrieved family.
Sawant said, "Rahul is vice-president of a national party while Sisodia is deputy chief minister of an elected government. Action should be taken against the erring Delhi Police officials."