Sidhu's future in Punjab politics is ambiguous after his reverse sweep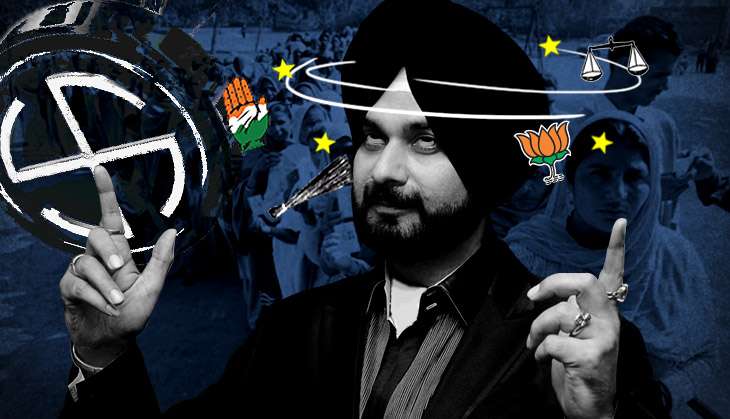 The recent announcement made by cricketer-turned politician Navjot Singh Sidhu on not converting the Awaaz-E-Punjab forum into a political party has added to the ambiguity in Punjab's current political scenario.
For now, it has also sounded the death knell for efforts to clobber together a fourth front that could emerge as a key player in the run up to the forthcoming assembly polls in the state along with the Shiromani Akali Dal (SAD), the Congress and the Aam Aadmi Party (AAP).
More questions than answers
His announcement has left more questions than answers for the people of Punjab. Political analysts trying to decipher the outcome of his decision have called it a 'reverse sweep'.
There are also comments being made about his fall in the political hierarchy - within months, he's gone from being a potential chief ministerial face to being relegated to the margins of Punjab politics.
Also read - With AAP in disarray, Congress pushes Punjab campaign to top gear
All of this means that the fourth front that had been envisioned over the past few days - comprising the Awaaz-E-Punjab forum, the forum floated by suspended Aam Aadmi Party Dr Dharamvira Gandhi, the proposed party of former AAP state convener Succha Singh Chhotepur and perhaps the Swaraj Abhiyan - has now been put on the back burner.
Keeping his options open
Sidhu's silence when it comes to AAP while hitting out at both the Congress and the SAD in his statement regarding not converting Awaaz-E-Punjab into a political party has triggered a fresh round of speculation that he's keeping his options open when it comes to AAP.
AAP leader Himmat Singh Shergill had a tough time answering queries on the issue. He welcomed Sidhu's decision and admitted that if Sidhu has floated a political party, it would have been detrimental for AAP.
"Today, the people of Punjab are eagerly waiting to reject both Akalis and the Congress. But had the Sidhu-led outfit decided to contest the elections, the move would have only helped the Akalis and Congress. Their decision is thus a welcome step," he said.
Sidhu has also got support from unexpected quarters: Jagmeet Singh Brar, the former firebrand Congress leader who is now the convener of Pehlan Punjab Lok Hit Abhiyan. Brar had recently extended his unconditional support to AAP.
Brar said, "I welcome this decision made by my brothers Navjot Sidhu, Pargat Singh and Bains brothers (Balwinder Singh and Simarjit Singh). We must all work together like brothers in arms to save Punjab from the 5-5 year Akali Congress deal that has looted Punjab for 20 years now."
Loaded questions
Ever since they announced the Awaaz-E-Punjab, Sidhu, Pargat and Bains brothers were being seen as a formidable, although small, force.
Political analysts say that all of them have the capacity to win polls as independents and also as candidates of any political party given their individual clout. If they manage to bring together 10 more similar candidates, the group has the ability to turn into king makers in Punjab. In fact, the Bains brothers had reportedly claimed to field Awaaz-E-Punjab candidates on all the seats.
But what remains now are a series of questions: Will Sidhu contest the polls? If yes, then on whose ticket? Will Pargat be throwing his hat in the poll arena? Will the Bains brothers repeat their performance by contesting as independent candidates again?
Detractors speak up
Meanwhile Sidhu continues to receive brickbats for his decision. Many believe that he failed to take up the political challenge.
"Launching a new platform is different from making use of an existing platform as a spring board. Navjot Singh Sidhu just could not take up the challenge of floating a new party after his hyperbolic announcement a fortnight back. His move was being closely dissected in the framework of his close relationship with the RSS. The Sangh Parivar would not like the Congress to hit the centre stage from Punjab in February 2017 Assembly elections. The front that was being cobbled up by Sidhu and company would have resulted mainly in the erosion of the AAP vote bank," an observer says.
Punjab Congress president Captain Amarinder Singh had continuously been pointing at the non-feasibility of a new political party. "I had tried it after leaving the Akalis and could not make it a feasible reality even after two years. How can they do it with barely five months to go for polls?" he said at a recent interaction.
He dismissed the proposed fourth front as inconsequential saying it seems to have been propped up by the BJP only. "It is like a tonga party of four people, two sitting in the front and two in the back which will hardly have any impact," he said at Ajnala last week. At the same time, he said, they were welcome to form a party as it was their democratic right.
The SAD leadership has reacted sharply to Sidhu's decision and said that this is Sidhu's admission of defeat before the polls.
SAD secretary Dr Daljit Singh Cheema said that within days of making an announcement, Sidhu has understood the ground reality prevailing in the state. Now it has become abundantly clear that what to talk of leading a party Sidhu has started thinking about his own defeat in the coming Vidhan Sabha elections.
"His announcement to form an alliance speaks volumes about his nervousness. Being shy of announcing his joining another party he is trying to confuse the voters with a new alliance which cannot be imagined without forming a political outfit," Cheema said.
He said that circumstances have compelled Sidhu himself to leave Awaaz- E- Punjab and take political shelter somewhere else. He claims that these developments speak volumes about the strength and popularity of the SAD among the masses and is a clear indication of a win-win situation for the SAD-BJP alliance.
Chief Minister Parkash Singh Badal has also said that Sidhu was well aware of the fact that people of state would not support any person who has backstabbed his mother party, which is why he has run away from floating any political party.
He added that the former BJP leader is changing his stand frequently in hope of a better bargain with one or other party. According to him, the people know that of a person has not been sincere with this mother party could never be loyal to them.
Edited by Aleesha Matharu
More in Catch - Navjot Sidhu launches Awaaz-e-Punjab, breaks into a Siddhuism-filled rant
Navjot Sidhu launches Awaz-e-Punjab. Was it needed?