Sharad Yadav announces road-tour across Bihar: Is this a warning to Nitish?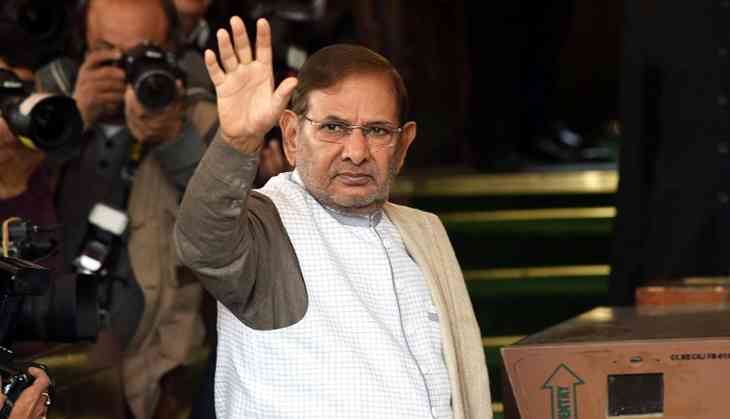 Ever since Nitish Kumar, Janata Dal (United) president and Bihar Chief Minister, decided to dump the Grand Alliance and re-join the NDA in Bihar, all eyes have been on Sharad Yadav, the former president of the party.
The veteran Socialist has been largely silent on the issue, giving rise to speculation that he might be unhappy with Kumar's move. It looks like Yadav may have decided to end his silence with a bang.
The veteran Socialist leader has announced that he will be taking out a three-day road-tour across at least 20 locations in Bihar to speak to the people of the state directly. The tour will begin on 10 August and will take him through Patna, Sonpur, Muzaffarpur, Darbhanga, Madhubani, Supaul, Saharsa and Madhepura. He has termed this campaign a direct communication programme with the people of Bihar.

August 8, 2017
Yadav had indicated earlier that he was not happy with JD(U) deserting the Opposition to re-align with the BJP. However, he is yet to make a statement on how does he intend to express his displeasure – will he fall in line with Kumar's decision or rebel against it? This move to tour Bihar and talk to the electorate indicates that he does want to raise a hue and cry about it.
Opposition leaders have been meeting him ever since Kumar rejoined the NDA, urging him to speak out against the Bihar CM and rebel. A source told Catch that even Congress Vice President Rahul Gandhi met Yadav secretly and appealed to him to speak out against Kumar. RJD supremo Lalu Prasad had invited Yadav publicly to join the Opposition.
ग़रीब,वंचित और किसान को संकट/आपदा से निकालने के लिये हम नया आंदोलन खड़ा करेंगे।शरद भाई,आइये सभी मिलकर दक्षिणपंथी तानाशाही को नेस्तनाबूद करे

— Lalu Prasad Yadav (@laluprasadrjd) July 29, 2017
Sources said Lalu Prasad had also made a big offer to the former Union minister in a bid to get him to cross over. However, BJP believes that Yadav may not speak out eventually and stick to the NDA, just like the period before 2013 when he was an integral member of the BJP-led coalition. Yadav was NDA convenor and a Union minister in the Atal Bihari Vajpayee government and was originally said to be upset when Kumar dumped NDA to join hands with RJD and Congress.