Saffron Raj Bhavan: 2/3 of India's Governors are from an RSS/BJP background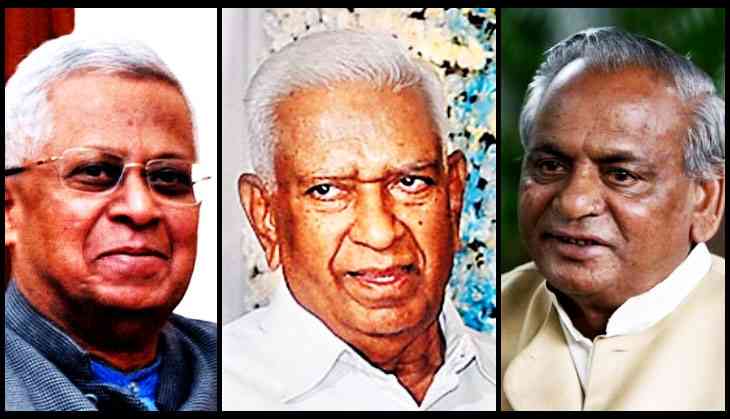 Last week's developments in Karnataka have once again brought the role of the Governor under scrutiny. Appointed by the President after being selected by the Union government of the day, the office of the Governor has consistently been among the most controversial constitutional authorities.
Governors have similar powers and functions at the state level as that of the President at the Union level. They enjoy sweeping powers vis-a-vis the process of formation and dismissal of state governments, which they have often misused in keeping with the convenience of the party in power at the centre.
For example, Karnataka Governor Vajubhai Vala last week invited BJP leader B S Yeddyurappa to form the government in spite of the BJP not having the required numbers. Further, the Governor also gave Yeddyurappa 15 days to prove majority in the state Assembly. Both these decisions gave BJP an edge over rivals Congress and JD(S).
However, the rival parties moved the Supreme Court against the invitation and the 15-day period. The SC is still hearing the arguments question the Governor's invite but it struck down the 15-day period instantly and gave Yeddyurappa just one day.
This judicial intervention proved to be critical to the political developments. Unable to secure support of MLAs outside the BJP's fold in such a short period, Yeddyurappa resigned in the Assembly even before facing the floor test.
In this melee, BJP's rivals were quick to point out that Vala, a former BJP leader from Gujarat, was being loyal to his former party and not the Constitution.
Vala is not alone in the long list of 35 Governors, Lieutenant Governors and Administrators to have past linkages with the BJP. At least 22 of them, including Vala, have been formally associated with the BJP in various capacities. These include -
Jagdish Mukhi - Assam
Satya Pal Malik - Bihar
Balramji Dass Tandon - Chhattisgarh
Mridula Sinha - Goa
Om Prakash Kohli – Gujarat and Madhya Pradesh
Kaptan Singh Solanki - Haryana
Droupadi Murmu - Jharkhand
Vajubhai Vala - Karnataka
Chennamaneni Vidyasagar Rao - Maharashtra
Najma A. Heptulla - Manipur
Ganga Prasad - Meghalaya
Padmanabha Balakrishna Acharya - Nagaland
Satya Pal Malik - Odisha
V.P. Singh Badnore – Governor, Punjab and Administrator, Chandigarh
Kalyan Singh - Rajasthan
Banwarilal Purohit - Tamil Nadu
Tathagata Roy - Tripura
Ram Naik - Uttar Pradesh
Keshari Nath Tripathi - West Bengal
Praful Patel – Administrator, Dadra and Nagar Haveli, Daman and Diu
Farooq Khan – Administrator, Lakshadweep
Kiran Bedi – Lieutenant Governor, Puducherry
Those without a BJP background, include -
E.S Lakshmi Narasimhan – Governor, Andhra Pradesh and Telangana. Former IPS officer.
Brig B D Mishra – Governor, Arunachal Pradesh. Former Army officer.
Acharya Dev Vrat – Governor, Himachal Pradesh.
NN Vohra – Governor, Jammu and Kashmir.
Justice Palaniswamy Sathasivam – Governor, Kerala.
Lt. General Nirbhay Sharma – Governor, Mizoram. Former Army officer.
Shriniwas Dadasaheb Patil – Governor, Sikkim. Former IAS officer.
Krishan Kant Paul – Governor, Uttarakhand. Former IPS officer.
Admiral D K Joshi – Lieutenant Governor, Andaman and Nicobar Island. Former Navy chief.
Anil Baijal – Lieutenant Governor, Delhi. Former IAS officer.
Interestingly, five of those who are not from a BJP background – ESL Narasimhan, NN Vohra, Nirbhay Sharma, Shriniwas Patil and KK Paul – happen to be UPA appointees. HP Governor Acharya Dev Vrat is from an Arya Samaj background and is known to be close to Baba Ramdev, a key BJP backer. Therefore, it is clear that a vast majority of the Governors appointed by the BJP are from within its own ranks.