Ram Janmabhoomi 2.0? Bengal VHP unit says 'kar seva' for Mandir to begin in 2018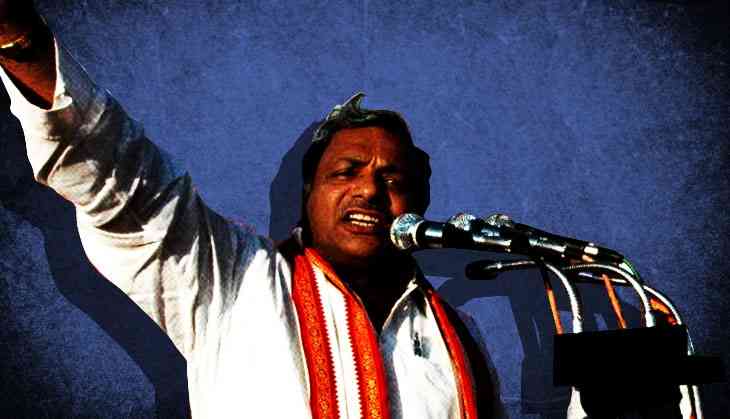 The Vishwa Hindu Parishad asserted on 11 April Kolkata that a legislation in Parliament would finally be the way the Ram temple in Ayodhya becomes a reality. This comes one month after the Supreme Court suggested that Hindus and Muslims come to an amicable solution on the Ram Janmabhoomi issue.
According to VHP international joint secretary Surendra Jain, both Prime Minister Narendra Modi and Uttar Pradesh Chief Minister Yogi Adityanath are committed to building a Ram temple. He claimed that "kar seva" for the new temple would begin next year.
Rallying for the cause
"We have had enough of talks and court battles. Now we have governments in New Delhi and Lucknow which are firmly committed to the construction of a Ram temple at Ayodhya. We are confident that PM Modi would bring in a legislation in Parliament very soon. In the case of the Somnath temple, it was only through a legislation that the temple was set up." Jain said while addressing a gathering of VHP activists at Rani Rashmoni Road in Kolkata.
Hundreds of members of Bajrang Dal and VHP thronged the rally and raised slogans of 'Jai Shri Ram' and 'Bharat Mata ki Jai' during the addresses.
Jain went on to cite examples of atrocities on Hindus allegedly committed by Muslim fundamentalists.
He referred to the lathi charge that occurred at the Bir Hanuman Jayanti rally at Suri in Birbhum on 11 April and said that the Mamata Banerjee government would pay a heavy price for unleashing terror on Hindus participating in peaceful religious activities.
Some policemen were also been injured in the scuffle that ensued between the supporters of the rally and police. The police claim that the rally had taken place without permission.
Referring to the rally at Suri, Jain slammed the state government in Kolkata and said, "You can use force against peaceful rallies who were indulging in peaceful religious activities, but I ask you, dear Didi, where was your lathi when the police station at Kaliachak at Malda was burnt by Muslim fundamentalists? Where was your lathi when the Durga Puja immersion rally was stopped? Where was your lathi when Saraswati Puja was stopped in a school at Nadia? The Hindus of the state want an answer."
Saffronisation of India
He went on to say how the time of AITC has come to an end, and that the people must remove them from power and vote for the BJP. He exhorted the people of Bengal, asking them to take the lead in the programme of saffronisation in the country.
"The era of saffron has set in and Bengal will have to take the lead as it did during the freedom movement," Jain said.
The notion is supported by the West Bengal RSS. General secretary Jishnu Bose said, "We want a white paper on all those atrocities on Hindus committed by Islamic fundamentalists."
AITC has yet to respond, but party leader Anubrata Mondal accused state BJP president Dilip Ghosh of sending BJP supporters to create pandemonium in Suri.
Catch spoke to Firhad Hakim, state municipal affairs minister. He says, "Law will take its own course and we won't allow anyone to stoke tension in the name of religion."