Presidential poll will showcase the best and worst of Indian politics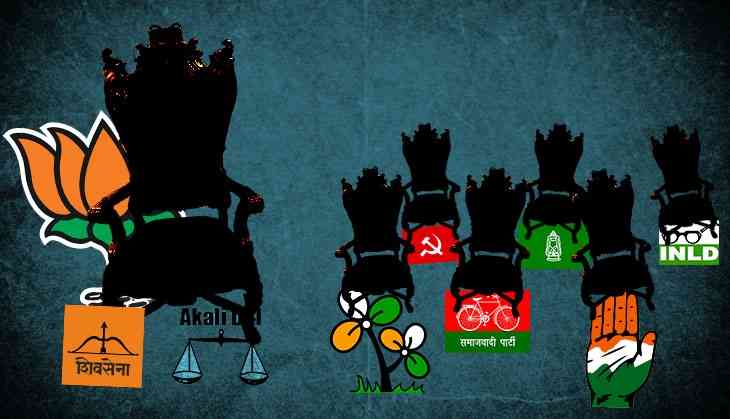 Two key developments related to the Presidential race have given a broad indication of which way the wind is blowing.
A Congress-CPI(M)-Trinamool Congress consensus on former West Bengal governor Gopal Krishna Gandhi's name indicates that Opposition parties can set aside their mutual differences for the right candidate.
Meanwhile, YSR Congress chief Jagan Mohan Reddy's decision to support the NDA's candidate shows that the BJP can easily make regional leaders fall in line.
Why Jagan is on board
With nine MPs, the YSR Congress is the 10th largest party in the Lok Sabha, as large as the CPI(M). It also has 66 MLAs and six MLCs in Andhra Pradesh.
Given these numbers, Reddy's affiliation will be important. His late father, the late YSR Reddy, was among the Congress party's most popular chief ministers. That the son of a former Congress chief minister has backed the BJP is a major loss for the Opposition camp, but it really couldn't have been prevented, given Reddy's troubles with the law.
The CBI is investigating a disproportionate assets case against him filed, ironically, in 2012, when the UPA was in power. Reddy was even arrested in March that year, and was released only after serving nearly a year and a half in prison, in September 2013.
The CBI has filed about a dozen charge-sheets in the case wherein, apart from Reddy, 12 others have been named as accused. These include his auditor and lone Rajya Sabha member, V Vijay Sai Reddy.
Around the end of March this year, the apex investigation agency pleaded to the special CBI court in Hyderabad to cancel Reddy's bail. The agency alleged that he was trying to influence witnesses and tamper with evidence. It is hardly surprising that a month later, Reddy has declared support for the NDA's Presidential nominee even before the announcement of his or her name.
Met Shri @narendramodi ji to discuss issues in AP and requested his help in their resolution. https://t.co/ZNzBYxxvZw pic.twitter.com/Yvy5yv50qM

— YS Jagan Mohan Reddy (@ysjagan) May 10, 2017
Sword of CBI
Like the YSR Congress, the CBI's sword hanging over the entire range of regional parties. Among fence-sitters between UPA and NDA, Biju Janata Dal is a much-solicited player, with 20 MPs in the Lok Sabha, seven in the Rajya Sabha and 117 MLAs in Odisha. Guess what its leader and Odisha CM Naveen Patnaik's baggage is? What else but a CBI probe into a notorious chit fund scam in the state.
West Bengal CM Mamata Banerjee's troubles are not different. The CBI is investigating chit fund scams in West Bengal too, and a handful of Trinamool leaders close to Banerjee have already gone to jail. The CBI and Enforcement Directorate's probe into the Narada TV sting operation makes for a double whammy for her.
In Bihar, fresh charges in the fodder scam were recently revived against Rashtriya Janata Dal chief Lalu Prasad, on the CBI's appeal. Trials in these cases will go on uninterrupted for nine months straight.
In Uttar Pradesh, both former Samajwadi Party patriarch Mulayam Singh Yadav and Bahujan Samaj Party supremo Mayawati also have disproportionate asset cases against them, in various stages of investigation.
Another vocal critic of the Narendra Modi regime, the Aam Aadmi Party, has had a host of central agencies unleashed on it in a multitude of cases, including the Delhi Police, the CBI and the Income Tax Department.
United we stand
In spite of the looming CBI threat, parties are making efforts to come together because the UP poll verdict and the way BJP formed governments in Goa and Manipur has left all of them scared. Almost all parties appear to have realised that the only way they can even challenge the BJP is by coming together.
In terms of Assembly polls and the next Lok Sabha polls, this can take the shape of a tacit understanding as opposed to a declared alliance, but for the Presidential polls, there has to be a clear team. That is why a show of solidarity among Opposition ranks keeps coming up every other day. Madhu Limaye's birth anniversary was one such occasion. Then came AAP's demonstration of hacking of EVMs in the Delhi Assembly, which was attended by RJD, CPI(M) and Trinamool Congress leaders.
Just before this demo, the JD(U) also sent an emissary, senior leader KC Tyagi, to stand by Delhi Chief Minister Arvind Kejriwal's in the face of corruption allegations against the latter by one of his own ministers.
The prospects of arch-rivals Trinamool Congress and CPI(M) burying their differences to support Gopal Krishna Gandhi in the Presidential polls is in keeping with these efforts.
In all, the Presidential polls are all set to showcase the best and the worst of India's politics today.