President's rule averted? How Tamil Nadu guv ensured governance in Jaya's absence
S Murari
| Updated on: 10 February 2017, 1:46 IST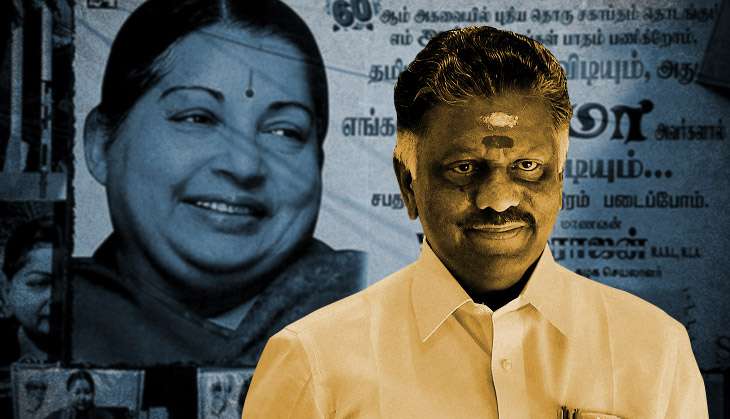 On Tuesday, Tamil Nadu governor C Vidyasagar Rao finally averted the possibility of President's Rule in the state.
Rao stepped in to give legitimacy to the state administration, by allotting portfolios held by ailing Chief Minister J Jayalalithaa to her loyalist and finance minister O Panneerselvam.
In doing so, he saved the state from rule by unelected officials like former chief secretary Sheila Balakrishnan and former DGP Ramanujan, who had been holding the reins since Jayalalithaa's admission to Chennai's Apollo Hospital on 22 September.
As the governor has no power to act on his own, as per the Constitution, a Raj Bhavan press release said he had ushered in this interim arrangement "as per the advice of the Chief Minister, Selvi Jayalalithaa".
He said Jayalalithaa would continue as Chief Minister, while her portfolios like Home, police and general administration would now be looked after by Panneerselvam till she recovers.
Not a new job for Panneerselvam
Panneerselvam has acted as Chief Minister twice before - after Jayalalithaa was forced out of office by court verdicts in corruption cases.
In December 2001, she was disqualified from contesting the elections following her conviction in two corruption cases. Yet, she led the AIADMK to victory and the party duly elected as leader and the governor swore in her.
However, the Supreme Court intervened, and said her position was untenable as she was ineligible to be a member of the House, and should step down until she got her cleared in the corruption case in appeal.
At that time, to fill the vacancy, Panneerselvam was sworn in as acting Chief Minister, and held the fort till she got acquitted in appeal and won a by-election to enter the Assembly to resume office.
In a similar situation in September 2014, she ceased to hold office upon her conviction in the last pending corruption case pending against her. There again, her seat was declared vacant and Panneerselvam was sworn in as acting CM.
Upon her acquittal by the Karnataka High Court, she resumed office. The Karnataka government's appeal against this verdict has been heard by the Supreme Court, and its decision is expected any time now.
But as of now, there is no legal bar on her holding office.
That is why, this time around, the governor has said there is no need to appoint an acting CM, and only an interim arrangement should be in place to carry on the administration till Jayalalithaa is discharged from hospital.
Political reactions
In doing so, the governor has given the go-by to constitutional niceties by claiming that he is acting on the advice of Jayalalithaa, without explaining how her decision was conveyed to him when she is in critical care and on ventilator support for the last three weeks.
No one, including the governor, has met Jayalalithaa since she got admitted to hospital, and the press release did not explain on what basis he claims to have got her advice.
In a statement, DMK president and five-time Chief Minister M Karunanidhi wondered whether Jayalalithaa had signed the file on the allocation of her portfolios to Panneerselvam, as the governor is silent on this matter.
"We cannot also brush aside the question as to whether the governor examined the constitutional implications in this short period (since her illness). Let's hope he has brought about this arrangement for administrative convenience," he tweeted.
While Karunanidhi has given qualified welcome to the governor's actions, using the doctrine of necessity, DMDK leader Vijayakanth said Jayalalithaa should come out with a statement clarifying the position.
The Congress and the BJP have already said there is no need for an interim government or an interim Chief Minister.
On Wednesday, Union Finance Minister Arun Jaitley and BJP president Amit Shah visited the Apollo Hospitals and spent 30 minutes there, enquiring about Jayalalithaa's health. They immediately flew back to New Delhi. In tweets, they said they had enquired about her health and wished her speedy recovery.
When MGR fell ill
This is not the first time such a situation has arisen.
When Jayalalithaa's mentor and AIADMK's first Chief Minister MG Ramachandran fell ill in November 1984. He got admitted to Apollo Hospital on 6 November 1984 after complaining of breathlessness. He suffered a massive stroke on 16 November, and lapsed into coma.
During the intervening 10 days, he was conscious, and ministers, including senior-most cabinet member VR Nedunchezhiyan, had met him.
When MGR lost consciousness after the stroke, Nedunchezhiyan conveyed to the then-governor, SL Khurana, that the Chief Minister had asked him to officiate till he recovered. The governor, who initially demurred, finally made him officiating CM and authorised him to preside over cabinet meetings.
It was the caretaker government of Nedunchezhiyan which took the decision to shift MGR to Brooklyn Hospital in New York for surgery, to remove the tumor in his brain, and for a kidney transplant.
The government also went in for a snap poll as Prime Minister Rajiv Gandhi decided on a mid-term poll.
The elections were held in December 1984, when MGR was still hospital, and a nomination was filed in his name on the basis of his thumb impression, attested by a consular official in New York.
An election petition was filed, questioning his nomination on the grounds that he was not conscious, but it was not pursued as MGR won from his hospital bed. The swearing in was, however, put off to February 1985, till he successfully underwent kidney transplant and was able to return home.
There again, the governor of the day went out of his way to tackle the extraordinary situation. MGR alone was sworn in as Chief Minister, contrary to the Constitutional provision that there shall be of a council of ministers headed by a Chief Minister. Not only that, none of the media, except the government-controlled Doordarshan, was allowed to cover the swearing in.
As MGR had lost his power of speech, his microphone was switched off when he took the oath.
But such was his mandate that no one thought it necessary to question such deviations from procedure.
Elsewhere in India, we have the parallel of then-Union Finance Minister Pranab Mukherjee officiating as Prime Minister when Dr Manmohan Singh underwent heart surgery in January 2009.
In MGR's as well as Manmohan's cases, there was clarity and transparency, whereas the people of Tamil Nadu have had to look to health bulletins of a private hospital for updates on Jayalalithaa's condition. When MGR was admitted to the same Apollo Hospital in 1984, then-health minister HV Hande used to brief the media regularly.
The government, as such, has not issued a single official statement about Jayalalithaa's health. Even when the governor called on the Apollo Hospitals a few weeks ago, he could only meet the doctors attending on her.
Edited by Shreyas Sharma
More in Catch
Jayalalithaa is in for a long treatment. Tamil Nadu needs an acting CM
From glamour queen to politician, the extraordinary story of Jayalalithaa
Jayalalithaa: what happens if a demi-goddess falls ill?