Phata poster nikla hero: Raj Babbar made UP Congress chief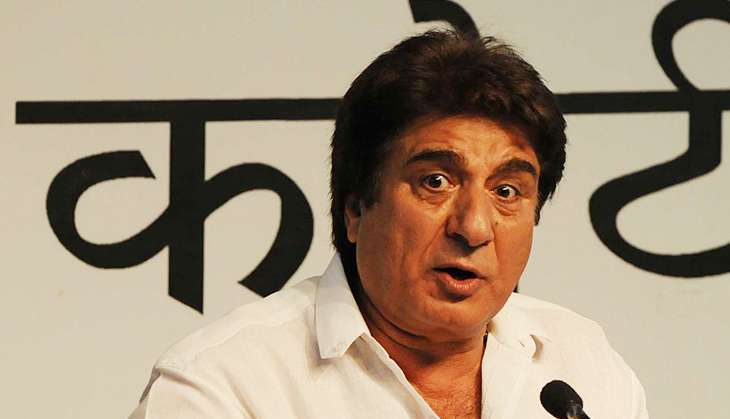 The story
Congress has appointed actor-turned-politician Raj Babbar as its UP chief
Despite rumours, there was no announcement on the CM candidate or Priyanka Gandhi\'s role
More in the story
What are Raj Babbar\'s credentials?
Can he deliver?
In a surprising decision, the Congress on Tuesday appointed Raj Babbar as its party's chief in poll bound Uttar Pradesh. The 64-year-old actor turned politician will replace Nirmal Khatri who will take over as the Chairman of the Screening Committee. Along with Babbar and Khatri, Congress also appointed four vice presidents - Rajaram Pal, Rajesh Mishra, Bhagwati Prasad Chaudhary and Imran Masood.
Also read - New guard for Grand Old Party: does Rahul Gandhi need advice?
With Babbar's appointment, the party has ended a month long speculation over who would lead the party's election campaign in the most politically significant state in India. Earlier, the speculations of party announcing a Brahmin candidate for the top post were doing the rounds and the likes of former Delhi chief minister Sheila Dikshit, former Union cabinet minister Jitin Prasada, Rajya Sabha MP Pramod Tiwari, among a few others, were seen as front runners.
In fact, poll strategist Prashant Kishor has been pushing for a Brahmin face to lead the party's campaign and Babbar, was never in contention.
Not providing any satisfactory answer over the reasons for the appointment, UP's general secretary in-charge Ghulam Nabi Azad cited Babbar's stints as three time MP and his 27-year-long political career as good enough reasons for his promotion. "He is a vigorous campaigner and that too worked in his favour," said Azad.
Azad seem to have forgotten that out of these 27 years, Babbar has spent only eight in the Congress and the rest with Janata Dal and Samajwadi Party. Except for his victory over SP chief Mulayam Singh Yadav's daughter in law Dimple Yadav in 2009 Firozabad bypoll, Babbar has maintained a very low profile and has had no significant political achievements to his name especially in UP. In these circumstances, his appointment has created more shock than awe.
In fact, the only important government posts Babbar has held are in films. He played a chief minister in Aankhen (1993) and a governor in Gupt (1997). More recently, in 2013, he played a powerful Brahmin politician from UP in Bullet Raja.
Opposition within
Meanwhile, the decision to hand over the state unit to Babbar is not likely to go down well with the party's grassroots workers, who are likely to question the decision of choosing "an outsider" over other home grown leaders. What is even more surprising, is that the Congress has a history of rebellions over lateral entrants, being given prominent positions over local leaders.
Recently, the party's general secretary, Gurudas Kamat, had resigned over outsiders - Sanjay Nirupam and Mohan Prakash - calling shots in Maharashtra. Karnataka CM Siddaramaiah is facing opposition for the same reason. Yet, the party chose to anoint Babbar over others who for generations have been traditional Congress supporters. In these circumstances, to choose the actor-politician over a Prasada or Tiwari, could further demoralise the non existent party cadres in the state which goes to polls in early 2017.
Further, Babbar has little or no connect with those on ground and will need time to settle in before he starts to call the shots. And, time is not a luxury that Congress could afford, considering its diminishing hold in the state and how it needs to completely reinvent itself to make any impact. Babbar's name is unlikely to do so.
If Congress is banking on his "star value", then the party has got it all wrong. Babbar was never a star and just like his political career, his acting career never took off. Except for a few commercial hits, there is nothing extraordinary about the films that he did. In these circumstances, it is only his clean and non-controversial image that seems to have given him this role.
Also read - Ominous sign: what Rajya Sabha poll cross-voting says about Congress in UP
"What really worked in his favour is that he doesn't belong to any faction and can take all sections along. Except for this, I don't see party benefiting from his appointment," a state Congress leader said on the request of anonymity.
Similarly, Congress committed another faux pas by naming the controversial Imran Masood as one of its vice presidents. In the run up to 2014 Lok Sabha elections, Masood said that he will "chop Narendra Modi into pieces" if he tries to convert UP into Gujarat. He was later arrested for his hate speech. The ruling party will certainly raise the issue during its campaign which is likely to hurt the Congress.
And it did reflect in BJP spokesperson, Sambit Patra's tweet: "So Congress rewards the 'Boti-Boti' man of Uttar Pradesh Imran Masood with the post of UPCC Vice President!Reflects the mind set of Congress". Back then even the Congress vice president Rahul Gandhi had publicly disapproved Masood's comments and said, "This is not the Congress way." However, what went in Masood's favour is the 18 per cent Muslim population in the state.
Even the other appointments were done keeping the caste equation in mind. Rajaram Pal has been included to woo the OBC population while senior SC leader Bhagwati Prasad Chaudhary's elevation could bring in votes of this crucial vote bank. Similarly, Rajesh Mishra could lure the Brahmins that were once considered to be the traditional Congress supporters.
Babbar isn't a bad choice from the caste point of view, as he is an OBC belonging to the Vishwakarma/Vishwabrahmin caste. He is married to a Muslim, theater artist Nadira Babbar, who belongs to a prominent Muslim family from UP, being the daughter of writer Syed Sajjad Zaheer.
What about Priyanka or Sheila?
Meanwhile, Azad didn't elaborate on either Priyanka Gandhi's or Shiela Dikshit's role in the upcoming elections. He did say that the party cadres are demanding that Priyanka campaign outside of Amethi and Rae Barelli and that the discussions are still ongoing. Earlier in the day, Priyanka paid a visit to Azad, which led to rumor mill gone into overdrive. However, Azad downplayed the visit. But, insiders say that the two did hold discussions over the appointment of new office bearers in the state.
This comes in the backdrop of poll strategist Prashant Kishor suggesting that Priyanka playing an active role in party's campaign across the state. He has been pushing for Dikshit to be named the party's chief ministerial candidate to which the former Delhi CM said that she will do whatever the party asks of her.
In yet another interesting development, journalists complained to Azad that Kishor revealed the new line-up to a few journalists much before a formal announcement was made. In fact, hours before the announcement was made, certain journalists had rightly predicted the names of new appointees.
Kishor has been accused by senior Congress leaders from the state of planting stories against those he doesn't like. In fact, the removal of former state in-charge Madhusudan Mistry and PCC chief Khatri removal is said to be Kishor's doing. "It seems that Kishor is running the organisation in UP and if that is the case, he should have been named the new party chief," said a disgruntled Congress functionary.
More in Catch - Ageing queen, reluctant heir: why Congress must elevate Rahul now
What do Rahul Gandhi's temple visits tell us about the Congress