#RahulFail: what RG's weekend with Charlie Rose says about him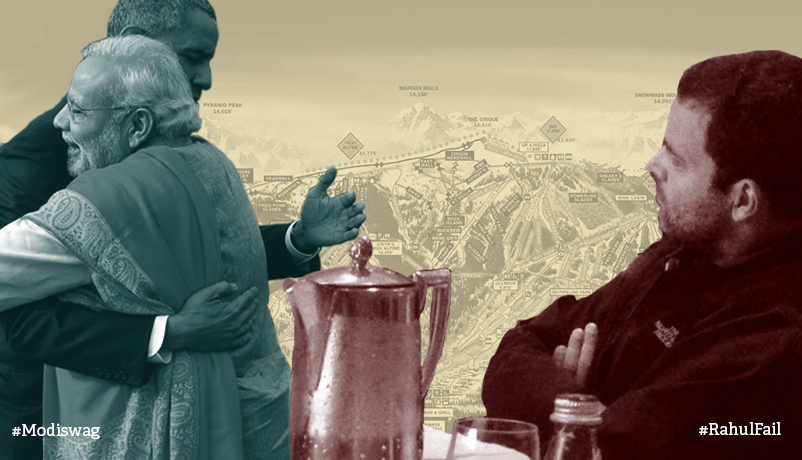 Taking flight
Rahul disappeared at the peak of the Bihar poll campaign
He went to attend a global economy conference in Aspen
He chose the worst time to visit US - alongside Modi\'s trip
Losing steam
Modi seemed like he was in campaign mode all through his trip
Rahul wasn\'t even visible, spending time in quaint conference halls
Takeaway from the fiasco: Rahul sorely lacks political acumen
If political acumen was judged from electoral feats, Rahul Gandhi ought to have been declared a dud in May 2014.
But thanks to our complex polity, which tests acumen beyond polls, he manages to loom large in every significant political debate in the country. In spite of losing four state elections on the trot after the general election drubbing, people still discuss Rahul, what he does, what he says, where he goes and when he goes.
His latest foreign jaunt at the peak of the Bihar election campaign made him a subject of lampoon. While English newspapers only pointed out civilly that his partymen were confused trying to explain the purpose of his visit, Hindi papers couldn't suppress the laughter, with headlines like 'Rahul Gandhi phir chhutti par (Rahul Gandhi goes vacationing again)'.
Not being able to read the impact a headline like that will have on his party's campaign when polls are less than three weeks away displays a suicidal lack of acumen.
Just a day before he left India, the Congress vice president held a meeting of the party's workers in Mathura, Uttar Pradesh. In a speech intended to motivate them, he said "this is the time to fight". Whichever fight he was referring to, was it to be fought from some secret location abroad?
The picture tweeted from Rahul's official account on 28 September showing him sitting with hands folded across his chest and apparently listening to a speaker on the other end of the conference room is hardly a picture of a man preparing for a fight.
The words accompanying the picture were, "Very interesting discussions on the global economy & the disruptive power of tech at the conference in Aspen".
In Mathura, Rahul told partymen 'this is the time to fight'. He was gone from India the next day
If the tweet was meant to end speculation over his trip, it did anything but. A fortnight is left in a campaign during which his rivals will be holding 500 rallies and the Congress' leader-in-waiting is busy with a conference on "global economy & the disruptive power of tech"?
Seriously? Is this how he was intending to prepare for the fight he referred to in Mathura?
A weekend with Charlie Rose?
A study in contrast
To explain away Rahul's latest disappearing, his supporters have argued that even the rival camp's star campaigner, Prime Minister Narendra Modi, was away at the same time.
But look at what Modi did on his foreign trip and compare it with what Rahul has been up to.
Modi was welcomed with Sanskrit shlokas in Ireland and he lapped it up as yet another opportunity to blow his nationalistic trumpet. In the US, everything he did hogged the headlines - from putting up a grand show for his NRI constituency and meeting Silicon Valley magnates to hosting the G4 summit on the sidelines of the UN meeting and calling on his "friend Barack" once again.
He got three tech icons to announce token achievements of his visit - Google promised assistance to set up free Wi-Fi networks at 500 railway stations, Microsoft said it'll help provide low-cost broadband connectivity to 5 lakh villages, and Qualcomm declared its intention to set-up a $150 million venture fund to support start-ups in India.
Modi even cried publicly while talking about the struggles of his mother and continued the tradition of coining trademark terms like "the personal sector".
Everything the prime minister did on the tour, he converted it into a message. Sure, he was away at the peak of the election fever in Bihar, but there was campaign written all over his engagements.
How does Rahul fare against this rival who uses everything he does to inflate his personal brand? Miserably.
Modi doesn't speak to the Indian media; neither does Rahul. Modi speaks to the people through his rallies; so does Rahul. But in this age of media saturation, Modi is also a social media magnet. He has three twitter handles @PMOIndia, @narendramodi and @narendramodi_in through which he reaches out to 7.93 million, 15.2 million and 5,80,000 followers, respectively. And he makes sure tweets go out regularly from all three handles.
Rahul's only twitter handle is @OfficeOfRG; it doesn't even pretend the man could be tweeting himself. And even from this account, the "office of RG" failed to announce the date and purpose of his visit, let alone use the trip to promote his brand.
@narendramodi, @narendramodi_in, @PMOIndia tweet regularly. Rahul doesn't even have a personal handle
Rahul is a full 20 years younger than Modi. He has age on his side. And given the BJP-RSS' poor record on civil liberties, he also has the Congress' liberal credentials.
Yet, he flounders. Lack of political acumen is writ large on his record, and the latest PR fiasco over his foreign trip has only reinforced the sense. He can't afford to do without it for much longer.