OROP: How Modi govt, and not the Opposition, turned a suicide into a political slug-fest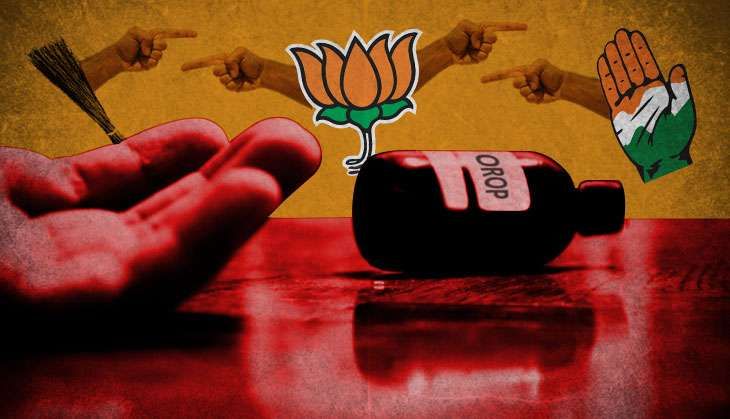 The unceasing pursuit of politics over defence forces took a sharp turn with the suicide of an ex-serviceman over the demand for a comprehensive 'One Rank One Pension' policy. Sixty-nine-year-old Ram Kishen Grewal's suicide is set to become a major embarrassment for the Narendra Modi government, as it exposes the truth behind the government's claim that OROP has been implemented.
Prime Minister Modi, Defence Minister Manohar Parrikar and several senior leaders of the Bharatiya Janata Party have maintained that OROP has been implemented. Even on Wendesday, Parrikar said in Goa that while no one did anything for OROP for 43 years, "this government has fulfilled" the demand. He also said the government already disbursed more than Rs 5,500 crore for implementing the scheme, benefiting 20,69,000 ex-servicemen.
Why then would Grewal kill himself had OROP been implemented? A letter doing the round on social media shows that Grewal's plea to the government was that despite serving the Territorial Army and the Defence Security Corps for over 30 years, he was still to get OROP as well as the raise in pension in keeping with the Sixth and Seventh Pay Commission recommendations.
Last letter by Subedar Ram Kishan Grewal (rtd) who committed suicide for non compliance of OROP by Govt. pic.twitter.com/CqwqxW1Yxo

— ASHUTOSH MISHRA (@ashu3page) November 2, 2016
Opposition parties were quick to respond. Almost on cue, Delhi Deputy Chief Minister Manish Sisodia and Congress vice-president Rahul Gandhi rushed to Ram Manohar Lohia hospital to meet Grewal's family. Their real objective, of course, was to use the tragedy to embarrass the Union government, which has spun an entire hyper-nationalist campaign centred around the army since over a month now.
The army's announcement of the purported "surgical strikes" along the Line of Control was followed by BJP's blatant chest-thumping. Minister after minister and one party leader after another claimed credit for the military action. Even Modi claimed that Indian forces were now recognised to be on a par with Israeli forces in terms of their capability for such strikes, in a speech in Himachal Pradesh.
The Aam Admi Party and the Congress, while welcoming the 'strikes', have been circumspect. AAP chief Arvind Kejriwal asked Modi to respond to reports in the international press doubting the veracity of the 'strikes', while Gandhi accused Modi of indulging in "khoon ki dalali" (brokering blood).
Both parties have been keen to grab opportunities to puncture the BJP's campaign and Grewal's suicide has provided them the perfect opportunity to do so. Further, the Union government may have made things worse for itself by getting Delhi Police to stop Sisodia and Gandhi from meeting the deceased's family and detaining them. Kejriwal was quick to slam Modi over the development.
Manish Sisodia detained? He had gone to meet family of deceased Ram Kishan ji. He is elected Dy CM. Whats wrong wid u Modiji? So insecure?

— Arvind Kejriwal (@ArvindKejriwal) November 2, 2016
अगर अपने राज्य में किसी की मौत पर उप मुख्यमंत्री परिवार को सांत्वना देने जाए तो क्या उसे गिरफ़्तार किया जाएगा? गुंडागर्दी की हद है मोदी जी।

— Arvind Kejriwal (@ArvindKejriwal) November 2, 2016
Congress too slammed Modi as undemocratic.
Undemocratic Modi Govt.
RG stopped from meeting kin of veteran who committed suicide protesting Govt's inaction on OROP#ModiIsScared pic.twitter.com/n3pbCY8CeR

— INC India (@INCIndia) November 2, 2016
Naked goondaism by Modi Govt. Rahul Gandhiji arrested alongwith sons of soldier Subedar Ramkishan Grewal.

— Randeep S Surjewala (@rssurjewala) November 2, 2016
Shockingly, police detained even the family members of the deceased soldier, saying they were contacting political leaders.
Delhi: Family members detained as well as they are contacting political leaders and holding demonstration here: MK Meena pic.twitter.com/Ks7FwlK2qt

— ANI (@ANI_news) November 2, 2016
Workers of both parties protested in large numbers outside the police stations where their leaders and Grewal's family members were also held.
Ex-serviceman suicide case: Congress workers protest outside Mandir Marg Police Station in Delhi as police detains Rahul Gandhi pic.twitter.com/gklPmbJH4o

— ANI (@ANI_news) November 2, 2016
The tragic incident of a suicide turned into a full-fledged political slug-fest in no time. The government's decision to get the politicians who had gone to meet the family detained is threatening to backfire, as it has given the opposition parties a stick to beat the government with. Simple arrests like these had given the Lokpal agitation a major fillip in 2011. Does the Modi government want a similar agitation to build up?