Now, Lalit Modi declares Twitter 'war' on his detractors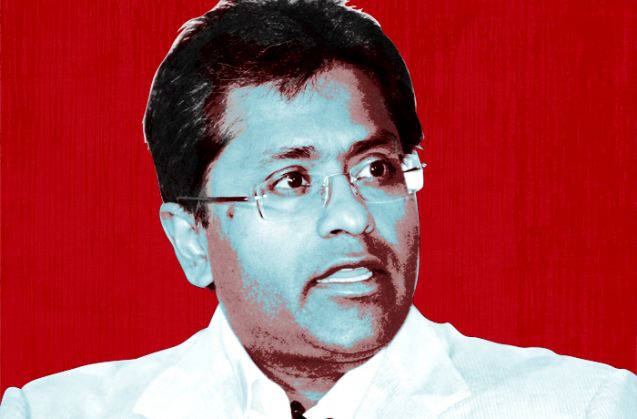 Lalit Modi is angry these days. So angry, that his Twitter timeline is flooded with metaphors of war.
If you follow him on Twitter, you know what's been happening. If you don't and feel intrigued enough to want to do so, be warned that it's going to take up hours of your time to sift through the tweets and the flood of emoticons his messages are studded with.
Taking up cudgels
He calls himself a 'general', who won't sleep in the time of war. His enemies are Arun Jaitley, the current finance minister, P Chidambaram, his predecessor, the Congress party and the Times Group.
So what put the bee in his bonnet? The fact that over the last week or so, the Times Group-owned channel Times Now has been devoting hours of coverage to him, calling him a 'fugitive', alleging that there are Enforcement Directorate notices against him and that he's been on the run for years now, and that Minister of External Affairs Sushma Swaraj helped him get travel documents when his passport stood suspended.
Modi has made a habit of taking to social networking to fight his battles. It was his tweet about the 'murky' shareholding patterns of the short-lived Kochi Tuskers Kerala Indian Premier League franchise that landed Union minister Shashi Tharoor in hot water in 2010.
Modi projects himself as a victim, and thousands of his Twitter followers are commending him for fighting back
Modi often projects himself as a victim at the hands of the powers that be, and thousands of his followers on Twitter are commending him for fighting to clear his name.
Now, in addition to attacking the UPA-2 government and Chidambaram, he has opened up two more fronts - one alleging that Jaitley is the root of all evil in the Board of Control for Cricket in India (BCCI) and has also done favours for the Congress's first family, the Gandhis, and the second that Times Group honcho Vineet Jain enjoyed Modi's hospitality when he was the chairman of the IPL.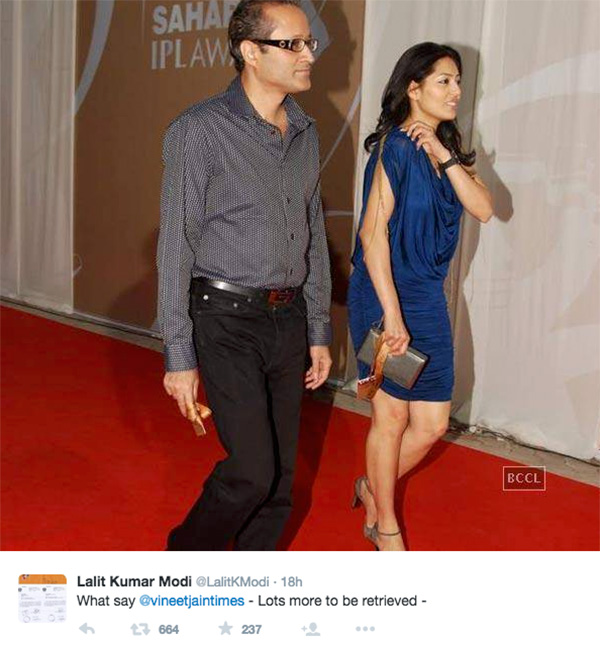 Actual proof
In terms of actual 'proof', Modi has so far put up the following documents and pictures.
There are photos of Priyanka Gandhi Vadra, Robert Vadra and Rahul Gandhi attending cricket matches.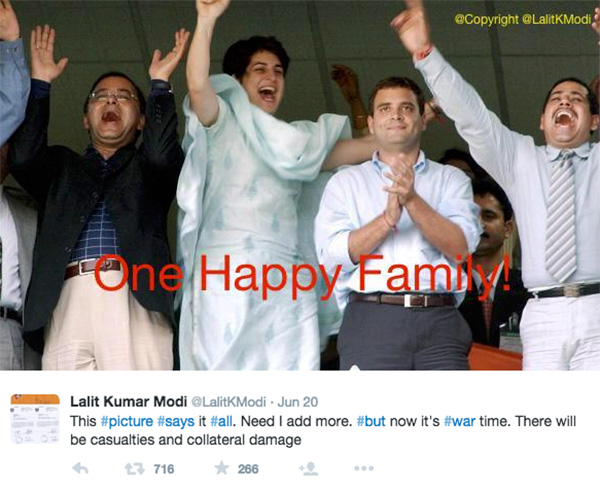 Then, there are two documents from the Commission for the Control of Interpol's Files that he has posted to Instagram, to rebut the 'fugitive' allegation.
One (dated August 2013) is a letter informing him that while his request for information has been admitted, no information can be given out without consulting the "appropriate authorities of any countries concerned by the request".
The other (dated October 2013) clearly states that there is no blue notice concerning him, and "that there is no information about you in INTERPOL's files originating from India".
In every other tweet, Modi promises to expose more people who took favours from him, the IPL and the BCCI
There is also a note from ACP (Crime), Mumbai, sent to the Enforcement Directorate (ED) and the Income Tax (Intelligence) directorate in September 2010, acknowledging the threat to Modi's life from "Dawood Ibrahim and his associates", and that the protection provided to him will continue once he's back from his trip abroad. Modi has never returned, leading to the allegation that he's 'running from the law'.
[fullsuite/]
Modi has also leaked a 2012 email from current IPL chairman Rajeev Shukla, who was also in charge then, listing as proposed invitees for the IPL opening ceremony the following persons - Priyanka and Robert Vadra, then-finance minister P Chidambaram, a host of other Union ministers, government officials and industrialists, and, surprisingly, the secretary general of INTERPOL, Ronald Noble.
Direct attack
In the case of Vineet Jain, Modi has posted two pictures - one of him walking in to attend the 'Sahara IPL Awards' in 2010, and the other of him attending the awards.
There is also an email, dated May 30, 2008, just two days before the final of the inaugural IPL, from the Times of India's former sports editor Bobilli Vijay Kumar, stating that "our MD, Mr Vineet Jain, would like to watch the finals of the IPL. He is flying down from the UK specifically for the match. He would like three VVIP passes as he is bringing along some important guests. Would you be kind enough to oblige? I will have his secretary pick them up as and when suggested by you."
Modi has also put up screenshots of text messages allegedly sent to Vineet Jain, asking him point blank if he has enjoyed IPL's hospitality, to which he replied, 'No'. After this, Modi launched into a tirade against the Jain family, and told Vineet that documents that prove the contrary will be made public.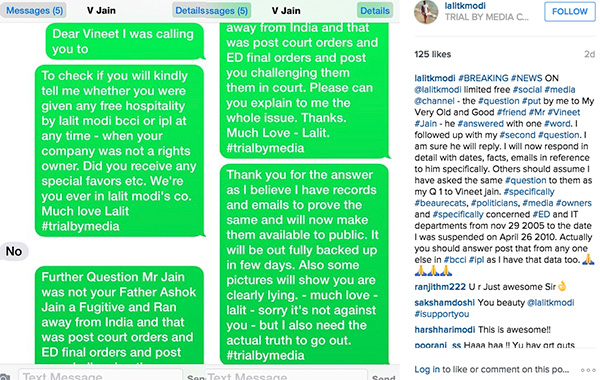 More to come
After being unceremoniously dumped from the IPL, the BCCI and its affiliated units in 2010, Modi has waited for five years before launching this hyper-aggressive campaign against those he considers the perpetrators of his downfall and defamation.
In every other tweet, Modi promises to expose more and more people who took favours from him, the IPL and the BCCI, and calling them battles within the war that he wants to win.
It remains to be seen just how much actual proof he can produce. However, the way Modi has started out, it looks like we could be in for the long haul in trying to get to the bottom of the muck that has afflicted the IPL, and also brought out the nexus between the powers that be in Indian cricket and polity.