Nitish refuses to back Tejashwi. Will the Bihar deputy CM step down?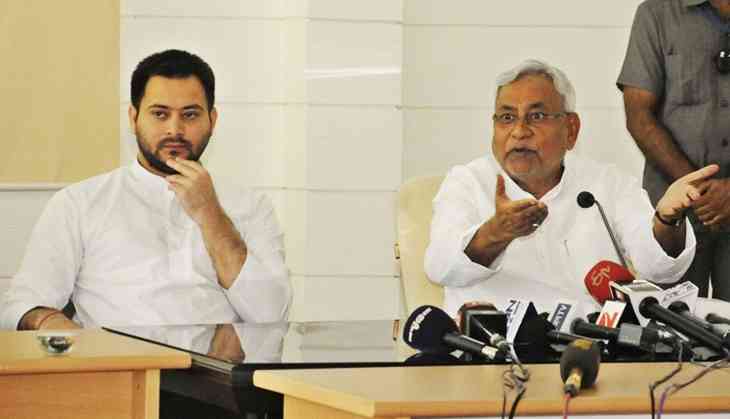 Bihar Chief Minister Nitish Kumar has spoken without saying a word. His hints alone have given a clear indication of what he is thinking, that JD(U) has decided not to back Lalu Prasad Yadav and his family members considering the corruption allegations against them.
Additionally, the party has also put its alliance partner Rashtriya Janata Dal (RJD) on notice, cleverly nudging Deputy Chief Minister Tejashwi Yadav to tender his resignation himself to save the government from embarrassment.
JD(U) spokespersons addressed media following a key party meeting in Patna on Tuesday and their statements were loaded with hidden messages. Asserting their party's zero-tolerance policy on corruption, JD(U) leaders said, without naming Tejashwi, that those who have been accused are expected to explain their conduct, with full facts, to the people.
The party also gave a four-day ultimatum to RJD, saying Kumar himself will take the final call in the matter four days later.
The party chief, CM Kumar, continued with his silence on the allegations and the resultant CBI raids against the Yadav family. However, his party did give out a standard response that is usually given in situations when you do not want to defend the accused - "the law will take its course". This response is different from the line taken by RJD and Congress, the third alliance partner, that the raids were motivated by political vendetta.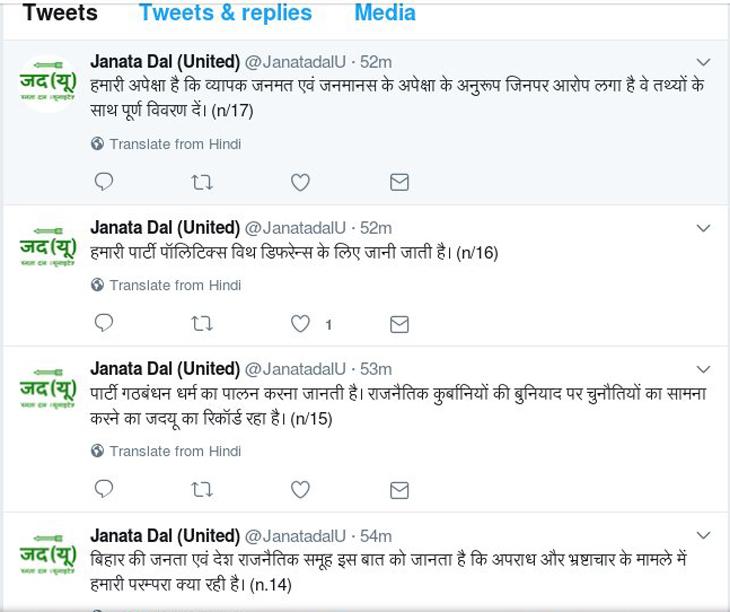 The meaning of JD(U)'s stance
It means Kumar has decided not to back either the RJD supremo, or his wife Rabri Devi, nor, more importantly, their son Tejashwi, who is his deputy in the state government.
JD(U)'s assertion that the law will take its own course and the Grand Alliance will do its own work also indicates that Kumar is not eager to break the alliance himself, at this point. Ideally, he would want some time to pass so that he can decide future course of action in peace.
However, the refusal to back Tejashwi also means that Kumar still wants to give out the message that he will not compromise on the issue of corruption. Its a bit of a tight-rope walk that he is trying, in a bid to save his government that was built only on the sheer strength of numbers with all the three alliance partners.
With JD(U)'s latest move, the ball has landed in RJD's court and it is now up to Lalu to either stand up to Nitish or make his son resign from the government so that RJD continues to be in power.
What will be RJD's next move?
RJD got the hint within minutes of JD(U)'s presser, which is why several RJD leaders declared resolutely that there was no question of Tejashwi resigning.
However, a recalibration of the party's stance can not be ruled out since Lalu himself was not in Patna throughout the day and reached the state capital only in the evening. By then, reports also emerged that the Congress party had also started mediating in the matter, in a bid to save the alliance.
Following Lalu's arrival in Patna, senior RJD leaders also went into a huddle, with the entire objective being how to continue in power in the state and also save the party's first family from further action by investigation agencies. An RJD source told Catch, on condition of anonymity, that the alliance was still likely to be saved. When asked whether that will be at the cost of Tejashwi's resignation, the source said that nothing can be said on that front as of now.
However, the source also added that what was keeping the RJD camp hopeful was their belief that a section of JD(U) leadership has also said internally that things are being exaggerated and there is no need to take any drastic action. Lalu, the source said, was already convicted in the fodder scam case when the alliance was formed and Kumar did not have any inhibitions then.