Nitish betrayal a blow to Oppn unity. But someone like Mayawati can now lead it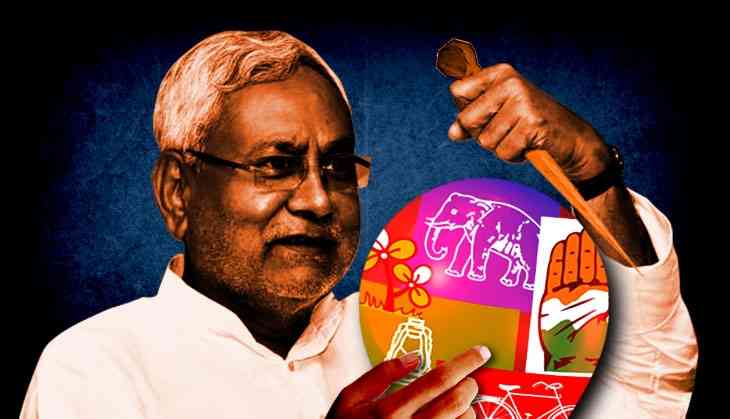 During the BJP Parliamentary Board meeting convened to discuss the party's support to Nitish Kumar in Bihar, Prime Minister Narendra Modi and party chief Amit Shah were pictured with broad grins.
The grins clearly suggested that the wall that Opposition parties were trying to build to stop the Modi juggernaut had been breached.
Not only this, the two master tacticians also successfully denied the Opposition a face which could have led its charge against the BJP in 2019.
But has Nitish's exit put paid to Opposition unity? Or has it given it a chance to regroup without a partner whose entire political career has been a hallmark of betrayal, deceit and opportunism? Does this, therefore, not put Opposition parties in a much better position to fight the BJP?
A blow, but not the end
Rubbishing reports of Opposition unity becoming an obsolete idea after Nitish's exit, Nationalist Congress Party leader Tariq Anwar said such things happen in politics, and that it is the Opposition's good fortune that Nitish took this decision now instead of somewhere near 2019.
"Thank God it happened before the 2019 polls. At least now, we have enough time to repair the damage done by Nitish," he said.
Both Anwar and senior Congress leader Mani Shankar Aiyar, however, agreed that that Nitish's exit has dealt a solid blow to Opposition unity. Aiyar said his exit not only harms, but 'destroys' the concept of a national Mahagathbandhan, which was based on the Bihar experiment.
Calling Nitish's move 'politically immoral', Anwar said the Bihar Chief Minister had betrayed the mandate given to him by the people of the state. "In 2015, the fight was between secular and communal forces, and Nitish won on the secular plank. Abandoning secular votes will cost him dearly in the future," Anwar added.
The way forward for the Opposition could be to put a contingency plan in motion – to replace Nitish with another tall leader who could help it reap electoral dividends. After all, said Aiyar, politics is evolutionary and there is an imperative need for unity even if the main architect has gone away.
According to Aiyar, Bahujan Samaj Party supremo Mayawati could be the perfect replacement for Nitish, and that every effort should be made to get her on board. "When the results of the UP Assembly elections were announced, I was surprised to know the core vote base of Mayawati surpasses that of the JD(U) president by a huge margin. During the UP elections, I thought that somehow Mayawati didn't fit into that unity, but when I realised her vote share, I had a different opinion," Aiyar said.
Aiyar said if there had been a Grand Alliance including the BSP in UP, instead of just the Samajwadi Party-Congress alliance, the results would have been very similar to that in Bihar. "Given the fact that Mayawati and Akhilesh Yadav are rebuilding their parties, there is no point in letting them do so unilaterally. The need is to do it multilaterally," he added.
Anwar agreed that Mayawati could fill the void left by Nitish.
On Thursday, when Nitish took oath at the head of a JD(U)-BJP government, Mayawati lashed out at him, saying his joining hands with BJP was a betrayal of the mandate given by the people of Bihar.
Accusing the BJP of misusing the state machinery for power, Mayawati said the party had become a threat to democracy.
Onus on Congress
Political commentators across the country are blaming the Congress, particularly vice-president Rahul Gandhi, for not managing the Bihar alliance well, after party president Sonia Gandhi had handed him the responsibility of keeping Nitish in the Mahagathbandhan.
One point a lot of observers have raised is: why did Rahul not go to Patna to find a solution to the ongoing crisis, considering he himself admitted to being aware of Nitish's plan to join hands with the BJP about 3-4 months in advance? He could have urged and convinced Lalu to let his corruption-accused son and Deputy Chief Minister Tejashwi Yadav resign for the greater cause.
Aiyar said the Congress now needed to be more proactive, and get over the idea that 'by interfering in the internal matters of another party, it is trying to dominate'.
"We need a new system wherein the Congress will have to show little more proactiveness without really trying to dominate a person or party," he added.
Given this situation, would it make more sense for the Opposition to keep persisting with the idea of a grand alliance, rather than giving a walkover to the BJP in 2019?
"We have to ensure that we are protected against the BJP onslaught, and I don't think either the Congress or Opposition unity is out of the picture," Aiyar added.
Headed for a split?
Meanwhile, Nitish's unilateral decision to join hands with the BJP has rattled his own party members, who are contemplating their next course of action.
Former party president Sharad Yadav is particularly upset with Nitish's decision, and is holding meetings with senior leaders of other political parties.
Several other JD(U) leaders have expressed 'regret' over the party president's decision to take BJP support to form the government. JD(U) MPs Ali Anwar and Kerala state party unit chief and Rajya Sabha member MP Veerendra Kumar met Sharad Yadav at his residence in Delhi, and a major announcement is expected in the next few days.
"We, including Sharad ji, had no idea that such a big development would happen overnight. We are surprised," Anwar told ANI.
Veerendra's Kerala unit has raised the banner of revolt, calling it joining hands with 'fascist forces'. According to reports, he is contemplating resigning from the Upper House in protest.
The possibility of the party heading for split is not being ruled out either, considering the JD(U) has a lot of Muslim and Yadav leaders in its ranks. Close to 20 MLAs in the present Bihar Assembly belong to these sections, which makes Friday's vote of confidence even more interesting.
The RJD has 80 MLAs while the JD(U) has 71 in the 243-seat Bihar Assembly. With Nitish getting support of 58 NDA MLAs, he is expected to have 132 votes, as against the requirement of 122.
But a rebellion within JD(U) ranks could play a vital role in the floor test, and it would be a major embarrassment for Nitish if he fails to secure majority.
These circumstances do not bode well for Nitish. He could now be isolated only to Bihar, with not even his own party members backing his decision. Therefore, his exit from the Mahagathbandhan has done as much harm to him as it has to parties opposed to the BJP.