Navjot Sidhu as Amritsar MP, wife as Punjab deputy CM: Is that Congress' offer?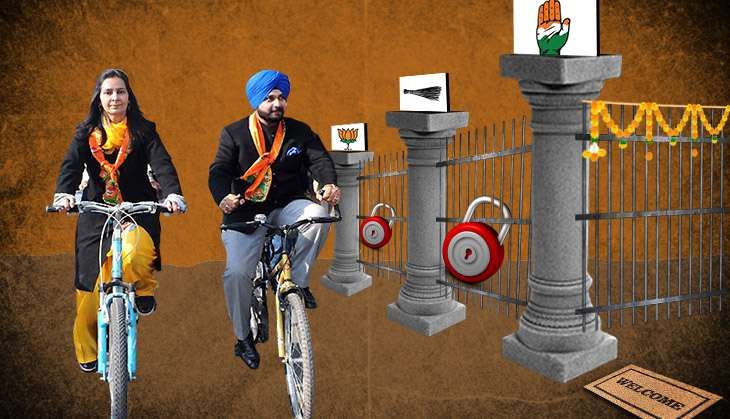 In further testament to the remarkable craving of Punjab's political parties to sign up Navjot Singh Sidhu, the Congress is learnt to have made a seemingly unbeatable offer to the cricketer-turned-politician - Amritsar Lok Sabha seat of the party's state chief Amarinder Singh.
A few months ago, the BJP had brought Sidhu back from political exile by nominating him to the Rajya Sabha and then the AAP was in talks for a long tome to recruit him as a star campaigner. Now, with AAP chief Arvind Kejriwal's tweets indicating an end to the party's flirtations with Sidhu, the Congress has grabbed the opportunity.
Also Read: What's making AAP click in Punjab? It's not just anger against Badals
Amarinder has been issuing statements inviting Sidhu to join the Congress for about a month now.
His efforts have borne fruit, a source told Catch, as Sidhu has responded favourably to the Amritsar seat offer and the two are in "advanced talks". Amarinder has added an even more tempting offer for Sidhu's wife, Amritsar MLA Navjot Kaur Sidhu, in the package deal - deputy chief ministership if the Congress forms the next government.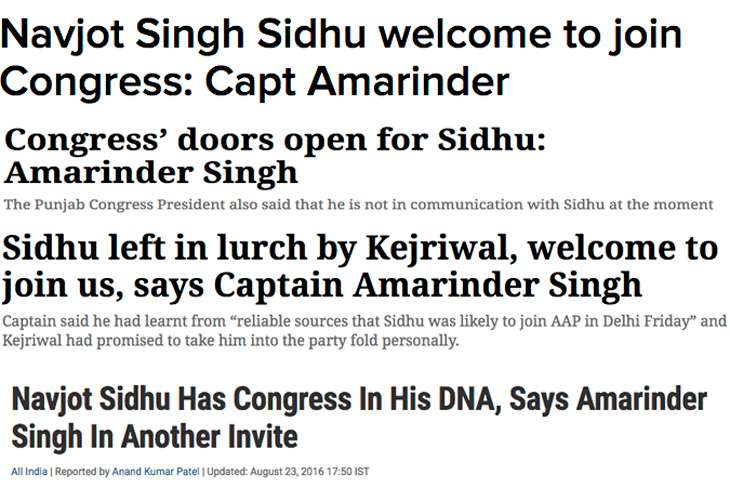 Big deal
This, however, falls short of what Sidhu really desires. His talks with AAP didn't succeed because he wanted to be declared the party's chief ministerial candidate. The Congress has not declared its nominee for chief minister so far, but Amarinder, who has been leading the campaign for months now, is widely regarded as one.
Since Amarinder himself is said to be behind the outreach to Sidhu, the offer of CM candidature clearly isn't on the table. Instead, the Sidhus can have the next best job - deputy chief ministership.
Tickets to contest the assembly election for both stands ruled out as Amarinder has announced that the Congress won't field more than one member of a family. "We will give him a suitable role according to his stature," Amarinder said, referring to Sidhu.
Also Read: BJP terms Sidhu 'selfish'; AAP denies projecting him as Punjab's CM face
That role, the source said, is the ticket to contest the bypoll to Amritsar Lok Sabha, which would fall vacant if Amarinder becomes the chief minister.
Return ticket?
If the package deal wasn't enough to sway the Sidhus, Amarinder has also appealed to the former cricketer's sense of history; he has old links with the Congress, especially with Amarinder's family. For one, both their families are from Patiala. Sidhu's father Bhagwant Singh Sidhu was a Congressman and, according to Amarinder, the party's general secretary when his own mother was chief of its Patiala unit. Bhagwant was also a well-known criminal lawyer and was appointed Advocate General of Punjab by the Congress government of Darbara Singh. Considering this, Sidhu is likely to be welcomed back with open arms if he wants to return.
The problem, however, is that his heart appears set on the CM's chair, which is why he has not entirely give up on the AAP. The source revealed that one last meeting between the Sidhus and Kejriwal is about to take place, in a bid to explore whether a mutually acceptable deal could be worked out. Any such deal, obviously, will have to be better than the Congress' offer.
Also Read: Heads up: Is Arvind Kejriwal primed to be the next CM of Punjab?