Mukul Roy joins BJP: will the party make noise about Saradha and Narada scams now?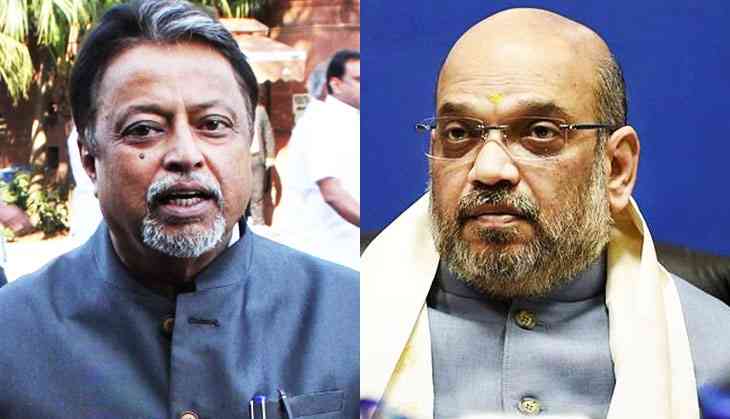 A month after quitting the All India Trinamool Congress (AITC), Mukul Roy has been formally inducted into the BJP.
Addressing a media conference at the BJP headquarter in New Delhi, BJP leader Ravi Shankar Prasad said, "Mukul Roy has played an important role in strengthening Trinamool Congress. He has been inducted to strengthen the BJP's base in West Bengal. He played an important role in removing the the CPI(M)."
"Without BJP, the Trinamool Congress could not have established itself. In the near future, BJP will grab power in West Bengal," said Roy at the press conference. "BJP is not a communal force. BJP is a secular force and it will come to power in Bengal in next Lok Sabha election in 2019. I have been given a big responsibility by the party and I will follow party's mandate."
"I am sure that BJP is the only alternative party for West Bengal," he added.
According to Prasad, Roy will look after the expansion of the party in Bengal. Roy was once West Bengal Chief Minister Mamata Banerjee's right-hand man and Trinamool's chief election manager. However, he recently fell out with Banerjee and in early October, resigned from all party posts+ and also gave up his membership of the Rajya Sabha.
However, not all BJP leaders in West Bengal are happy with the announcement, particularly because of his alleged links to the Saradha and Narada scams. This will make it hard for the BJP to bring up the scams form now on.
According to the state Congress, there are many reasons why Roy has joined the BJP. According to senior leader Om Prakash Mishra, there are chances that a fresh political equation may emerge between Trinamool Congress and BJP with Mukul Roy acting as a mediator.
"This proves that a rot has set in BJP," says West Bengal Pradesh Congress chief Adhir Chowdhury.
"If you take a pitcher of water from sea no difference will take place," said state power minister Sovan Deb Chatterjee of the AITC.