Misogynists United in TN: how Periyar's grandson put his legacy to shame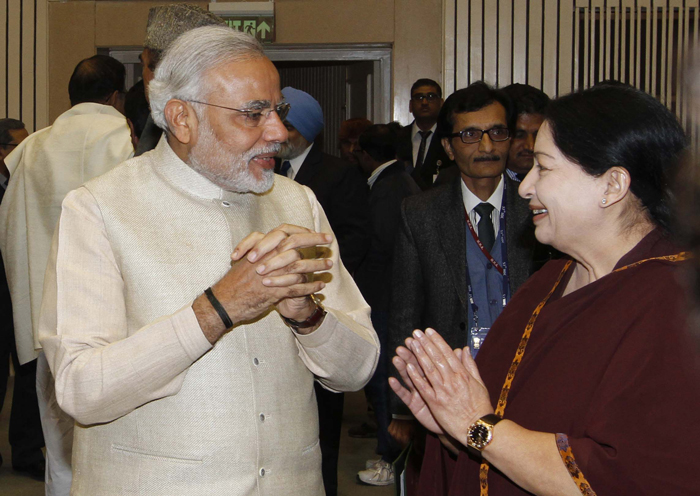 The trigger
He said this while addressing a protest demanding prohibition, and his supporters enjoyed the comment
The backlash
Jayalalithaa herself has filed a criminal defamation suit
The irony
Elangovan\'s grandfather, Periyar EV Ramasamy Naicker, was the leader of the Dravidian movement
He was a champion of women\'s equality
How cruel can irony be? Sample this: the grandson of a champion for women's equality in Tamil Nadu has now made some shockingly misogynistic remarks about one of the most powerful women in the country, J Jayalalithaa.
Last week, Tamil Nadu Congress chief EVKS Elangovan said that CM Jayalalithaa and PM Narendra Modi shared a 'special friendship'.
He was leading a protest demanding prohibition, and his comments caused much mirth among his supporters.
Barely a week has passed, and the smile has been wiped off Elangovan and his supporters' faces. He faces a criminal defamation suit filed by Jayalalithaa and a flurry of furious protests by the ruling AIADMK cadre across the state.
The legacy of Periyar
Elangovan's grandfather, 'Periyar' EV Ramasamy Naicker, was the grand old man of Dravidian politics.
It was Periyar who took the southern state by storm in the 1940s with his Dravidian Self Respect movement.
Periyar, who initially began the anti-Brahmin struggle, demanding caste equality, was also a champion of equal rights for women.
One of Periyar's pet projects was the 'Self Respect Marriage', a wedding without the 'thali' (mangalsutra) - a symbol of oppression of women.
This blood legacy has evidently been forgotten by his grandson, going by his comments about the woman in charge of the state.
On the back foot
The outrage has pushed Elangovan onto the back foot. "What I had spoken was in the agony that nothing good came out of the meeting between the Prime Minister and the Chief Minister - my words have been misinterpreted," he said in a statement on 20 August.
"My aim was not to denigrate or hurt the feelings of any individual."
Although the DMK, MDMK leader Vaiko and VCK's Thol Thirumavalavan rushed to the side of a potential ally, the unease was evident.
"It is Elangovan's responsibility to use words carefully so that he does not wound others, especially in a personal manner," a senior leader of the DMK told Catch on the condition of anonymity.
"But he says that he did not mean it in the way it was understood. Of course there are better ways to make one's point."
Ingrained misogyny
In retaliation to the alleged slur to their leader, AIADMK cadre are now busy sharing photo-shopped images of Elangovan with an arm around the shoulders of his colleague and Congress spokesperson Khushbu.
The Bharatiya Janata Party's cadre, who too feel insulted, are passing on the morphed picture enthusiastically. Khushbu declined to comment on this issue.This kind of misogyny is not new to Indian politics, and certainly not to Tamil Nadu.
"This is the phenomenon all over the world," said Sudha Ramalingam, an activist and member of the People's Union for Civil Liberties (PUCL).
Tamil Nadu Congress chief Elangovan accused CM Jayalalithaa and PM Modi of having a 'special friendship'
"Even when it comes to Hillary Clinton, people talk about her looks or what she wears, which is not the case with male politicians. It is not easy for people to accept a woman as a leader. The easiest way to put her down is with respect to her looks or her sexuality, especially in public life."
Attacks on Khushbu
Khushbu herself has been the subject of misogynistic attacks a number of times, even before she set foot in politics.
In 2005, her house was vandalised for her comments supporting premarital sex. In 2013, when she was part of the DMK, a Tamil magazine carried a morphed picture of her as Maniammai (Periyar's second wife), along with DMK chief M Karunanidhi as Periyar.
At the time, Khushbu had tweeted: "They forget I am also a mother, wife and the lady of my home. Pelt stones, write filth, defame, degrade..i am the woman of 21st century. I m a fighter (sic)."
"As a politician, everyone is subject to criticism, but one should attack another in a civilised manner," said DMK spokesperson TKS Elangovan, on being asked about the morphed picture of Khushbu. "This is a very vulgar attack."
Ramalingam has a different take. "The woman is perceived as a threat by the man," she explained. "That is why we talk about chastity, looks and other criteria which are not essential for political life. We talk of chastity as the [necessity for] a woman's greatness. But the man doesn't need to be pure - he can get away with many things."
Nothing new for JayaJayalalithaa, despite making it to the chief minister's chair five times, has had to suffer many ignominies.She rose in the ranks of the AIADMK while always in the shadow of her mentor and former CM MG Ramachandran.
At MGR's cremation in 1987, Jayalalithaa was pushed off the gun carriage carrying his body. Fighting back to gain control over the party, she suffered many assaults on her character and once, even a physical attack, within the hallowed walls of the Tamil Nadu Assembly.
In 1989, Jayalalithaa, who was the leader of the opposition at the time, questioned then-CM Karunanidhi just as he was about to read out the budget speech.
Karunanidhi uttered 'unparliamentary' language, which was subsequently expunged from the records. In the melee that broke out, Jayalalithaa's sari was pulled by senior DMK leader Durai Murugan, and she later alleged, her clothes were torn in the fracas.
"I will never set foot inside the Assembly until a woman can be allowed to attend the session with dignity," swore Jayalalithaa in 1989. True to her word, she rarely attends an Assembly session when her party sits in opposition.
Women as an extension of men
Ramalingam says: "We may have a woman for a chief minister, but this woman was never a chief minister because she was a woman. She became chief minister because she was somebody related in some way to MGR.
"Our woman Prime Minister was PM because she was related in some way to Nehru. Women politicians are looked at as an extension of a male counterpart. So she is seen as an object."
Political compulsions aside, activists say it is time for all politicians in the state to walk the talk on women's rights, and to go back and read their history books.
The appropriate chapter, they point out, would be the one on 'Suyamariyadhai' (self respect) and 'Samadharmam' (social equality).